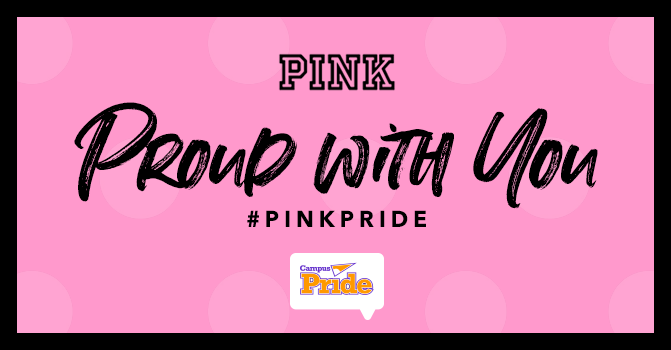 As the premier national nonprofit dedicated to building future leaders and creating safer campus for LGBTQ+ people, Campus Pride is proud to recognize our continuing partnership with PINK by Victoria's Secret, and we are gratified to share that today PINK announced a $250,000 gift to our organization, the single largest gift Campus Pride has ever received.
This unique partnership began in 2021, as PINK became an inaugural sponsor of Campus Pride's Mini-Grants for Social Justice program. Together, PINK and Campus Pride funded 20 student projects on campuses across the country in 2021, and that innovative program continues this year – we just announced the first 11 recipients of 2022 mini-grants, which you can read all about here. 
Last Fall, PINK gave Campus Pride student leaders the opportunity for a holiday shopping spree in the Los Angeles area. The shopping experience was hosted by actress, producer, singer Lana Condor and was a way to share the kindness of the holiday season for these students.
And in the coming months, look for more news on our growing partnership with proceeds going to benefit Campus Pride and our many programs dedicated to developing LGBTQ+ and ally leadership on college and university campuses from coast to coast. 
PINK is also an inaugural partner on the Campus Pride Career Connect, Campus Pride's soon-to-be-released platform to connect up and coming LGBTQ+ talent with recruiters and career mentors in all kinds of industries. 
And, PINK's support has gone to fund important Campus Pride initiatives including Camp Pride Leadership Academy scholarships, Safe Space and Stop the Hate trainings, and Campus Pride Index research.
We couldn't be prouder to count PINK by Victoria's Secret among our strongest allies.