Campus Pride announces the 15th annual Camp Pride Summer Leadership Academy will be conducted online with a digital three-day livestream on  Friday, July 16, Saturday, July 17 and Sunday, July 18, 2021.  
Camp Pride is one of the longest-running LGBTQ summer leadership camps for youth across the country and the only one of its kind for college students. It continues to be the premier national training academy for social justice and grassroots activism for LGBTQ and ally young adults at colleges and universities. 
Past 2020 Camp Pride Schedule: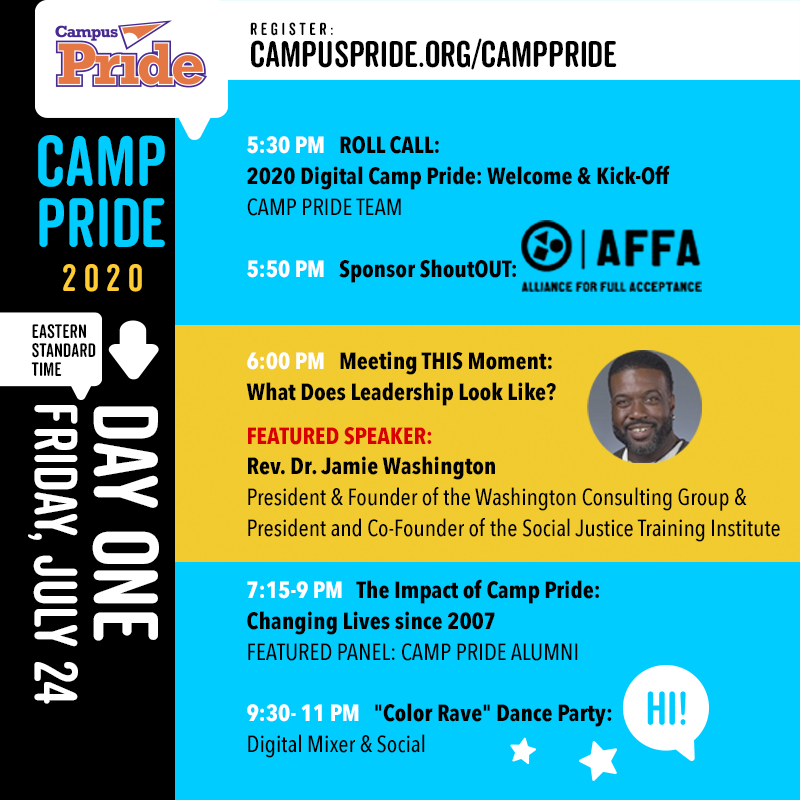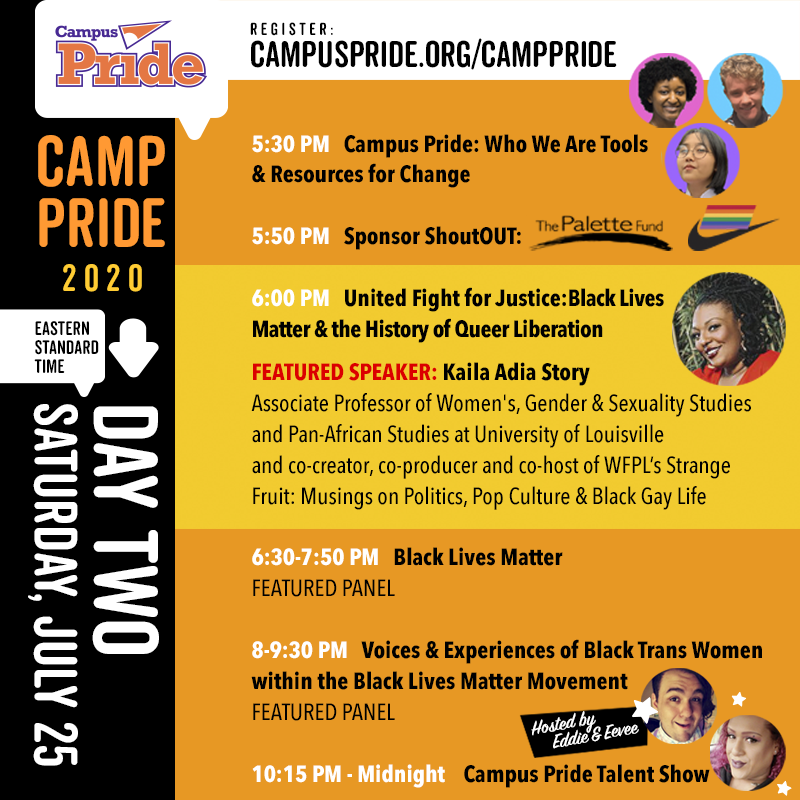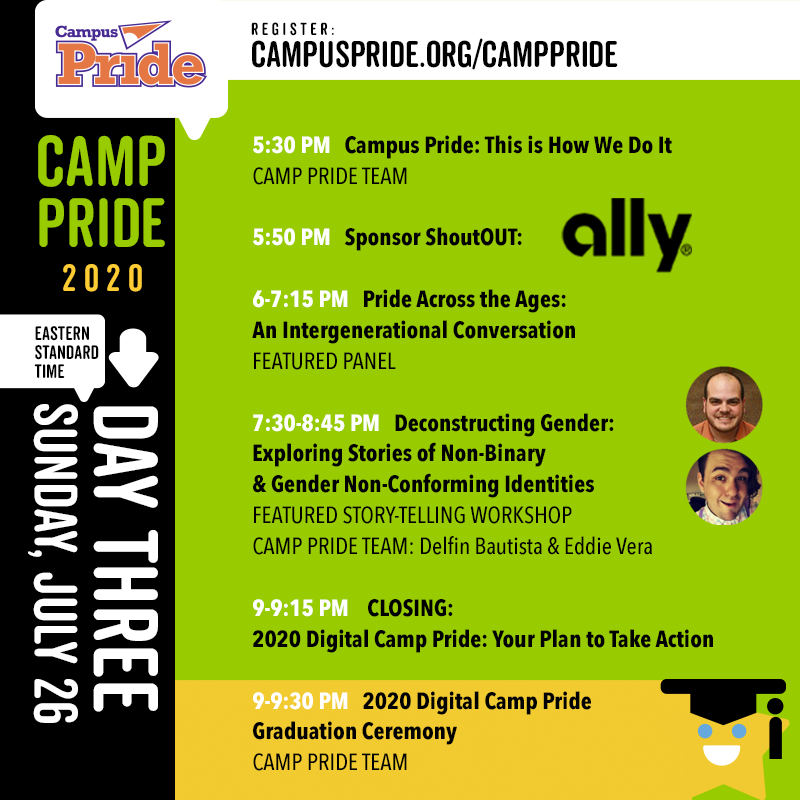 ______________________________

"It became evident that we were going to have to cancel the in-person programs due to the coronavirus ","said Shane Windmeyer, Executive Director of Campus Pride. "However, I could not let Camp Pride end on it's 14th consecutive year, when we have educated and trained thousands of LGBTQ young adults across the country since it started. LGBTQ students also need the support and leadership Camp Pride provides now more than ever before. So, our volunteer team came together to re-imagine how we could still make it happen in a meaningful way. I am very thankful we are continuing Camp Pride this year and I'm excited about how we are adapting our programs to keep making an impact with LGBTQ youth online."
Typically, the in-person summer camp spans five days and would train 50-75 LGBTQ young people and advisors from college campuses across the country. The cost for an individual to register for Camp Pride was $1195 (which included the curriculum, housing and food for five days and program costs), so the financial impact of not having an in-person programs this year is substantial.
"Campus Pride is grateful to our sponsors for maintaining their financial support during these difficult times to allow us to modify Camp Pride to be a digital platform and so we can offer this at no cost," said Windmeyer. "We currently have funding for 100 spots but we are hopeful that we will find additional funding and sponsors to keep it open to everyone this Summer." 
This year Campus Pride is offering the first 100 registrants free access to the private livestream. Others may watch across Campus Pride's social media channels in a limited capacity.  Register online.
Much like in years prior, the digital Camp Pride will also feature keynote speakers, panelists and entertainment geared toward LGBTQ youth. Although there will not be a separate Academy for LGBTQ Advisors this year, we encourage advisors to participate fully in the digital program, learning with and from LGBTQ student leaders and others.
To discuss sponsorship opportunities or get more information, please email info@campuspride.org or call 704-277-6710.
Meet the 2020 Camp Pride Team: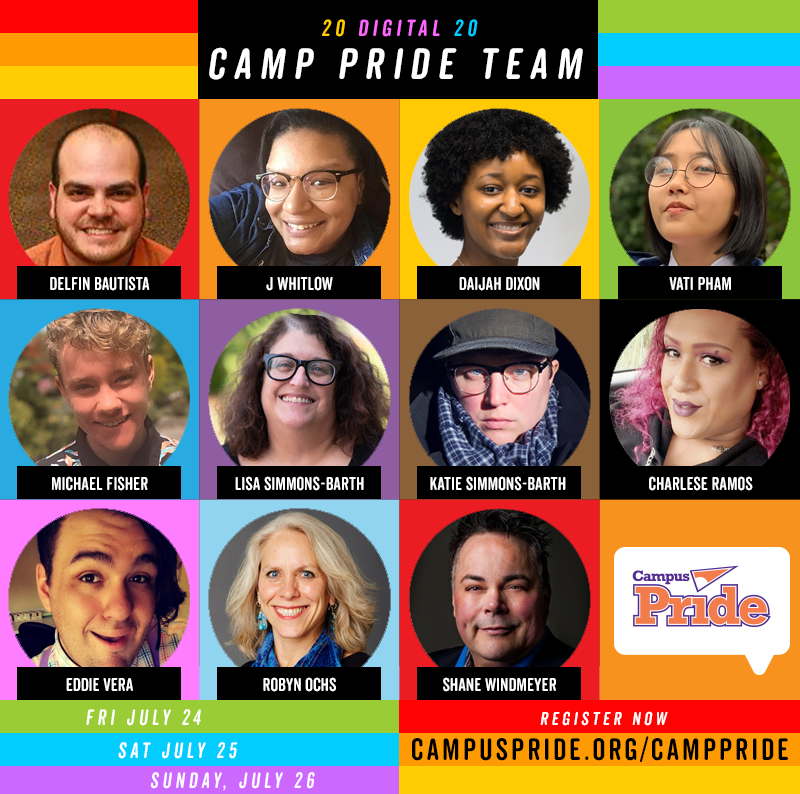 ________________
History/Background
Since 2007, Camp Pride continues to be the nation's premiere LGBTQ Leadership Academy for undergraduate LGBTQ and ally students. Join us to develop your campus organizing, social justice and leadership skills. For over a decade, Camp Pride has created a uniquely supportive and inclusive experience to nurture, learn and grow as an intersectional queer leader and social justice advocate.  Advisor Academy started in 2011 and provides a dedicated institute for professionals working with LGBTQ college students on campuses. Expand your knowledge, enhance your skills as well as collaborate with others who share your passion for advising and creating safer, more welcoming communities.
Details
The mission of the Campus Pride Summer Leadership Academy is to build leadership capacity among LGBTQ and ally undergraduate college student leaders and to create safer and more inclusive campus communities in the United States.
Who: Undergraduate students from two-year, four-year, rural, southern, HBCU, TCU, and religiously-affiliated colleges and universities come to Camp Pride from all over the country. Advisor Academy for professionals consists of advisors, faculty, staff and professionals joining a separate track during Camp Pride.
Camp is for you if you want:
A phenomenal leadership and personal growth experience inclusive of gender identity/expression and sexual orientation.

Key leadership concepts to becoming a stronger LGBTQ or ally leader.

Effective strategies and skill training for grassroots coalition building.

Access to premiere faculty and national leaders in social justice, human rights and civil rights advocacy.

Successful campus organizing practices and the chance to explore challenges confronting your campus.

Helpful resources and innovative tools from national organizations.

A personal action plan for your campus to become more LGBTQ-friendly.

Opportunity to connect and work with peer student leaders from across the country.

An inclusive approach celebrating diversity and motivating others.

An open, safe environment to express yourself.

Fun, entertainment and lasting relationships - family.
Scholarships
Full and partial Camp Pride scholarships are available on a limited-basis. Scholarship applications will be available Spring 2020. Applicants who have already registered and paid will be refunded any scholarship monies at the time of event. Due to a limited capacity, we do encourage you to register for Camp Pride ASAP. Campus Pride seeks a diverse cohort of student leaders/advisors and these scholarships assist in this commitment across race, sexual orientation, gender identity/expression, socio-economic and geographical boundaries. Learn more.
Registration & Event Policies
1. Registration is limited to a specified number of participants and will be on a first-come, first-serve basis. You must be 18 years of age or older at the time of camp.
2.  No refunds.  We do allow a one year transfer if contacted prior to May 15, 2020.
3. Leaving the camp site without permission, possession/use of alcohol, illegal/non-prescription drugs or drug paraphernalia, not abiding by host campus policies or any behaviors that are disruptive to the mission and values of the camp will not be tolerated. Such actions will cause forfeit of your registration fee and are immediate grounds for dismissal. Participant is responsible for all costs associated with any early departure (i.e. cab, airport fees, etc).
4. Checks or purchase orders should be made payable to Campus Pride, Inc, a charitable 501(c)(3) nonprofit organization, Federal ID #14-1969456.  In order to receive any early registration rate, the check or payment must be received by Campus Pride prior to/on the date of the early registration.
5. Participants agree to hold harmless and indemnify Campus Pride, Inc.,the university, and, or any organization coordinating travel, its officers, agents and employees, from and against any harm or damage as well as all actions, suits, damages, liability or other proceedings,which may arise as the result of the events and occurrences of camp, including any associated travel and meals. Participants understand that participation in any camp trip or activity is voluntary. If participants have any concerns about personal health or ability to participate, participants agree to discuss concerns with a physician prior to camp or will not participate in said activity.
6. Campus Pride, Inc. is excused of any obligations or reimbursements to the extent that such actions are the results of an Act of God, war, national emergency, labor dispute, riot, civil disturbance or other circumstance beyond the control of Campus Pride, Inc.
7. Campus Pride has the exclusive right to use video and other visual/audio portrayals of participants likeness taken during the camp in any medium of any nature whatsoever for any purpose, including advertising or promoting the services of Campus Pride, Inc. without any compensation. Any such portrayal shall be the exclusive property of Campus Pride, Inc.
8. Any disputes will be handled by a court of law in Mecklenburg County of the State of North Carolina. Campus Pride, Inc. will not be liable for any court-related expenses.
9. All fees are listed in U.S. dollars. Any details are subject to change.
10. All details are subject to change.
More information or questions, please contact Campus Pride at 704.277.6710 or email info@campuspride.org.