Campus Pride LGBTQ+ Summer Leadership Academy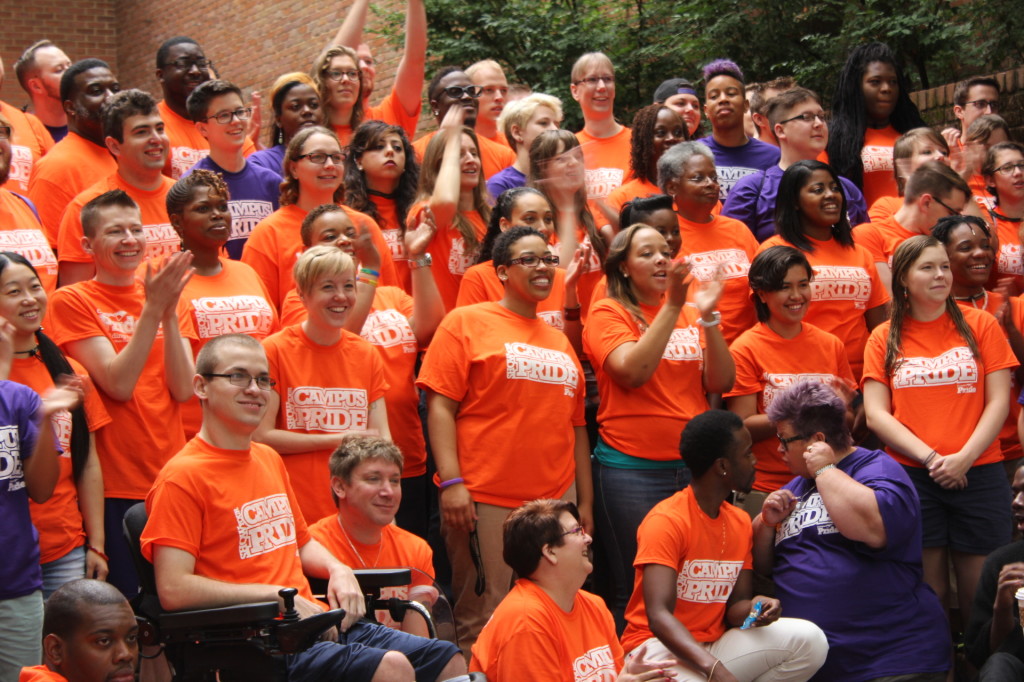 Let's go to camp!! Now you can develop friendships for a lifetime with other LGBTQ and ally college students, build your social justice and leadership skills, and take action as a social justice advocate for a safer and more inclusive campus.
2023 Camp Pride Schedule
What will happen at Camp Pride?  Learn more about the 2023 Camp Pride Schedule online now.
Mission
The mission of the Campus Pride Summer Leadership Academy centers LGBTQ+ student voices to build leadership capacity, shared community and a sense of belonging.
Who: Undergraduate students from two-year, four-year, rural, southern, Minority Serving Institutions (HBCU, TCU and HSI) and religiously-affiliated colleges and universities come to Camp Pride from all over the country. 
When you attend Camp Pride, you will…
Build leadership, resilience and activism

Explore your identity and discover your passion, power and privilege as a leader

Learn innovative advocacy strategies for campus organizing and social justice work

Cultivate personal support and growth, forge a sense of belonging, lasting life-long relationships and strengthen self-awareness 

Deepen awareness of the LGBTQ+ shared community, history and intergenerational learning 

Thrive in an affirming safe space, building friendships and community connections among peers

Develop an individual action plan to navigate challenging climates and create positive change

Receive tools and resources to effectively maximize power as a student leader

Identify ways to nurture your spirit, celebrate joy and practice self-care
Camp Supplies
What To Bring
 No formal attire required. Wear orange and purple if you have it!
Hoodie, cardigan, light jacket (weather and temperatures vary)
Comfortable footwear
Shampoo, soap, personal hygiene supplies, etc.
Sunscreen and/or bug spray
Any personal prescription medicationsConsider bringing your campus LGBTQ & ally resources to exchange  (approx 50 total, if possible)
Feel free to bring fun items and important resources to swap/share with others from your campus
Towels, sheets, blankets, and pillows will be provided; however, some people like to bring extra bedding.
Check the weather for CLT before you leave. Summers are usually warm, rainy and humid.
All meals are provided and dietary restrictions will be accommodated according to your registration.
Camp Scholarships
Full and partial scholarships are available on a limited-bases. First priority consideration is in April and rolling thereafter. Applicants who have already registered and paid will be refunded any scholarship monies at the time of the event. Due to a limited capacity, we do encourage you to register ASAP. Campus Pride seeks a diverse cohort of student leaders/advisors and these scholarships assist in this commitment across race, sexual orientation, gender identity/expression, socio-economic and geographical boundaries. Learn more.
History/Background
Since 2007, Camp Pride continues to be the nation's premiere LGBTQ+ Leadership Academy for undergraduate LGBTQ+ and ally students. Join us to develop your campus organizing, social justice and leadership skills.  Camp Pride continues to create a uniquely inclusive and evolving experience to nurture, learn and grow as an intersectional LGBTQ+ leader and social justice advocate.