Susan R. Rankin, Ph.D.
Center for the Study of Higher Education
The Pennsylvania State University
Susan R. Rankin, Ph.D. is a Research Associate in the Center for the Study of Higher Education and Assistant Professor of Education in the College Student Affairs Program at The Pennsylvania State University. Rankin's current research focuses on the assessment of institutional climate and providing program planners and policy makers with recommended strategies to improve the campus climate for under-served communities.
Ramón Barthelemy

Ph.D. Student, Science Education
Western Michigan University
Ramón Barthelemy holds a bachelors degree in astrophysics from Michigan State University and is currently a PhD student in science education at Western Michigan University. He is a fellow of both the NSF AGEP program and the Michigan Space Grant Consortium. Ramón's research revolves around educational equity and social justice in the STEM (Science Technology Engineering and Mathematics) fields. He specializes in gender issues in STEM and is currently completing a project in collaboration with Dr. Sue Rankin (Pennsylvania State University) and Dr. Eric Patridge (Yale).
Genny Beemyn, Ph.D.

Stonewall Center, Director
University of Massachusetts, Amherst
Genny Beemyn has published and spoken extensively on the experiences and needs of transgender people, particularly the lives of gender-nonconforming students. They have written or edited eight books/journal issues, including special issues of the Journal of LGBT Youth on "Trans Youth" and "Supporting Transgender and Gender-Nonconforming Children and Youth" and a special issue of the Journal of Homosexuality on "LGBTQ Campus Experiences." Genny's most recent work, written with Sue Rankin, isThe Lives of Transgender People, which was published by Columbia University Press in November. Currently, they are finishing a book on the history of LGBT life in Washington, D.C. In addition to being the director of the Stonewall Center, Genny is also a board member of the Transgender Law and Policy Institute and an editorial board member of theJournal of LGBT Youth, the Journal of Bisexuality, the Journal of Homosexuality, and the Journal of Student Affairs Research and Practice. Genny has a Ph.D. in African American Studies and Master's degrees in African American Studies, American Studies, and Higher Education Administration. They are also an avid cross-country runner and like the challenge of biking up mountains.

Douglas N. Case
Student Testing, Assessment, and Research
San Diego State University
Douglas N. Case was the longtime Coordinator of Fraternity and Sorority Life at San Diego State University, where he advised the fraternity and sorority community from 1978 to 2011.  Case was an active member of the Association of Fraternity Advisors and held several leadership roles in the professional association including serving as President in 1991. Case has conducted ground-breaking research on LGBT issues within the fraternity/sorority community and has written several articles and chapters on the topic for various publications, including the introductory chapter to Out on Fraternity Row: Personal Accounts of Being Gay in a College Fraternity and the concluding chapter to Brotherhood: Gay Life in College Fraternities . He is an initiate of Kappa Sigma Fraternity and is an honorary member of Delta Lambda Phi Fraternity, the national social fraternity for gay, bisexual and progressive men. He has served as the Chapter Advisor for the San Diego chapter of Delta Lambda Phi since it was founded in 1992 and served as the National Risk Management Coordinator for the fraternity.

Jennifer M. deCoste, Ph.D.
Chief Diversity Officer
University of Wisconsin Platteville
Dr. Jennifer M. deCoste serves as the Chief Diversity Officer at the University of Wisconsin Platteville. She oversees Multicultural Student Affairs, the Women's and LGBTQ Center, Veteran's Affairs, Services for Students with Disabilities, ADA, Affirmative Action, and International Programs. She earned her bachelor's degree at the Hartt School of Music, master's degree at the University of Hartford, and her Ph.D. from Penn State University.  Throughout her career she has worked as a public school educator, information technology trainer and manager, faculty member, and higher education administrator, with a passion for underrepresented students throughout her career. She also works as a private consultant and trainer on diversity topics, particularly focusing on the LGBTQ community. She also taught at the Penn State Altoona and Clarkson University. In 2012, she won Dissertation of the Year from the American Educational Research Association for her work with rural sex educators, which focuses on queer topics in the public school classroom. She is currently collaborating with Jay Garvey and Sue Rankin on a research project focusing on the experiences of LGBTQ faculty on college campuses.

Jason C. Garvey, Ph.D.
Assistant Professor, Higher Education

University of Alabama
Jason C. Garvey is an Assistant Professor of Higher Education in the Department of Educational Leadership, Policy, and Technology Studies at The University of Alabama and a Research Associate with Campus Pride's Q Research Institute for Higher Education. He is the recipient of the 2014 AERA Queer Studies SIG Scholar-Activist Dissertation of the Year Award. Dr. Garvey's research explores issues related to campus and classroom climate, philanthropy and fundraising for higher education alumni, and LGBTQ individuals.  Prior to his faculty appointment, he worked in student services across a variety of functional areas, including academic advising, LGBTQ student advocacy, undergraduate research, residence life, and assessment. Dr. Garvey currently serves as Director of Education for the Standing Committee for LGBT Awareness and is on the Commission for Professional Preparation Directorate, both within ACPA.

Genevieve Weber Gilmore, Ph.D., LMHC
Assistant Professor of Counselor Education
Hofstra University
Genevieve Weber Gilmore, Ph.D., LMHC, is an Assistant Professor of Counselor Education at Hofstra University. She is also a Licensed Mental Health Counselor in the State of New York with a specialization in Substance Abuse Counseling. Dr. Weber Gilmore teaches a variety of courses related to the training of professional counselors includes group counseling, multicultural counseling, psychopathology, and psychopharmacology and treatment planning. In her research, Dr. Weber Gilmore focuses on the impact of homophobia and heterosexism on the lives of lesbian, gay, bisexual, and transgender (LGBT) individuals.

Eric Patridge         
Research Scientist
Yale Center for Molecular Diversity                                                                                                                                                                                                         
Eric Patridge is a Research Scientist at Yale University, where he conducts research in both natural products chemistry and protein chemistry.  He coordinates an initiative to engage both faculty and students in the discovery of bioactive compounds from the environment.  His scientific background incorporates an array of disciplines, including pharmacology, enzymology, microbiology, electrochemistry, bioinformatics, and computational modeling.  He holds a PhD from The Pennsylvania State University and is a graduate of Skidmore College, where he obtained a dual major in Chemistry and Molecular & Cellular Biology.  Aside from his scientific work, he is also founder of the LGBTQA STEM society, Out in Science, Technology, Engineering and Mathematics (oSTEM) and currently serves as president of oSTEM Incorporated.  Eric received a bachelors degree from Skidmore College with a dual major in chemistry and molecular & cellular biology, and he obtained a doctorate in Integrative Biosciences (Chemical Biology) from the Pennsylvania State University.  As an engineer of scientific infrastructure, he remains dedicated in multi-disciplinary research and to sustainable, effective mentorship.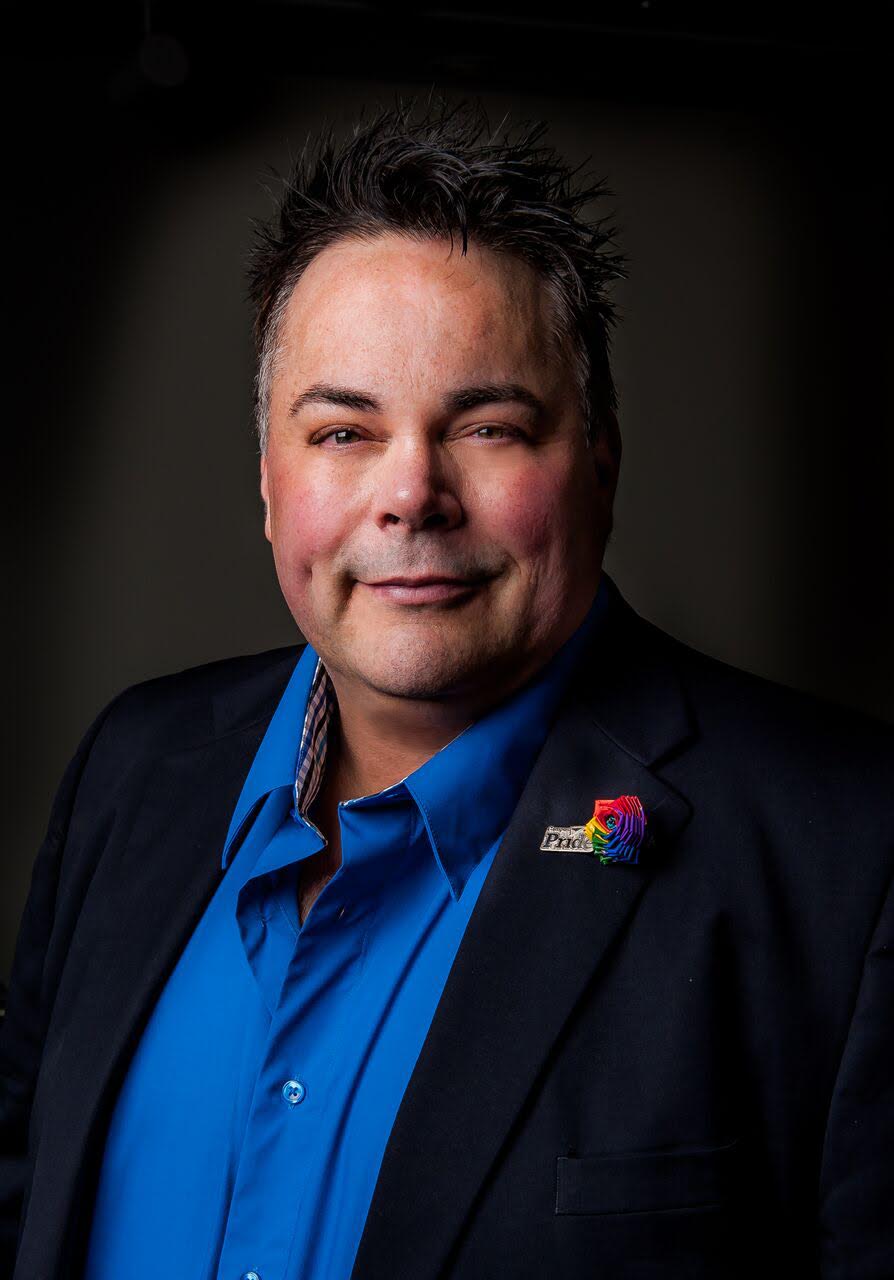 Shane L. Windmeyer, M.S., Ed.
Executive Director & Founder
Campus Pride
Shane L. Windmeyer, M.S., Ed., is a leading author ongay campus issues, national leader in gay and lesbian civil rights and a champion for LGBT issues on college campuses. He is cofounder and executive director of Campus Pride, the only national organization for student leaders and campus organizations working to create a safer college environment for LGBT students. Released Fall 2006 by Alyson Books, Windmeyer is the author of The Advocate College Guide for LGBT Students, the first-ever college guide profiling the "100 Best LGBT-Friendly Campuses." He is also the editor of Brotherhood: Gay Life in College Fraternities and co-editor of the books Inspiration for LGBT Students & Allies, Out on Fraternity Row: Personal Accounts of Being Gay in a College Fraternity and Secret Sisters: Stories of Being Lesbian & Bisexual in a College Sorority.

Michael R. Woodford
Lyle S. Hallman Faculty of Social Work 
Wilfrid Laurier University (Ontario, Canada)
Michael R. Woodford, MSW, PhD, is an Associate Professor of Social Work at the Wilfrid Laurier University in Waterloo, Ontario, Canada.  His research addresses the health and wellbeing of LGBTQ college students. In particular, Michael examines the effects of subtle discrimination, such as microaggressions, and overt discrimination, for example threats of violence, on students' wellbeing. He also documents the consequences of being a bystander to various types of discrimination, including heterosexist harassment. To foster acceptance and social inclusion of LGBTQ people, Michael also studies heterosexual college students' attitudes toward LGBT people and LGBT policies.