Please register for our online training opportunities. 
"Since becoming a trainer with the Stop The Hate Train the Trainer Program, I have found that the knowledge and expertise I've gained have not only benefited me in my role on campus, but also have benefited other regional campuses throughout the Northwest. This program has been one of the most important pieces of training for me in my thirty years in higher education." -Michael Henthorne, Director, OSU Memorial Union, Oregon State University
What is the Train the Trainer Program?
Program Description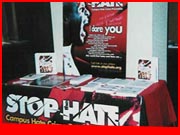 Stop The Hate Train The Trainer Program supports colleges and universities in preventing and combating bias and hate crimes on campus as well as fostering the development of community. The only resource of its kind specifically for college campuses, the Stop The Hate 250+ page premiere training manual and a two-day (16 hour) or three-day (22 hour) Train The Trainer program was developed in partnership with the Anti-Defamation League, Association of College Unions International, Campus Pride, The Southern Poverty Law Center, Wilbron Institute, Matthew Shepard Foundation, the Center for the Prevention of Hate Violence and Campus Pride.
What can I learn?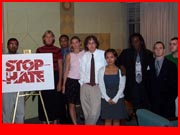 Program Benefits
Model Hate Crime Prevention Program with 250+ page curriculum training manual divided into twelve different learning modules
skills and information to train students, faculty, and staff on anti-hate initiatives
Suggested approaches to respond to hate crimes and bias-motivated incidents
Knowledge about hate crime legislation and legal issues
Expert resources and access to current hate crime issues and materials
Ongoing resources, support and evaluation of your efforts
What is it all about?
Program Overview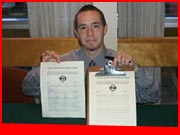 Addressing the issue of hate crimes on campus requires participation of all members of the campus community. The Stop The Hate Program allows top administrators, student affairs professionals, faculty and students to learn new innovative tools to take action on hate crimes and bias-motivated violence issues on his/her campus and region. Over a period of two or three days and approximately 16 to 20 hours of training time, each participant becomes skilled on 12 different training modules to implement in combination or as separate workshops/seminars, as follows:
* Module 1: Framework for Learning
* Module 2: Introducing Bias & Hate Crime Issues
* Module 3: Understanding Hate Crime Law
* Module 4: Reporting and Documenting Hate Incidents & Hate Crimes
* Module 5: The Impact of Hate Crime & Victim Support
* Module 6: The Attraction of Hate
* Module 7: Young Hate Crime Offenders and Offender Motivations
* Module 8: Preventing Hate Incidents and Hate Crimes
* Module 9: Trainer Workshop Basics
* Module 10: Evaluation of Workshop
* Module 11: Change-Breakers
* Module 12: Action Plan to Combat Hate
Key expert leaders from the partnering human rights and hate crime agencies conduct the training in groups of 20-50 depending on contract details. These experts are selected to maximize the participants' ability to impact his/her college campus as an educator on hate crime prevention. Throughout the next year, the participants commit to be a part of the Stop The Hate consortium of educators to combat hate on campus and implement an action plan consisting of a minimum of six hate crime prevention efforts that might include workshops, seminars, rallies, writing articles, developing campus response teams, etc.
How do I plan the Train the Trainer for my campus?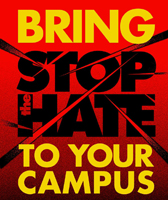 Program Details & Costs
We now offer a 2-day, 16 hour, or 3-day, 22 hour version of the Stop the Hate Train the Trainer program.  The traditional 3-day program includes time for participants to practice what they have learned in a teach-back workshop during the last day of the program.  The 2-day version of the program offers the basics, but does not include the skills application workshop.
The minimum number of participants for both versions of the program is 20.  We can accommodate up to 50 participants.  Training sessions are typically scheduled at least 90 days in advance.  For planning purposes, a signed contract must be received by Campus Pride at least 45 days before the first day of a program.
For more information about purchasing a program for your campus, please contact the Stop The Hate Program Coordinator at (888) 537-4463 ext. 2