Announcing our June 2022 social justice mini-grant awardees
Today, June 15, Campus Pride announced the awarding of 11 new Social Justice Mini-Grants for Activism. Campus Pride launched its social justice mini-grant program in June 2021 as part of the organization's 20th-anniversary celebrations with an inaugural ten awards. Each grant is worth up to $600.
Grantees represent schools from across the country, working on projects including creating a transgender community closet to give access to free gender-affirming garments and makeup; supporting LGBTQ+ inclusive communities for student-athletes, members of the Asian and Asian American diaspora, and STEM students; and curating resource guides to access LGBTQ+ services. View the full list of mini-grant awardees and project descriptions online at www.CampusPride.org/SocialJusticeMiniGrantFunding.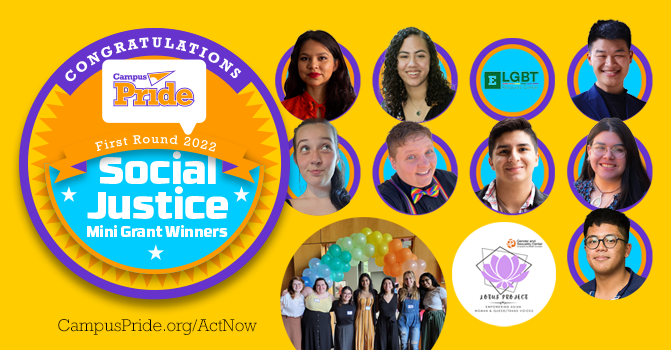 mecidiyeköy escort
beylikdüzü escort
istanbul escort
The first class of 2022 awards includes the following schools and project themes:
 Ranen Miao (Washington University)
To consolidate reproductive health resource information, making those services easier to access in the face of the Supreme Court's overturning of Roe v. Wade and Missouri's snap ban.
Lilli Hime (The University of Texas at Austin)
To support the Lotus Project, developing a community for queer, trans, and/or women of the Asian or Asian American diaspora on campus.
Lu Mila (Middlebury College)
To support the development of the new Queer and Trans People of Color (QTPOC) special interest house on campus.
Ramier Villarama (Macalester College)
To support Pride Athletes at Macalester (PAAM), which works to create a safe space for LGBTQ+ student-athletes.
Sam Owens (Texas State University)
To study the experience of trans students who have been deadnamed or misgendered by faculty members, and what actions can mend the resultantly impaired student-institution relationship.
Anika Srinath (The University of Texas at Austin)
To support the Feminist Action Project's zine, collecting art, poetry, and prose from the general student body.
Bryce Diggs (Castleton University)
To support the development of a presentation on inclusive sex education to be delivered as part of the university's Connections course for first-year students.
Andres Gonzalez (Rochester Institute of Technology)
To promote inclusive LGBTQ+ spaces within STEM education.
Shania Montúfar (Truman State University)
To create a collaborative zine to provide information and resources for LGBTQ+ people in rural northeast Missouri.
Lance Rasmussen (Eastern Michigan University)
To support a transgender community closet by providing free access to clothes, binders, underwear, makeup, and other gender-affirming materials.
Alex Fruge (University of California Davis)
To support the Pride Festival, celebrating the LGBTQ+ community on campus as well as in the greater Sacramento area.
###
ABOUT CAMPUS PRIDE
Campus Pride is the leading national nonprofit organization dedicated to building future leaders and creating safer, more inclusive communities for LGBTQ people and allies at colleges and universities. Founded in 2001 by nationally-recognized LGBTQ civil rights leader and campus pioneer Shane L. Windmeyer, Campus Pride offers a wide variety of programs and resources for students and prospective students, including the Campus Pride Index, HBCU Clearinghouse, Trans Policy Clearinghouse, Lambda 10, Stop the Hate and Safe Space trainings, and the annual Camp Pride leadership camp. www.campuspride.org