Campus Pride first began the Social Justice Mini-Grants for Activism Funding with the 2021 class of projects.  The program was launched in June 2021 as part of the organization's 20th anniversary celebrations and has continued ever since. Campus Pride awarded 20 grants to commemorate our 20 year anniversary supporting LGBTQ young adult activism. Each grant is worth up to $600. Campus Pride will continue awarding Social Justice Mini Grants for Activism throughout the year. 
Grantees represent schools from across the country, working on projects ranging from producing an original play with trans artists, to developing and lobbying administrators to adopt more inclusive policies, to forming a mentorship program for LGBTQ+ students, to an LGBTQ+ art installation on campus. 
To apply for Social Justice Mini-Grants for Activism, learn more.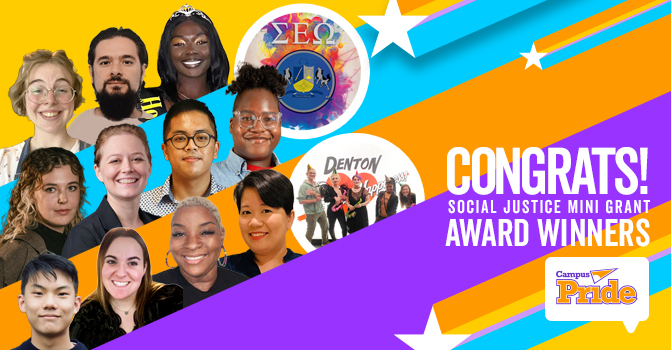 2023 Grant Awards

---
Britani Pires, University of California Berkeley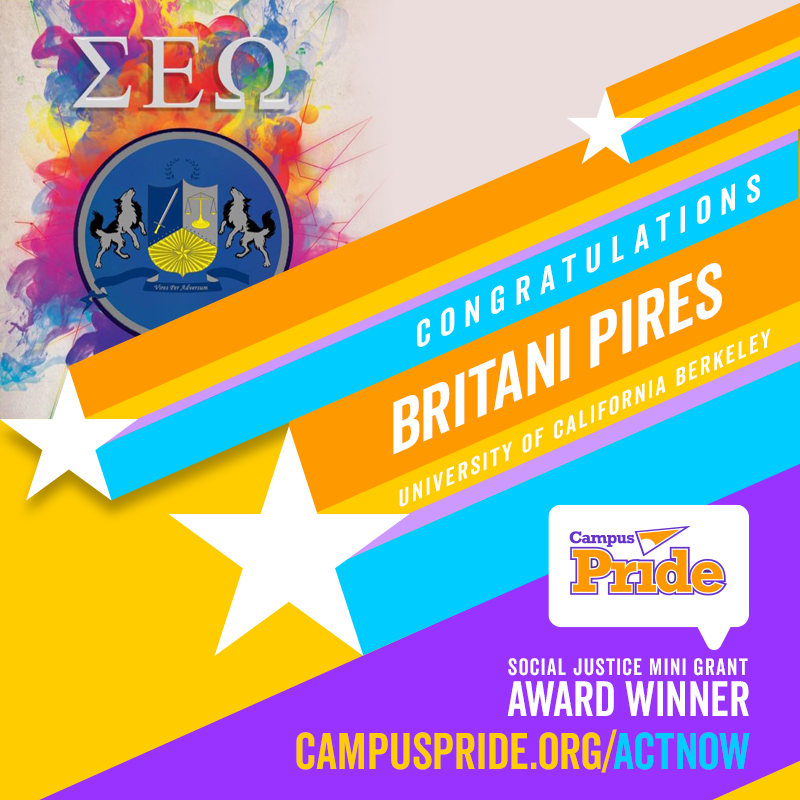 Grant Funding:

Supporting Sigma Epsilon Omega, UC Berkeley's only gender inclusive queer fraternity to find community
---
Paige Hoskins, Bowie State University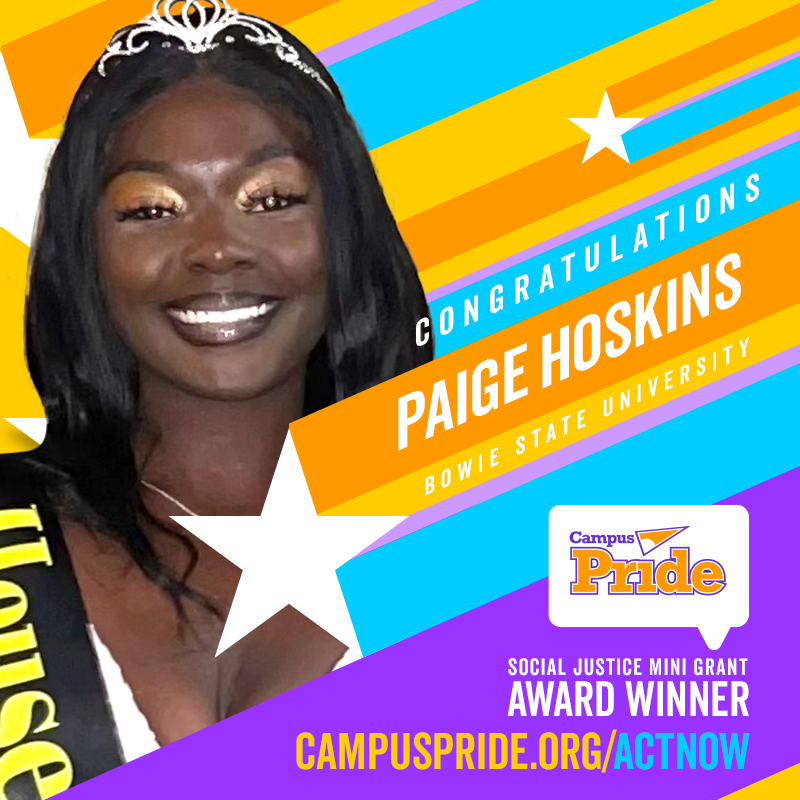 Grant Funding:

Funding for Bowie State University's House of Bowie LGBTQ-straight alliance to provide a safe space for all students 
---
Ashley Elkins, Clinton College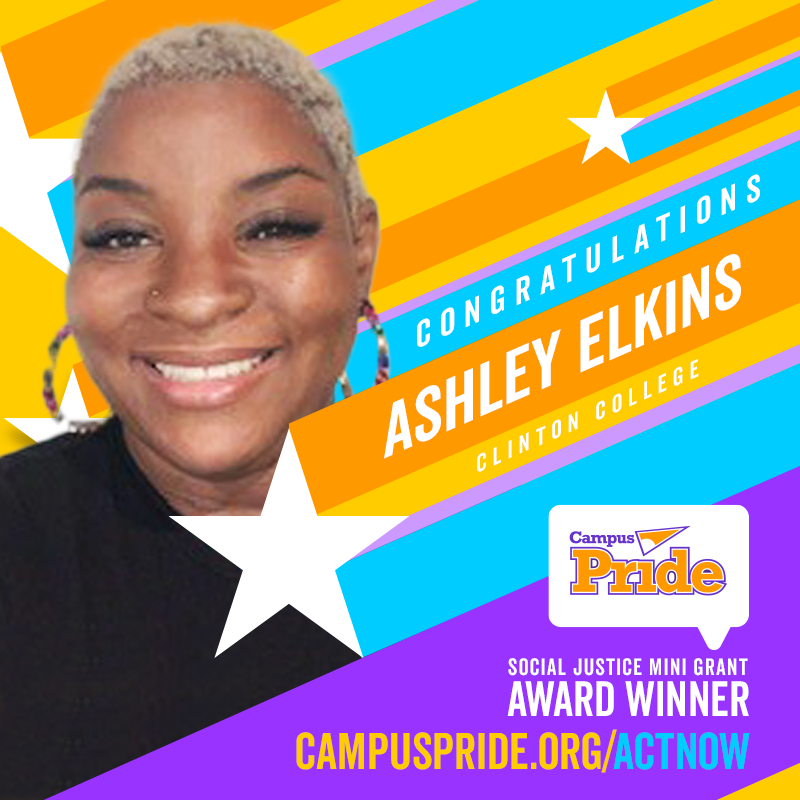 Grant Funding:

Promotion of positive sexual health and resources for PrEP, condoms, dental dams and sanitary menstruation items
---
Tiffany French and Rocco Marinaccio, Manhattan College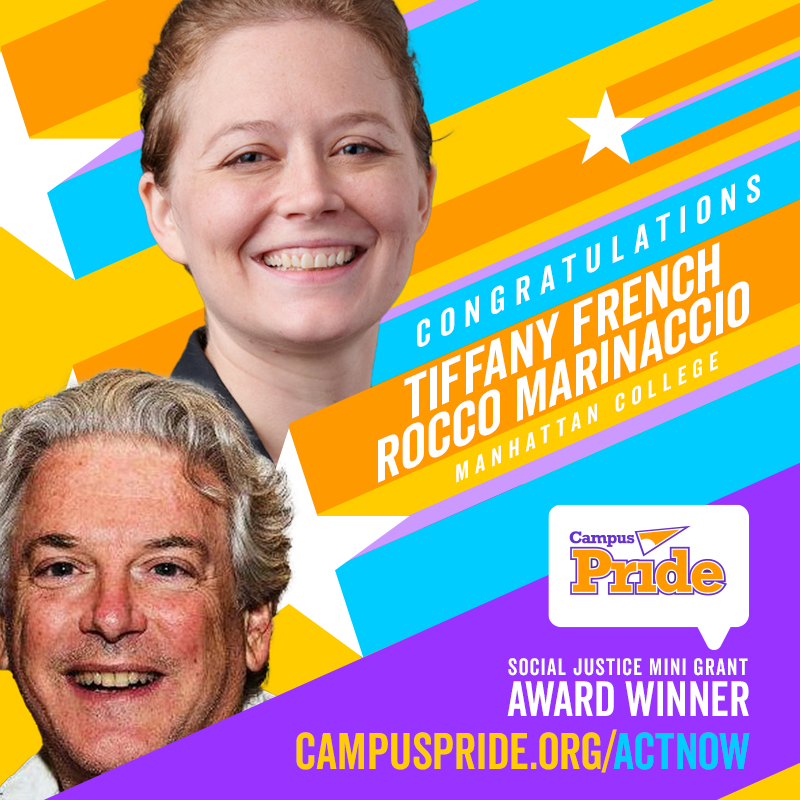 Grant Funding:

Funding for Pride center at a Catholic college
---
Ramier Villarama, Macalester College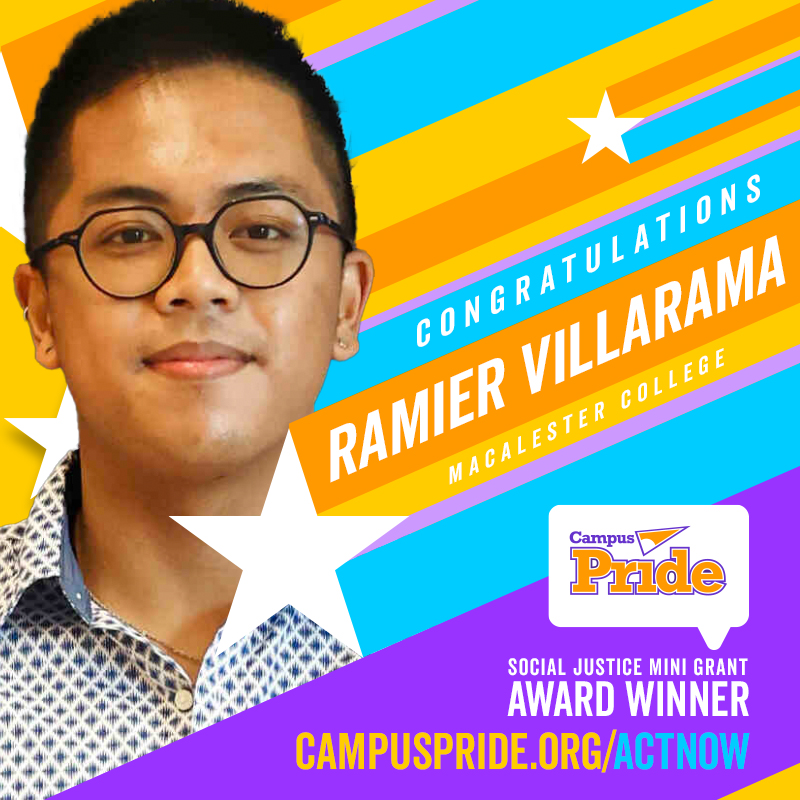 Grant Funding:

Funding to foster a safe space of inclusion for all LGBTQ+ athletes, design of gender-inclusive athlete uniforms, and creating community across sports
---
Eric Lei, Washington University in St. Louis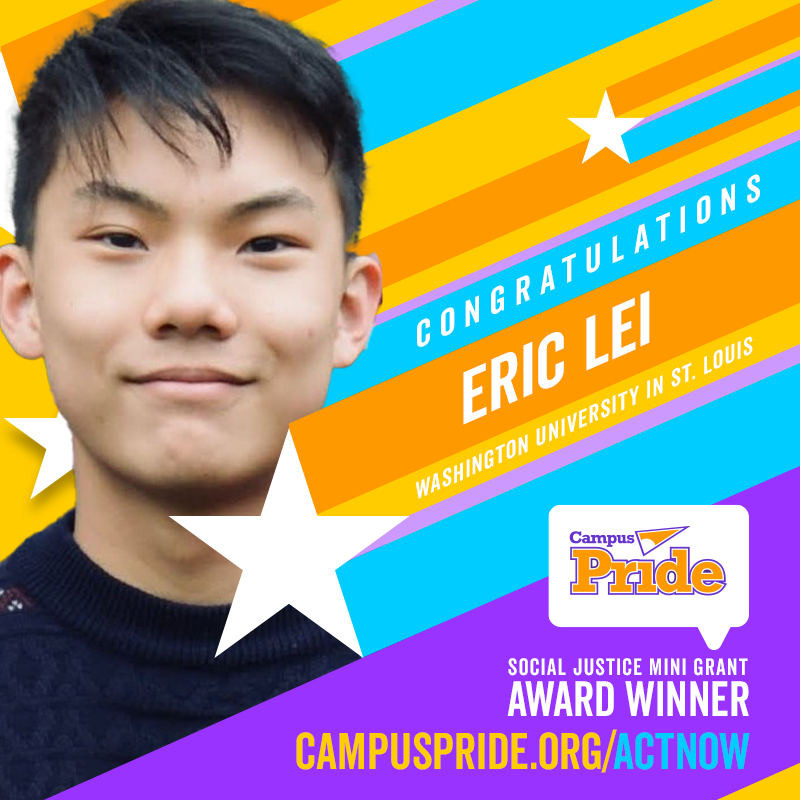 Grant Funding:

Provide positive sexual health information to navigate dating apps and hook-up culture, educate on laws that impact queer and trans of color healthcare, and increase accessibility of community services and clinics
---
Makenna Cofer, John Brown University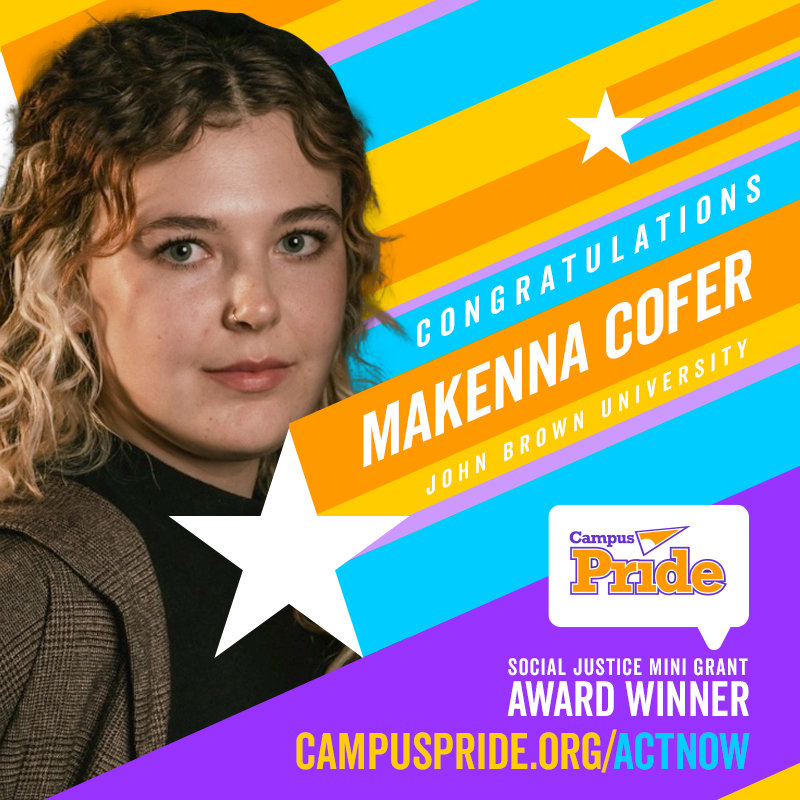 Grant Funding:

Support for the feature length documentary "Part of the Kingdom," which investigates the experience of LGBTQIA+ students and alumni across southern Christian universities
---
Emily Anschultz, California State University, Northridge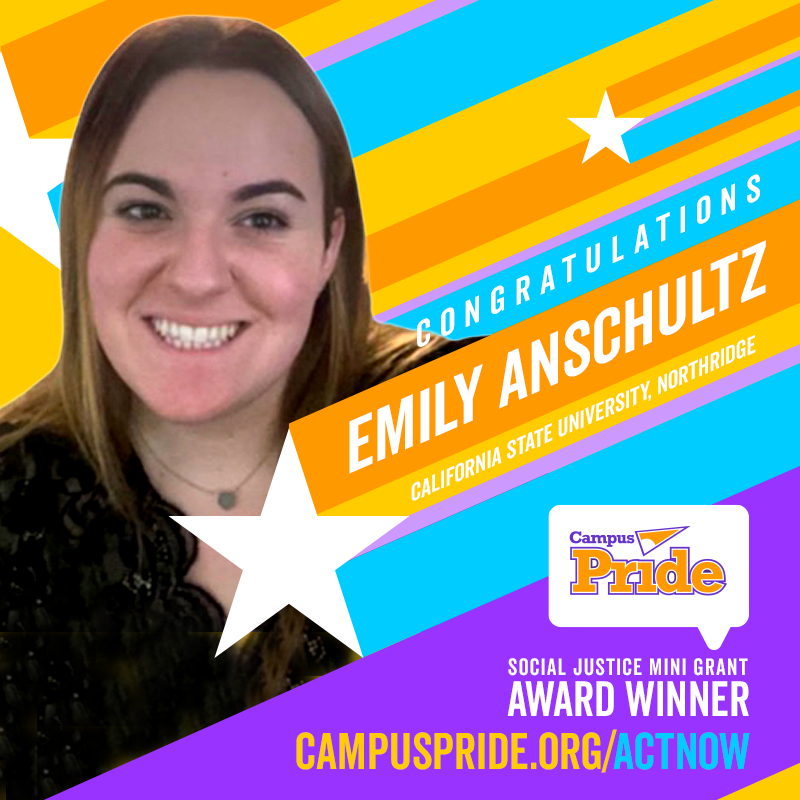 Grant Funding:

Funding to create broader awareness and engagement for LGBTQIA+ Jewish activists and clergy on the CSUN campus and other campuses in the San Fernando Valley
---
Hoa Nguyen, Valdosta State University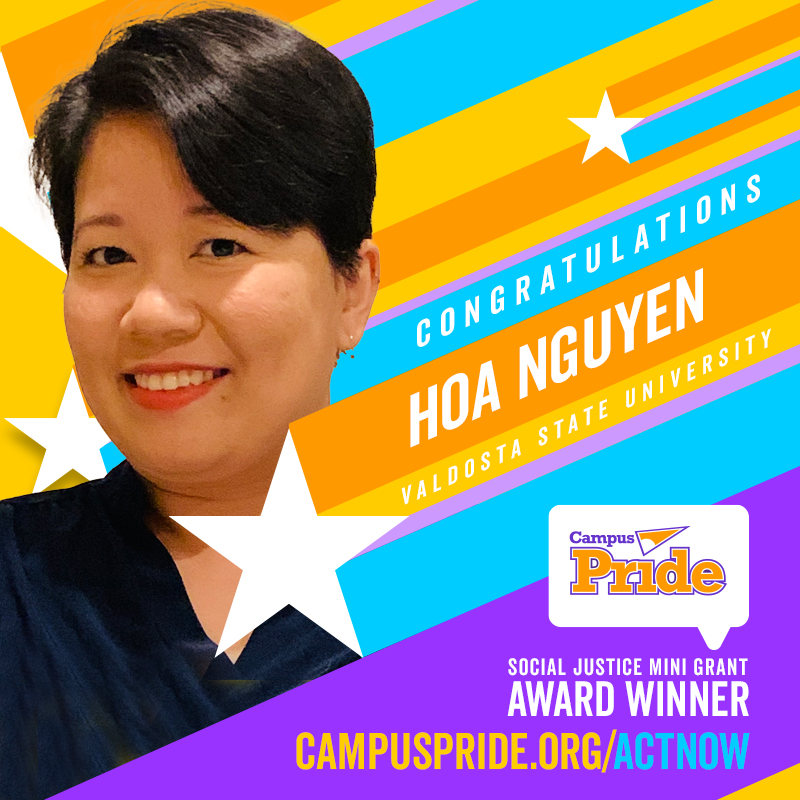 Grant Funding:

Support for an in-person Safe Space training retreat for the campus community
---
Ildai Dari, Kingston College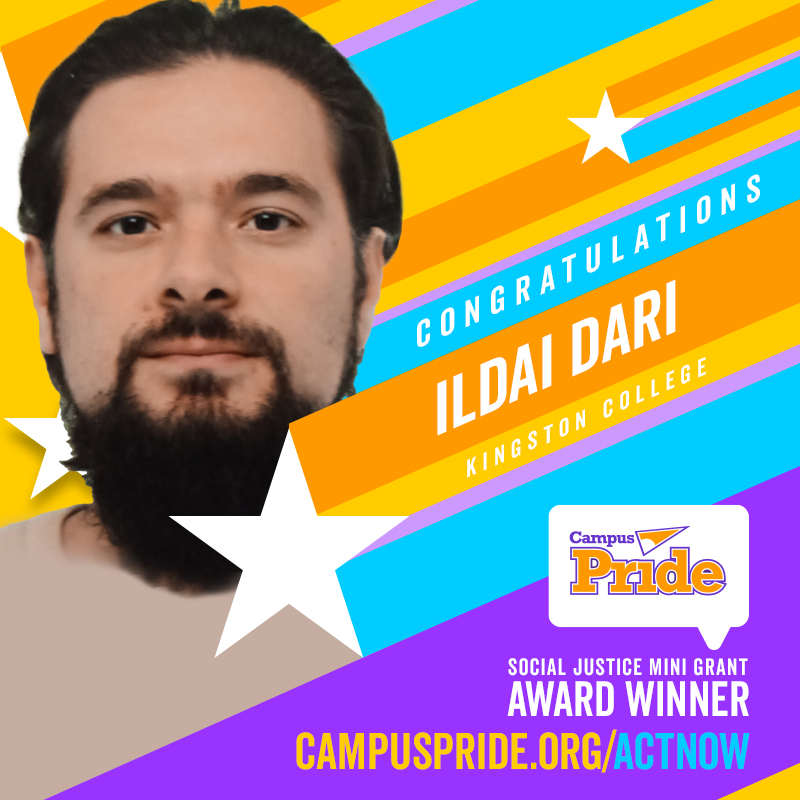 Grant Funding: Crisis assistance funding for LGBTQ+ young adults to find help with leaving hostile home environments, including moving costs and safety

---
Shannon Childs, North Central Texas College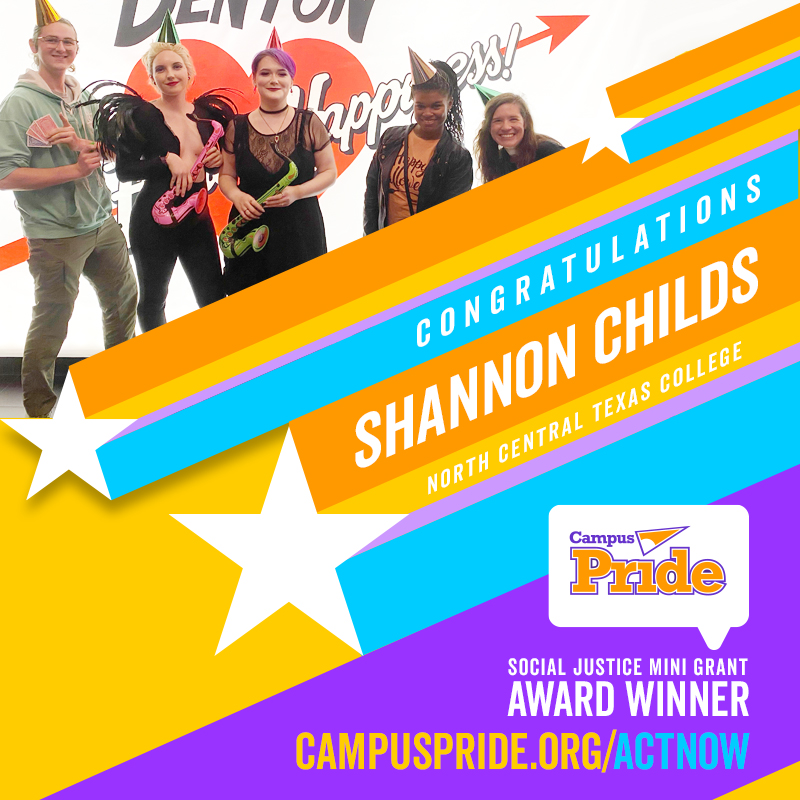 Grant Funding:

Support the Pride Alliance's creation of community libraries inclusive of LGBTQ+ voices and narratives, as well as a community hub for events and resources in the Texas area
---
Teagan Lauffenburger, Appalachian State University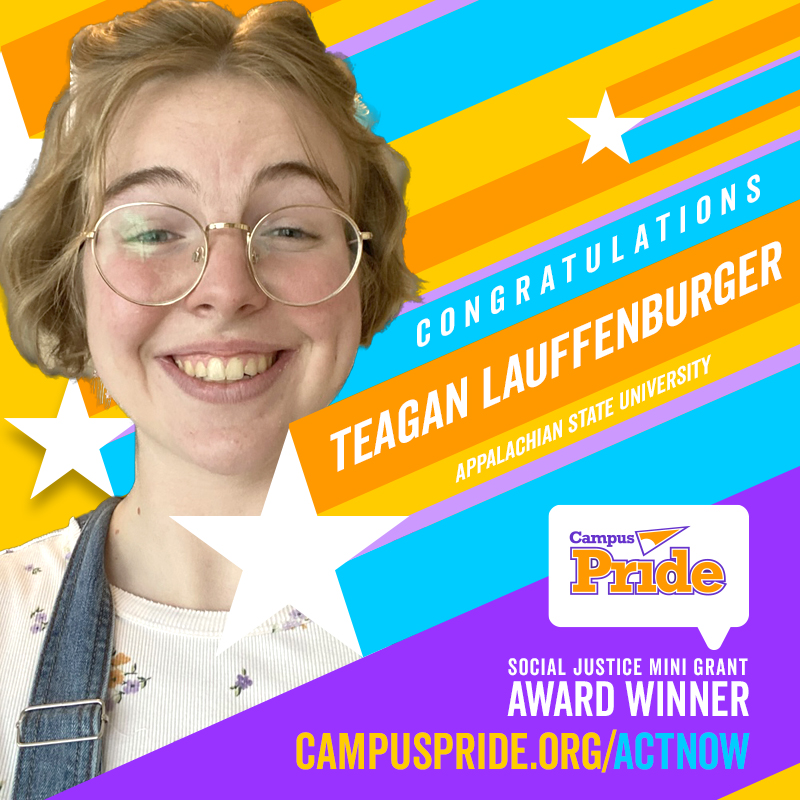 Grant Funding:

Restoration support for a community garden in Boone, NC, to teach a new generation of LGBTQ+ students and community members how to create sustainable living practices
---
Jay Sloan, Eastern Michigan University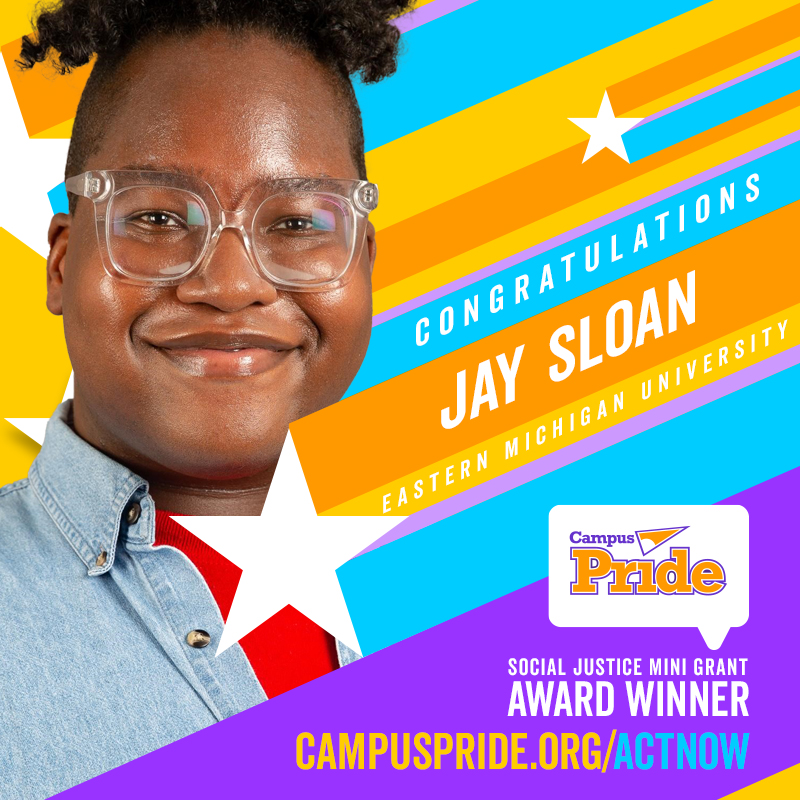 Grant Funding:

Funding to assist with accessing gender-affirming clothing and fostering spaces for trans community members
---


2022 Grant Awards

---
Em DePriest, Emporia State University (Emporia, KS)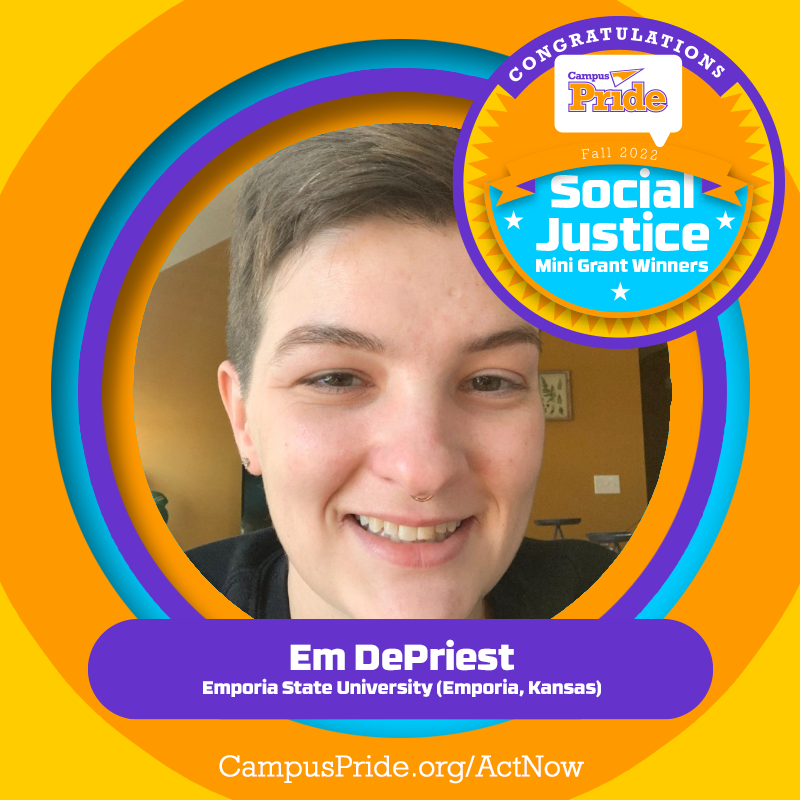 Grant Funding:
Supporting the creation of a Lavender Graduation to honor and acknowledge LGBTQ+ students upon graduation 
---
Ray Chen, New York University (New York, NY)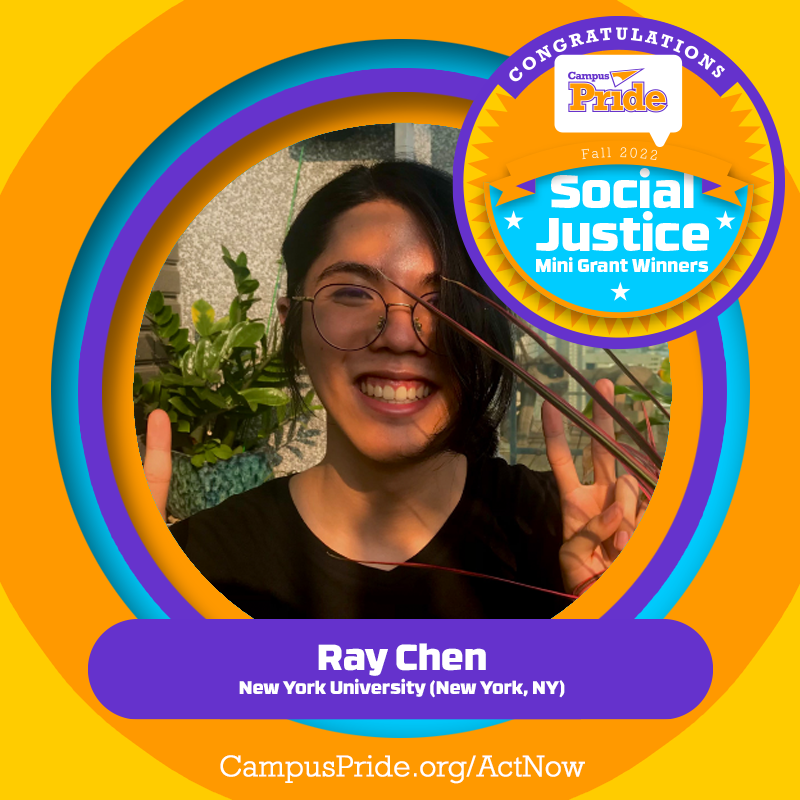 Grant Funding:
Programming assistance for building awareness for  speech-language pathology and audiology students as part of the LGBTQ+ Communication Sciences and Disorders (CSD) Student Association, especially focused on minoritized students (whether disabled, racialized, multicultural, or religious minorities) who are visibly queer and/or gender non-conforming.
---
Aliyanda Harris Cobbinah, North Seattle College (Seattle, Washington)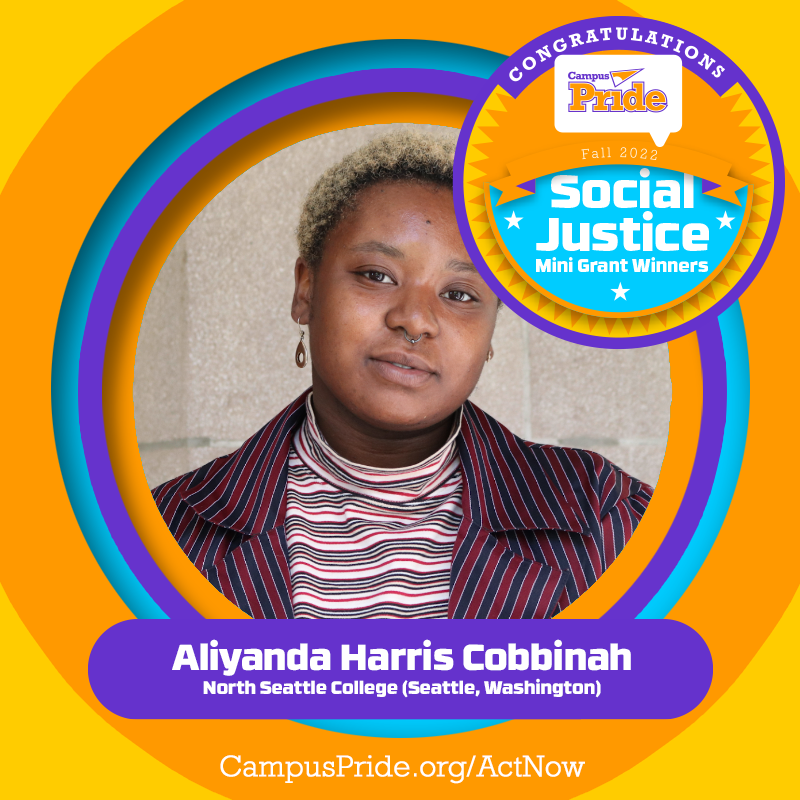 Grant Funding:
Providing gender-inclusive bathroom signage, new LGBTQ+ book titles for library and funding materials for sex positive health stations to distribute condoms, dental dams, etc.
---
Lu Mila, Middlebury College (Middlebury, VT)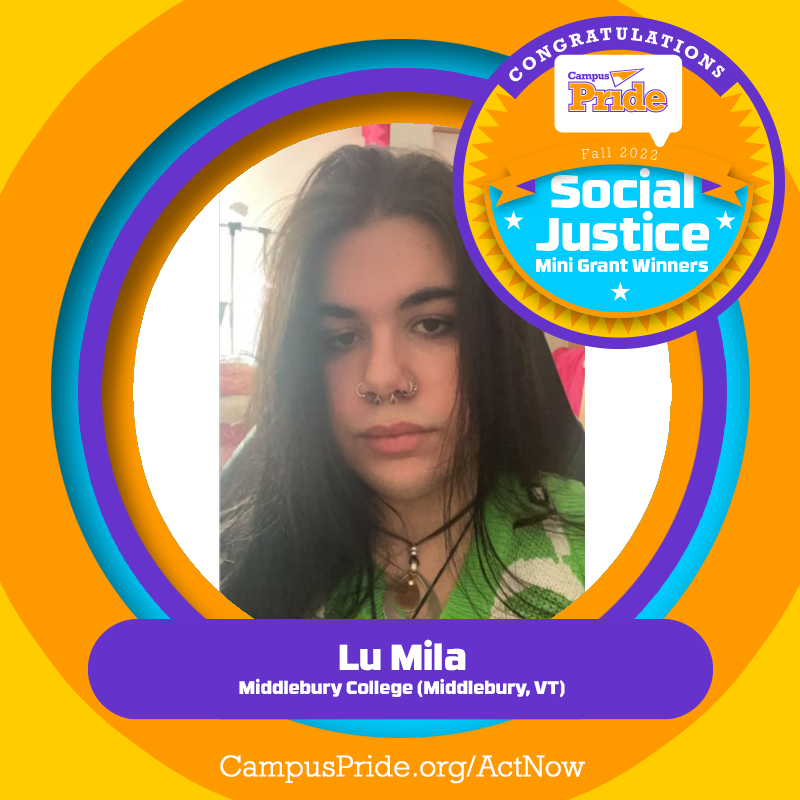 Grant Funding:
Support for LGBTQ+ programming in the Effervescence House including the Snow Ball (the first ever ballroom event), Twilight Tea and the Winter Semester Drag Debut Workshop
---
Ramier Villarama, Macalester College (St Paul, MN)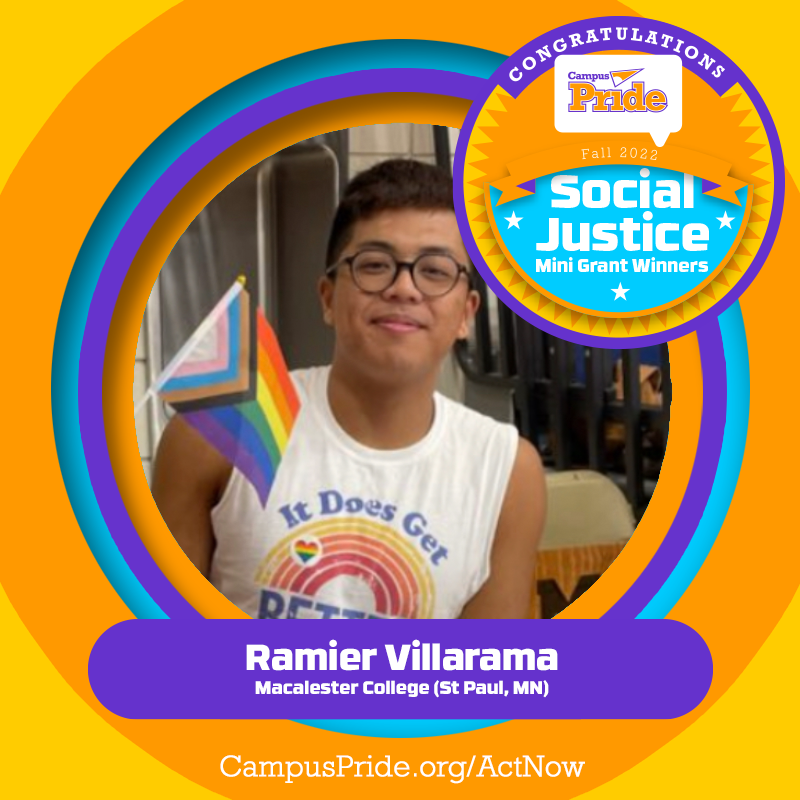 Grant Funding: Support for BIPOC LGBTQ+ artists on campus to celebrate their work, display and sale for commission to support the LGBTQ+ community.
---
Annie Cantoran Temple, Brigham Young University, (Provo, UT)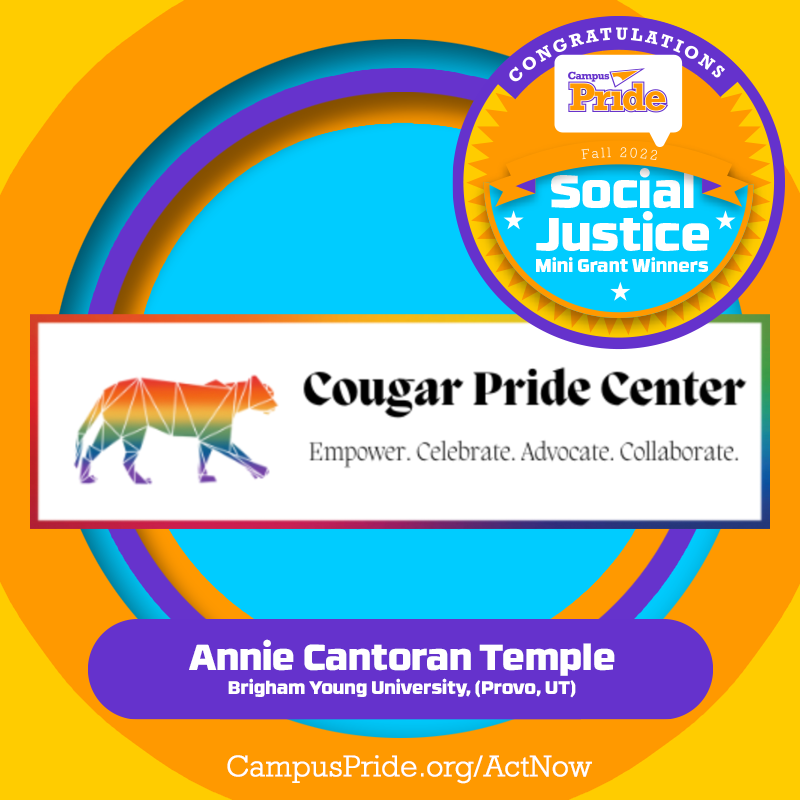 Grant Funding: Provide funding for the Cougar Pride Center (previously  BYU Pride) to plan a  free family friendly drag show to help celebrate the campus community and its history as well as foster a safe space.
---
Abigial Shillingburg, Potomac State College of West Virginian University (Keyser, WV)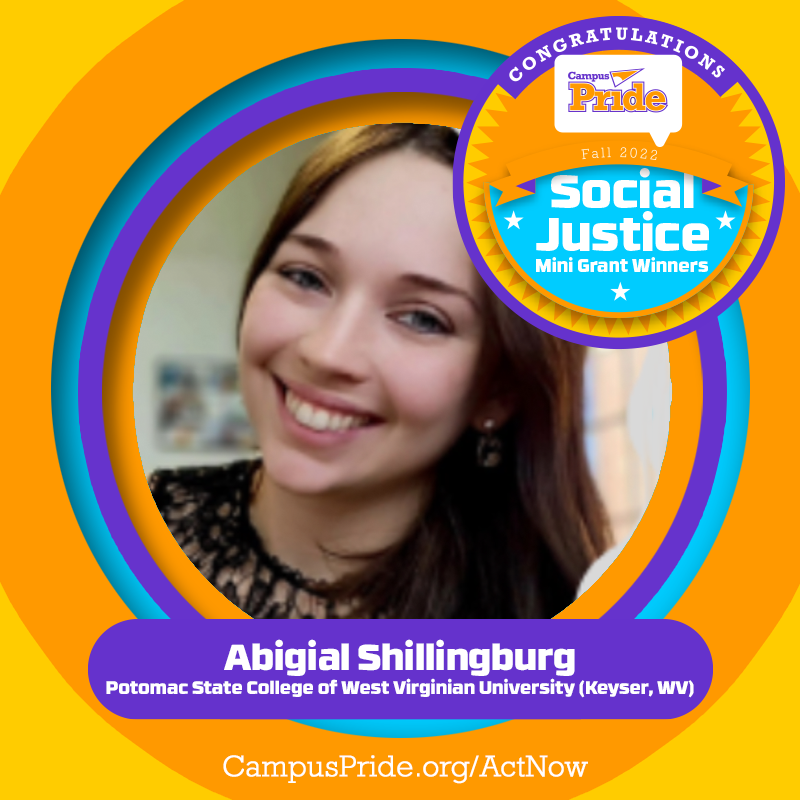 Grant Funding: Creation of a community clothing and binder resource as well as dedicated space for LGBTQIA students to find community, support among peers and a "safe space."
---
Madline English, Texas State University (New Braunfels, TX)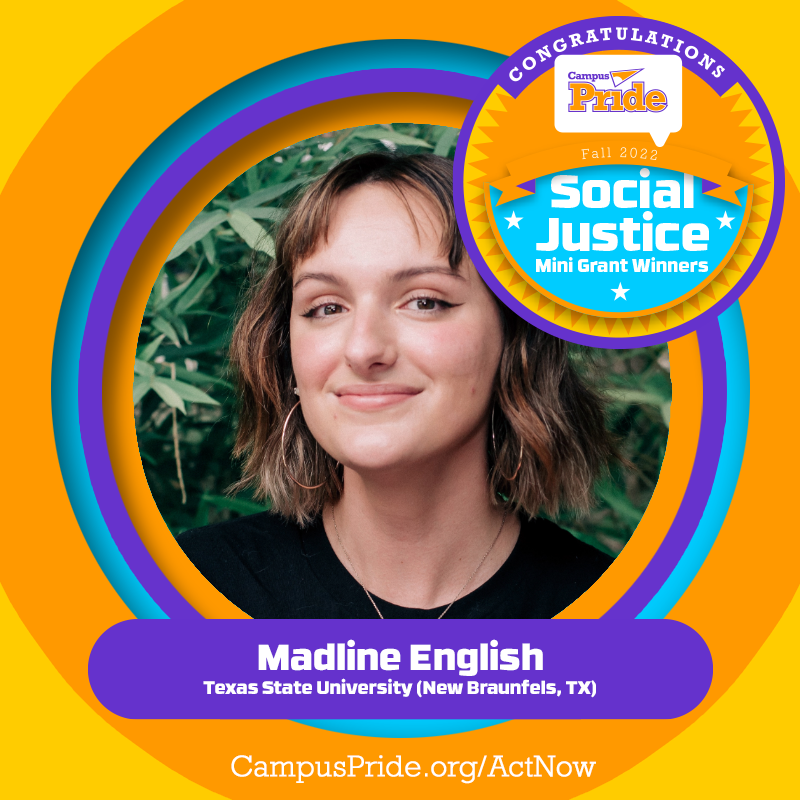 Grant Funding: Support for operations and programming for  the Queer Agenda, a Texas-based queer education station specializing in history, issues, and support for the LGBTQ+ community.
---
Ranen Miao, Washington University (St. Louis, MO)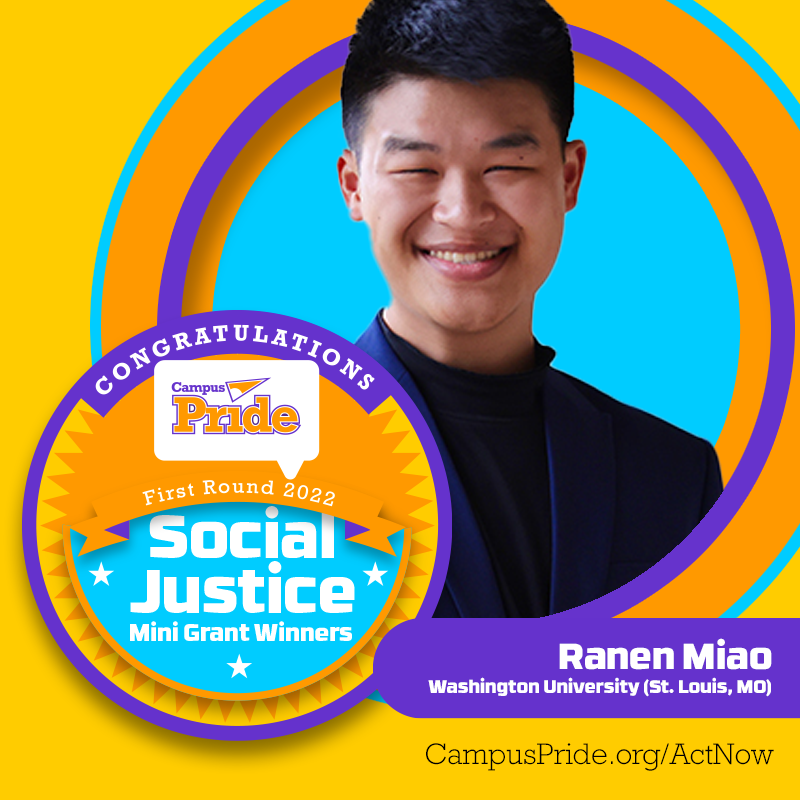 Grant Funding:
To consolidate reproductive health resource information, making those services easier to access in the face of the Supreme Court's overturning of Roe v. Wade and Missouri's snap ban.
---
Lilli Hime, University of Texas at Austin (Austin, TX)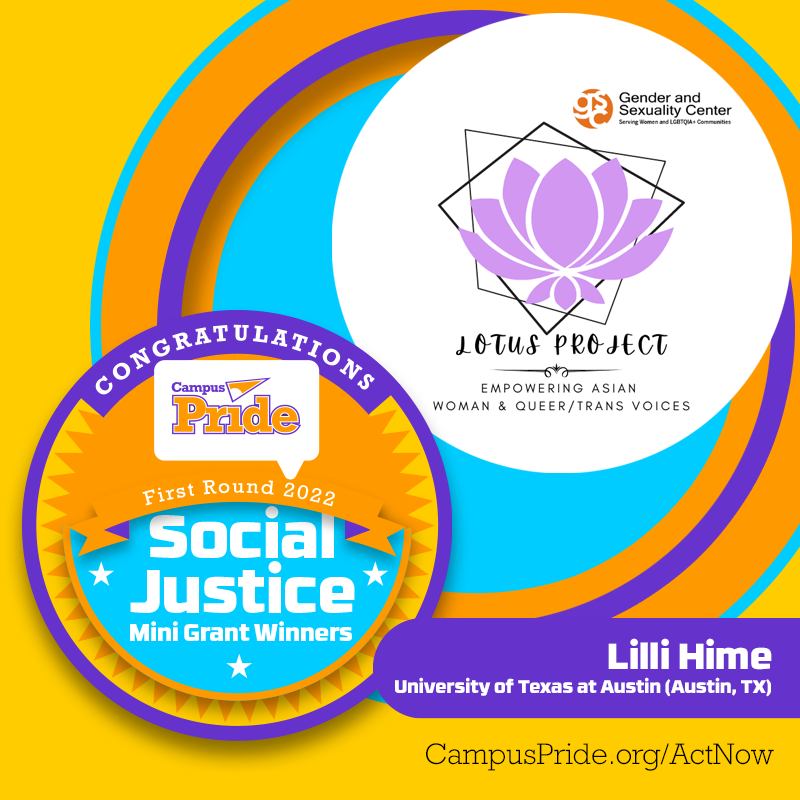 Grant Funding:
To support the Lotus Project, developing community for queer, trans, and/or women of the Asian or Asian American diaspora on campus. 
---
Lu Mila, Middlebury College (Middlebury, VT)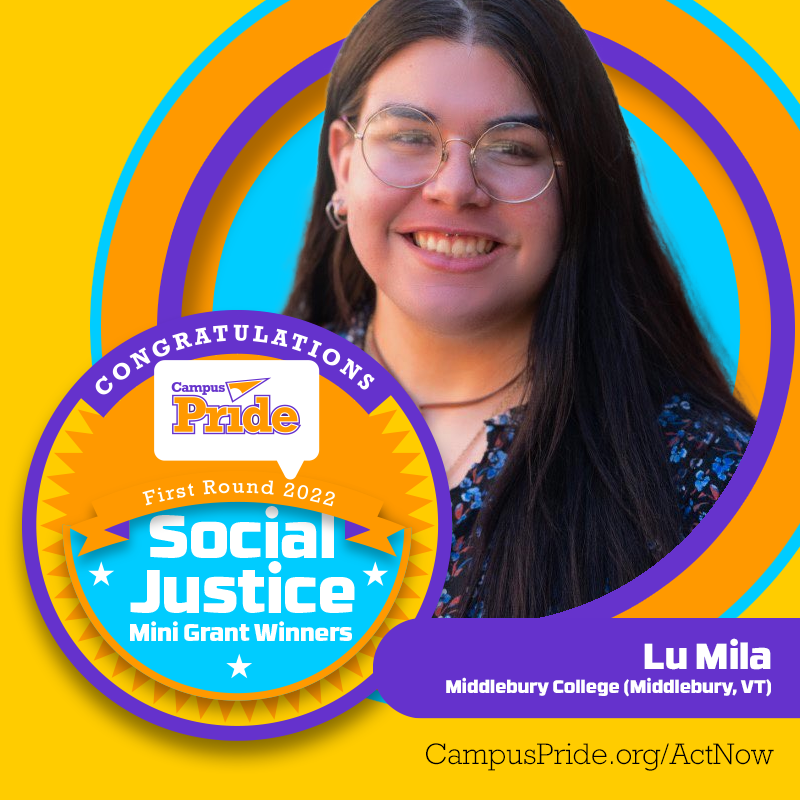 Grant Funding:
To support the development of the new Queer and Trans People of Color (QTPOC) special interest house on campus. 
---
Ramier Villarama, Macalester College (St. Paul, MN)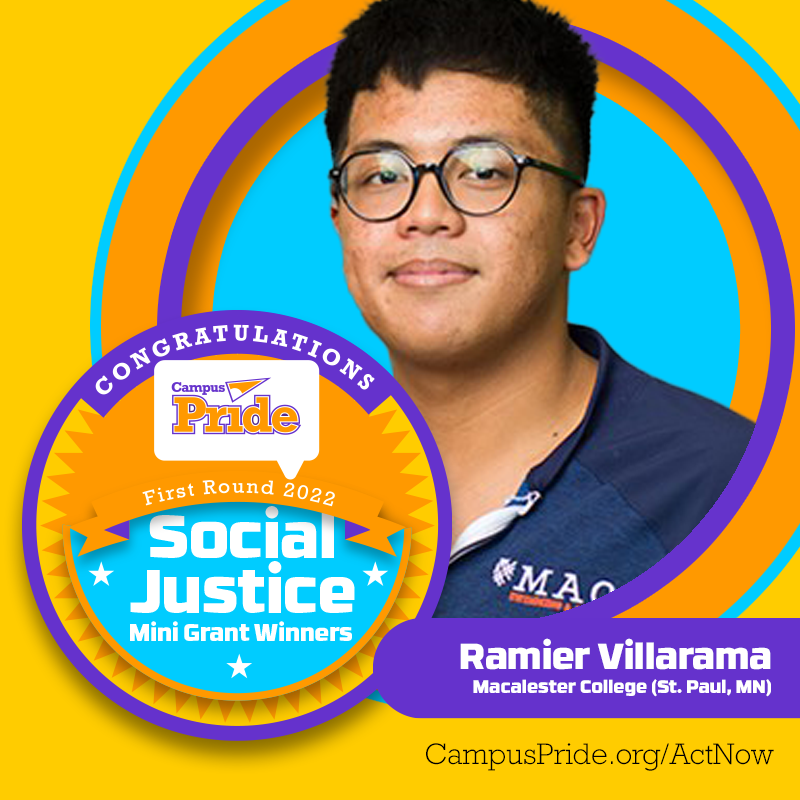 Grant Funding: To support Pride Athletes at Macalester (PAAM), which works to create a safe space for LGBTQ+ student athletes.
---
Sam Owens, Texas State University (San Marcos, TX)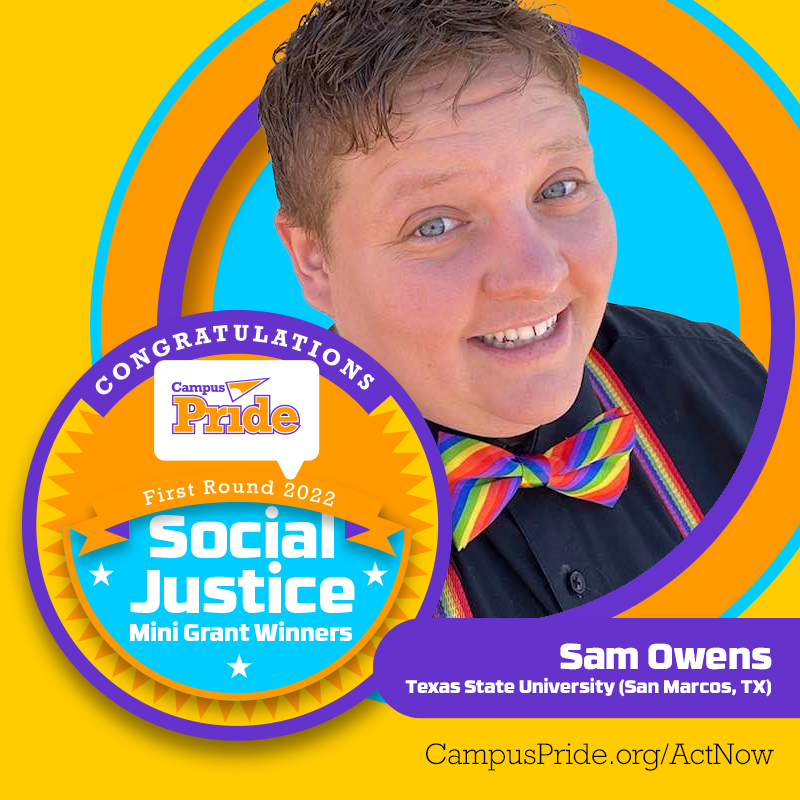 Grant Funding:
To study the experience of trans students who have been deadnamed or misgendered by faculty members, and what actions can mend the resultantly imparied student-institution relationship
---
Anika Srinath, University of Texas at Austin (Austin, TX)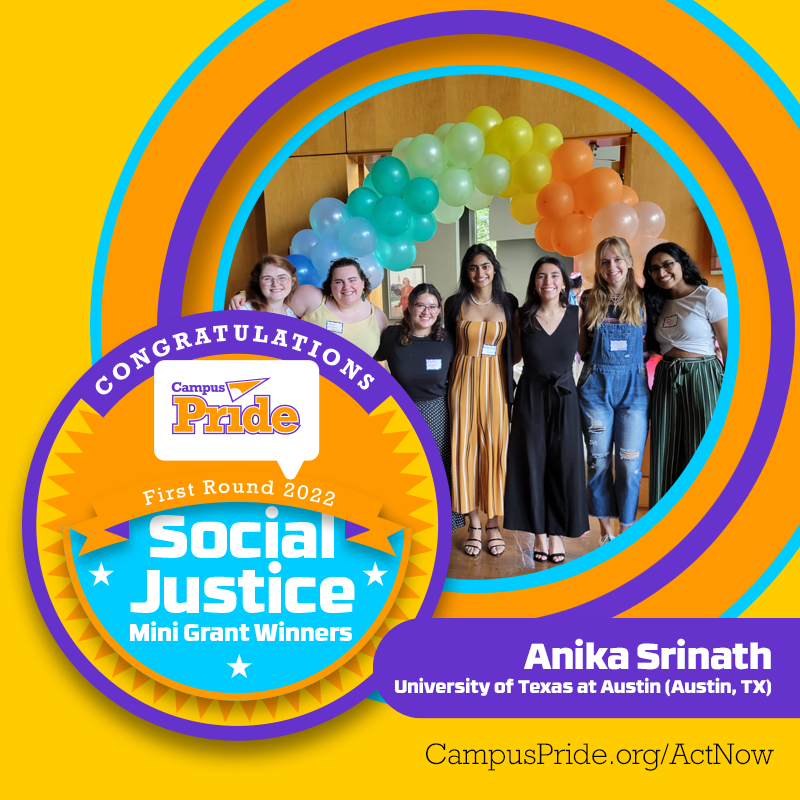 Grant Funding: To support the Feminist Action Project's zine, collecting art, poetry, and prose from the general student body. 
---
Bryce Diggs, Castleton University (Castleton, VT)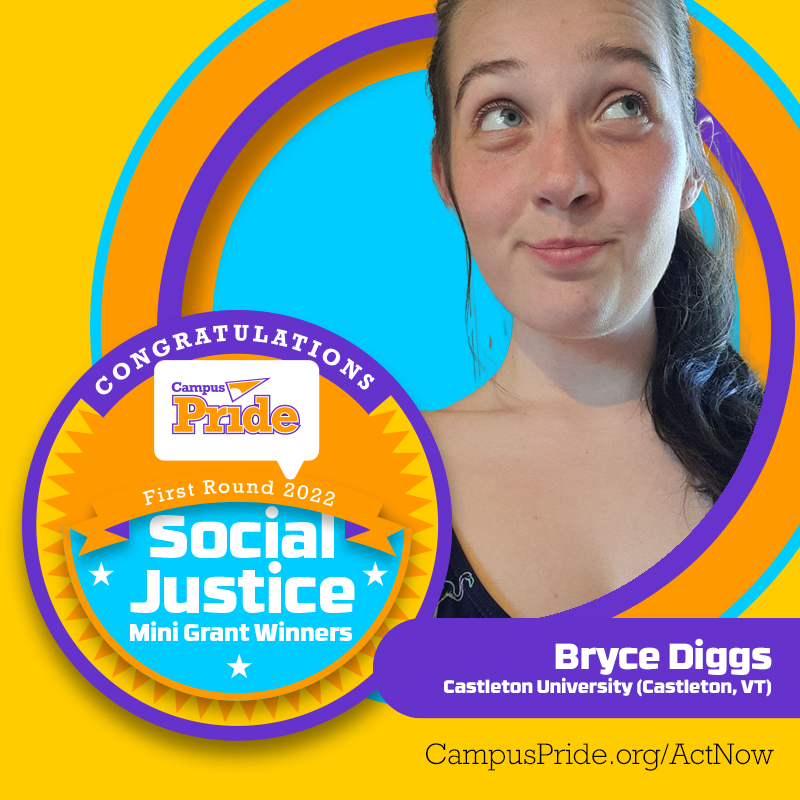 Grant Funding: To support the development of a presentation on inclusive sex education to be delivered as part of the university's Connections course for first-year students.
---
Andres Gonzalez, Rochester Institute of Technology (Rochester, NY)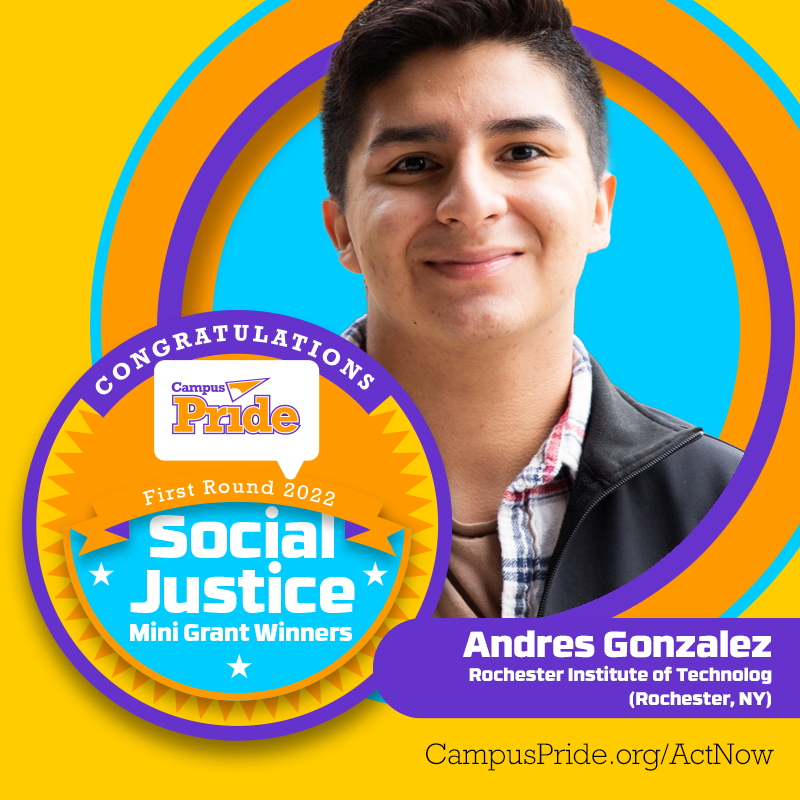 Grant Funding: To promote inclusive LGBTQ+ spaces within STEM education.
---
Shania Montúfar, Truman State University (Kirksville, MO)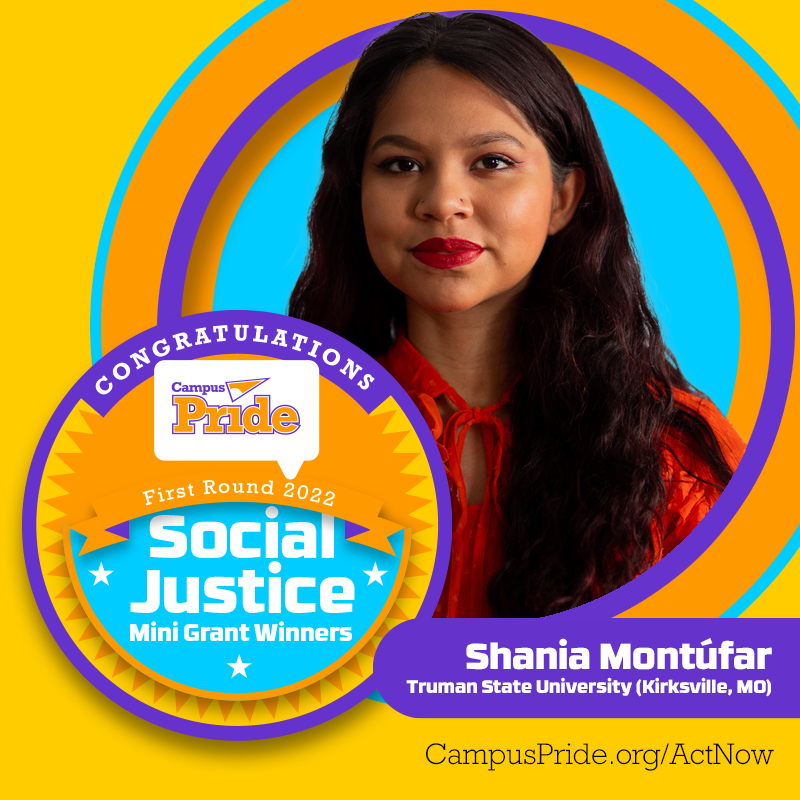 Grant Funding: To create a collaborative zine to provide information and resources for LGBTQ+ people in rural northeast Missouri. 
---
Lance Rasmussen, Eastern Michigan University (Ypsilanti, MI)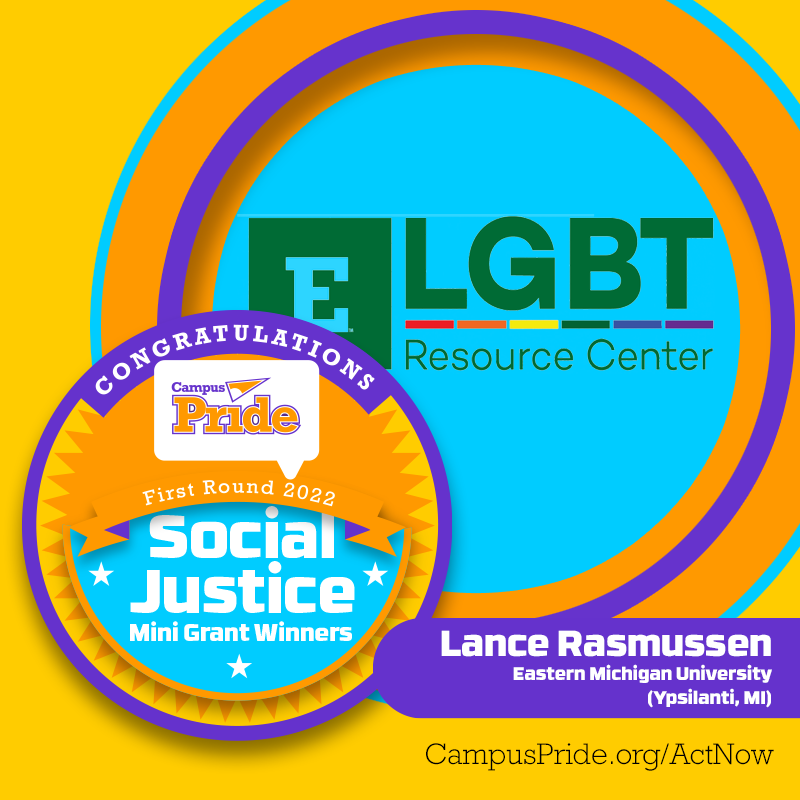 Grant Funding:
To support a transgender community closet providing free access to clothes, binders, underwear, makeup, and other gender-affirming materials. 
---
Alex Fruge, University of California Davis (Davis, CA)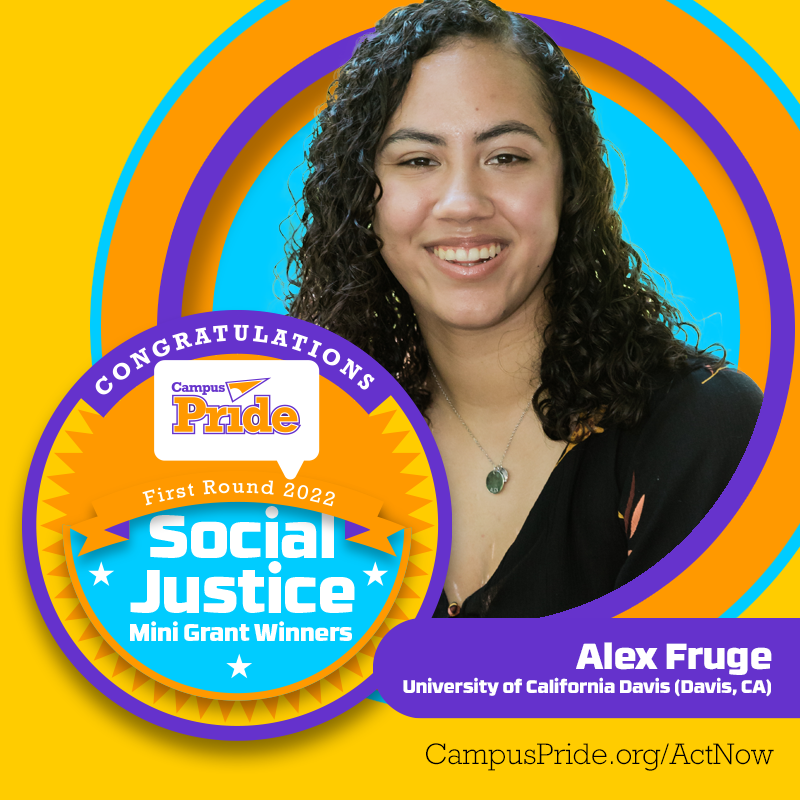 Grant Funding:
To support the Pride Festival, celebrating the LGBTQ+ community on campus as well as in the greater Sacramento area.
---


2021 Grant Awards

---
Jerry St. Louis, George Washington University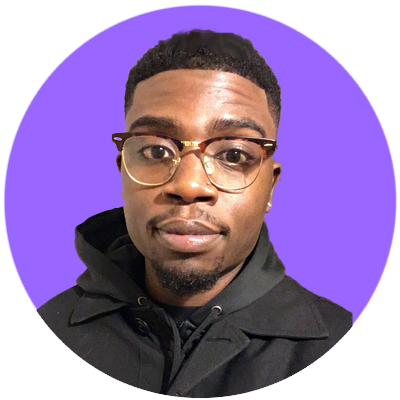 Grant Funding: Support for HBCU Mobilization
Description: To grow the HBCU Commission on the East coast.
---
Luke Whitney, University of Minnesota Morris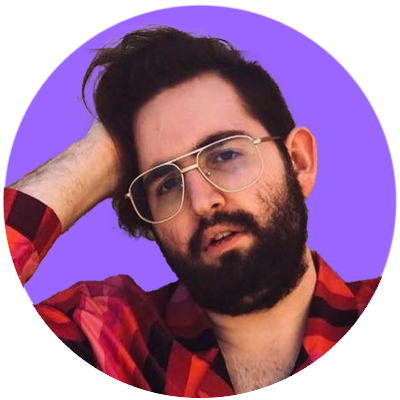 Grant Funding: Social Media for Gender Non-Conforming Plus Size Fashion
Description: To cultivate a social media series exploring gender non-conforming fashion for plus-sized people. 
---
Stefan Bailey, Virginia State University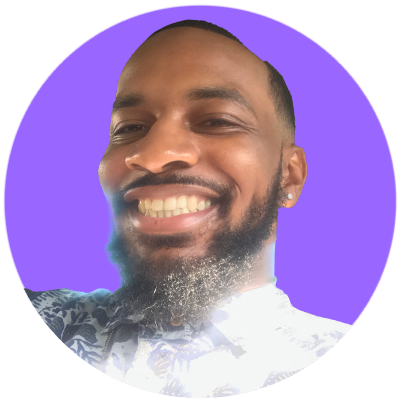 Grant Funding: Support for Mental and Physical Health Programming for LGBTQ Youth
Description: To develop "Leisure and Lessons" programming, creating social spaces for LGBTQ young people to connect and explore issues around mental and physical health.
---
Makayla Dawkins, University of Connecticut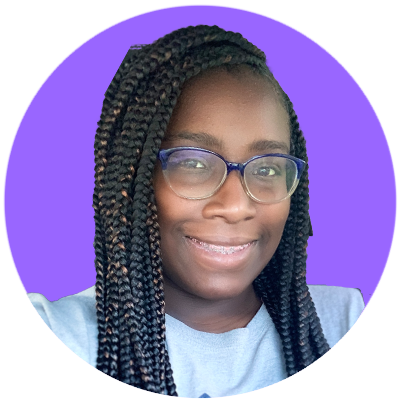 Grant Funding: Research for Trans People's Sexuality & Intersections of Disability
Description: To research topics including the effects of disability on transgender people's sexuality, the intersection of race and disability, and explorations into disparities marginalized people face.
---
Brianna (Bri) Vig, University of Connecticut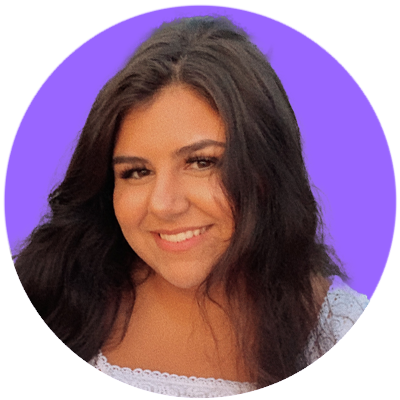 Grant Funding: Research for Housing Insecurity for LGBTQ Community & Zine
Description:
To research housing insecurity within the LGBTQ community in partnership with the University of Connecticut's Women's, Gender, and Sexuality Studies department, and the publication of a zine centered on these issues.
---
Ryley Lehew, The Pennsylvania State University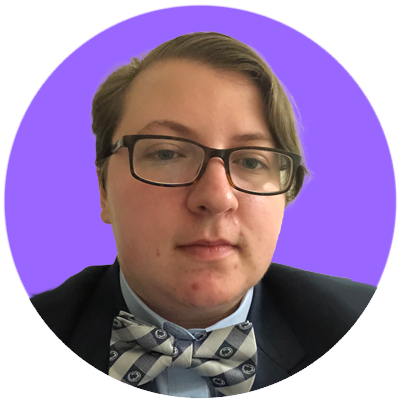 Grant Funding: Support for Gender Affirming Surgeries
Description:
Helping students pay for gender affirming surgeries.
---
Laryn Jackson, The Pennsylvania State University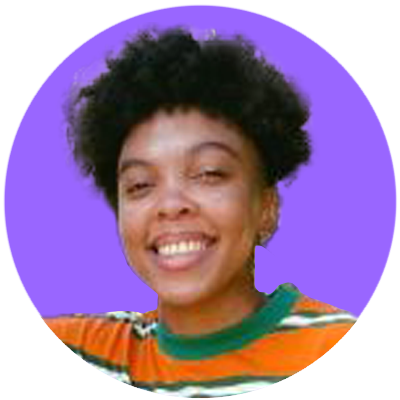 Grant Funding: Creating Safe Spaces through Programming
Description: Creating safe spaces to obliterate systemic challenges and barriers through writing, digital content creation, and programming.
---
Alex Koon, University of Wisconsin – Whitewater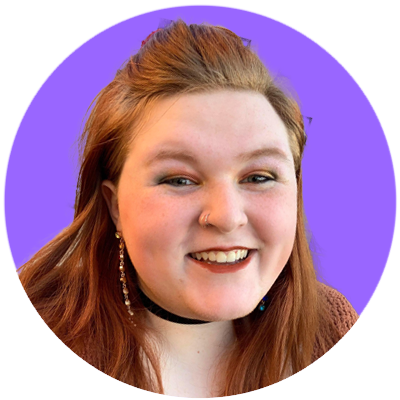 Grant Funding: Developing Story-telling PhotoVoice Project
Description: To develop a PhotoVoice photography project to explore queerness in rural areas, telling the stories of rural LGBTQ individuals visually.
---
Micah Reisner, University of Central Florida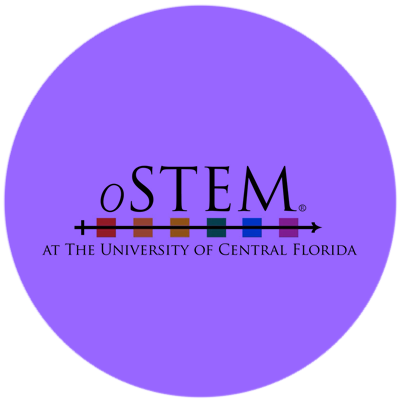 Grant Funding: Distribution of Binders for Transgender Students
Description: To distribute binders to transgender students – an essential tool for trans masculine and gender non-conforming individuals.
---
David Shill, Brigham Young University Provo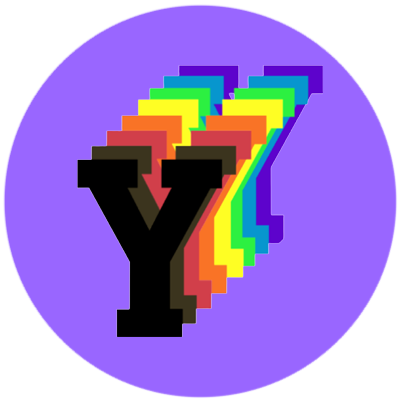 Grant Funding: Advocacy Support for Student Leaders involved in BYU's Pride 
Description: To support BYU Pride's efforts to advocate for real change on one of the most intolerant campuses for LGBTQ students in the country.
---
Simone Boyd, University of Maryland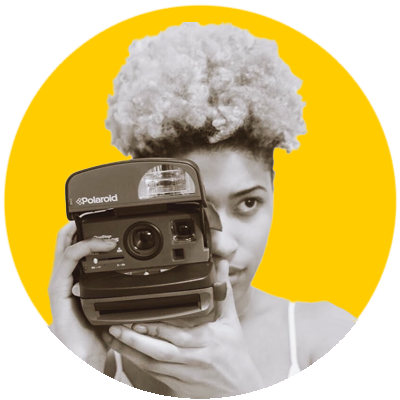 Grant Funding: Support for LGBTQ Homeless Youth
Description: Having access to basic essential items is a right we all deserve. And with homelessness being high among LGBTQ+ individuals I figured the least I can do, would be to create care packages (essential items i.e. toiletries, clothing, sanitary pads, etc.) to give to a LGBTQ+ youth support shelter for homeless.
---
Makayla Dawkins, University of Connecticut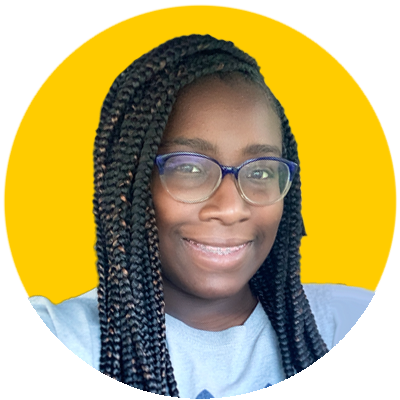 Grant Funding: Student Organizing & Advocacy to protect LGBTQ+ Students on Campus
Description: Often students are put into situations in which they are forced to come out to people they are not yet ready to, are restricted from using their chosen name and pronouns on scholastic resources, placed into a housing situation where they are not safe, or discriminated against by other students or faculty and offered little to no options for recourse. The Undergraduate Student Government has a responsibility to fight for these students. This legislation is a list of demands coming from queer, trans, and allies and directed towards UConn administration. It will be parcellized by topic and brought to the main branches of the administration that are failing to protect students. This document aims to serve as a living guide to USG's advocacy on behalf of queer students. We will deem this project to be successful once we see our university advancing on the demands we listed in our legislation.
---
Ryley Lehew, The Pennsylvania State University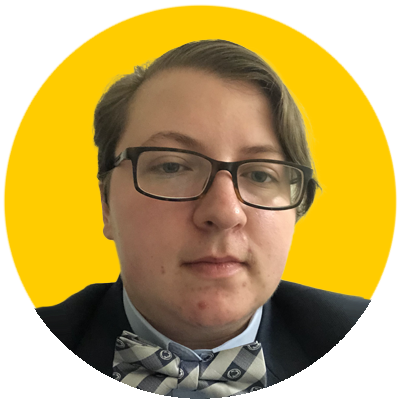 Grant Funding: LGBTQ+ Art Exhibit to support Gender Affirmation Surgery Costs
Description: A friend and I (is also transmasculine) are currently working on creating an art gallery on campus to display art from LGBTQ+ artists. All of the money earned from the sale of artwork will be placed into a fund. With this fund, we plan on creating grants on campus to help students pay for gender affirming surgeries. While the University's insurance covers trans surgeries, access is reduced due to the copays that are required (around $3000-4000). We are currently gathering artwork and will begin to build the building soon. This project is not backed by the university financially and any help would be greatly appreciated.  Any funds received will first be used to build the gallery. By creating this foundation, we hope to make the fund a long term program for students. Next the money would be used for the grand opening and publicity. In order to sell artwork to keep the fund around in the long term, it is important to let students know that the artwork is available. This publicity will also increase access to the fund ensuring that it is available to those who need it. Any additional funds will be placed into a bank account and will be used to provide grants to students.  We will determine that the project is successful by the number of art pieces that are sold. Another way to look at success is by the number of individuals the grant is able to help.
---
April Lichtman, University of Connecticut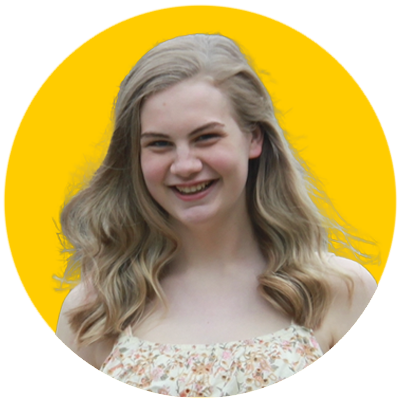 Grant Funding: Production of Original Play with Trans Artists
Description: This mini-grant from Campus Pride will fund a workshop performance of a play that I am currently working on. The ensemble will consist entirely of LGBTQ+ artists, mostly trans women. I plan to pay each of the actors and crew members a stipend. That will be 450 dollars of the budget. I plan to direct the rest of the money towards posting the audition listing online, creating a digital rendering of the set or hiring an LGBTQ+ identifying music artist to create some music for the piece. I would define success as simply producing the reading. I plan to hold 2-3 rehearsals and then host a session to record the piece. It will then be edited for a public showing. I am debating having a suggested donation to attend the performance; I plan on giving the donations to the Jim Collins Foundation or to the ensemble members. I believe that success is paying LGBTQ+ artists for their hard work. Success is having people attend the workshop and hear the words. Success is defying the odds and telling the story.
---
Nathan Reilly, William Paterson University of New Jersey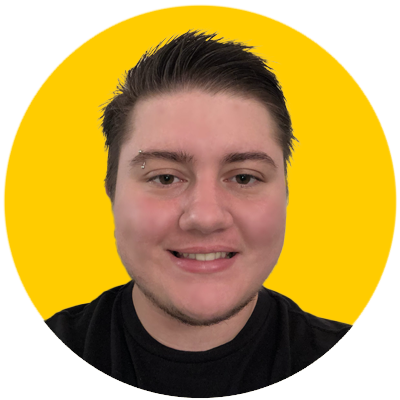 Grant Funding: LGBTea+ Mentorship Program focused on supporting Black & Latinx Community
Description: For our Campus Pride Mini Grant, we will develop a mentorship program called LGBTea+. This program would be aimed towards young college students (18-22 years old) where they can meet and form relationships with established queer professionals and allies. These mentors would consist of upperclassmen at our university (some juniors and seniors) who have undergone the mentorship program themselves, graduate students, faculty, staff, and alumni. This mentorship experience will focus on developing these young students' professional, academic, and social lives within a queer context, and provide them support as they prepare for their careers. The program's name, LGBTea+, stems from the idea that we would like students to meet with their mentors in a more "casual" context, such as over tea or coffee, in order to help them establish supportive relationships. A major need that the LGBTeprogram will meet for our campus community is establishing an organization that connects queer students with our faculty and staff. LGBTea+ will also have a specific focus on the intersectionality of the queer experience. This is an important value of our campus community as Black and Latinx students make up the majority of our student population. In order to emphasize the importance of the intersectional LGBT+ experience, we will hold meetings and events that discuss topics such as race, disability, socioeconomic status / social class, and other intersecting marginalized identities. Within this program, each mentee will have multiple mentors as we recognize that there are various aspects to each mentees' intersectional identity, including sexual orientation, gender identity, race/ethnicity, and professional interests. For example, if there is a Black, non-binary student who is studying art, we would like to match them with different mentors who can connect with them in regard to each individual aspect of their identity, as we know each identity has a different experience in the workforce. This will give each mentee an individualized experience as a part of our program.
---
David Shill, Brigham Young University Provo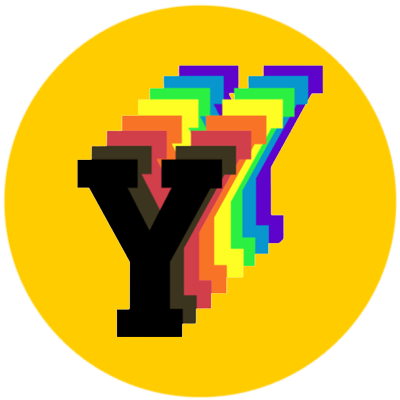 Grant Funding: LGBTQ+ Event Permits for BYU Pride & Campus Organizing
Description: I am the president and founder of BYU Pride, which aims to celebrate progress made by LGBTQ+ activists at BYU and advocate for real change.  We have some initiatives including monthly events, safe housing initiatives, pride marches, petitions, and community unification. If we were to receive this grant funding, we could do a lot to secure permits for these events which bring the community together. BYU Pride has gained a lot of attention for having put on the first ever pride march, so now we need to keep the momentum by planning large scale community events. We have planned events and worked on various projects in the past without much funding that were widely successful and hope to scale up our events with this funding.
---
Jerry St. Louis, George Washington University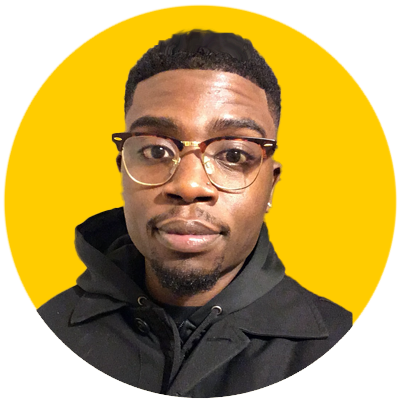 Grant Funding: Course Development focused on Crystal Methamphetamine use in Black Gay Community and Safe & Effective Supporting Care
Description: Mini-Grant will fund development of a course focused on the experience of Black Gay men and the prevalence of crystal methamphetamine use, including the unique challenges they and the therapist face in treatment. This course will be designed to build awareness among community members and leader and promote the administration of safe and effective supportive care. It will cover issues facing Black Gay men, their use of crystal meth and how to support those with taking culture and experience into consideration. I plan to use the funding for this project for program delivery, rent space, and literature that I will be providing during the course.
---
Jerry St. Louis, George Washington University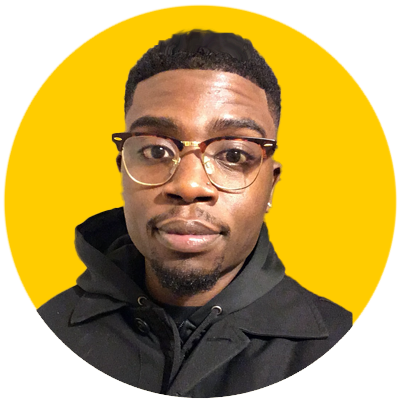 Grant Funding: Development of an LGBTQ+ Sexual Health Class
Description:  Sex education is designed to help young people gain the informations and skills needed to make healthy decisions about sex and sexuality throughout their lives. This mini-grant will help develop a LGBTQ+ sexual health class to educate and empower LGBTQ+ youth and help them develop the skills needed to practice safe dating, build healthy relationships, and avoid unhealthy relationships and abuse.
---
Michah Reisner, University of Central Florida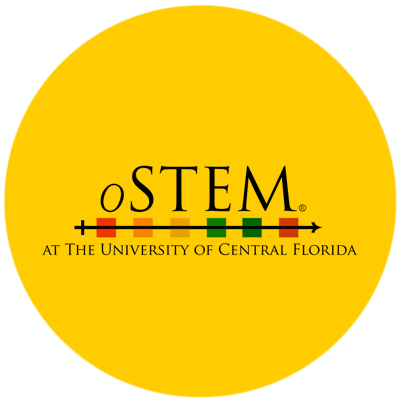 Grant Funding: Providing Gender-Affirming Binders to Trans Students
Description: This Mini-Grant project will help distribute gc2b binders to transgender students at the University of Central Florida. Binders are an essential tool for transmasculine and gender-nonconforming individuals. A high-quality binder safely compresses and reduces the appearance of a transgender individual's chest, resulting in a flat chest. Studies show that trans individuals with access to binders experience significantly decreased dysphoria and an improved quality of life. Without a binder, young transgender adults are at higher risk of both anxiety and depression (1). However, many of these young adults lack access to high-quality binders that they can wear safely. While partnering with several organizations on campus to host a clothing drive for transgender and gender non-conforming students, members of oSTEM's board recognized that the need for binders among students, especially students of color, far surpassed the donations which we were able to supply. In order to address this issue, oSTEM has forged a partnership with gc2b, a transgender-owned company which produces the highest-quality binders available. gc2b has graciously agreed to supply binders at no cost to be distributed to transgender students at UCF who could not otherwise obtain them. However, there are other costs associated with putting this project into action, such as shipping the binders from gc2b to the university, packaging supplies, and distributing binders by mail to remote students. Additionally, UCF's diverse student body well reflects the target populations associated with the Social Justice Mini-Grant. The majority (72.3%) of the students at UCF are between the ages of 18-24. The university serves a large Hispanic (25.3%), Black (11.3%), Asian (6%), and non-resident (3.7%) student population (2). UCF was designated as a Hispanic Serving Institution in 2019 (3). With this program, we will offer gender-affirming binders to a population at UCF who may be unable to otherwise obtain them, empowering transgender students to live safely as their most authentic selves.
---
Jordyn Torbert, Baldwin Wallace University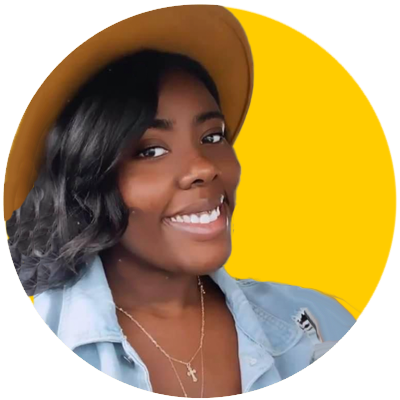 Grant Funding: Providing Awareness & Support for Menstrual Justice
Description: This mini-grant focuses on the topic of Menstrual Justice. The University of Baltimore Law School defines Menstrual Justice as  addressing the many different ways in which people who menstruate are subjected to menstrual injustice through things such as discrimination, economic disadvantages, health disadvantages and so many more objectives. This mini-grant will help bring more free product dispensers for all gender neutral bathrooms on my college campus and also begin to introduce menstrual cups to those on campus as well. The products will be provided free and will be accessible for all students who may need these items.  Funding for this project is very important because as many may know there are thousands of people who struggle with paying for the proper products such as pads, menstrual cups, tampons, etc because the items have become very expensive for some. By providing this awareness, we are not only helping students who may not be able afford these items but also making the conversations on periods more normalized and open. My goal is to also team up with the non profit organizations such as The Period Movement, PERIOD youth advisory council to help us bring more resources onto our college campus.
---