Foremost Authority on LGBTQ+ Higher Education Measures Safety, Inclusiveness, and Resources On Campuses For LGBTQ+ Students, Faculty, and Staff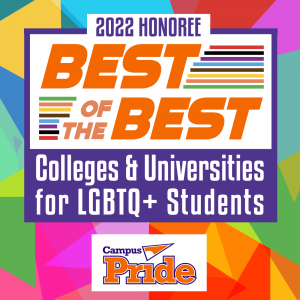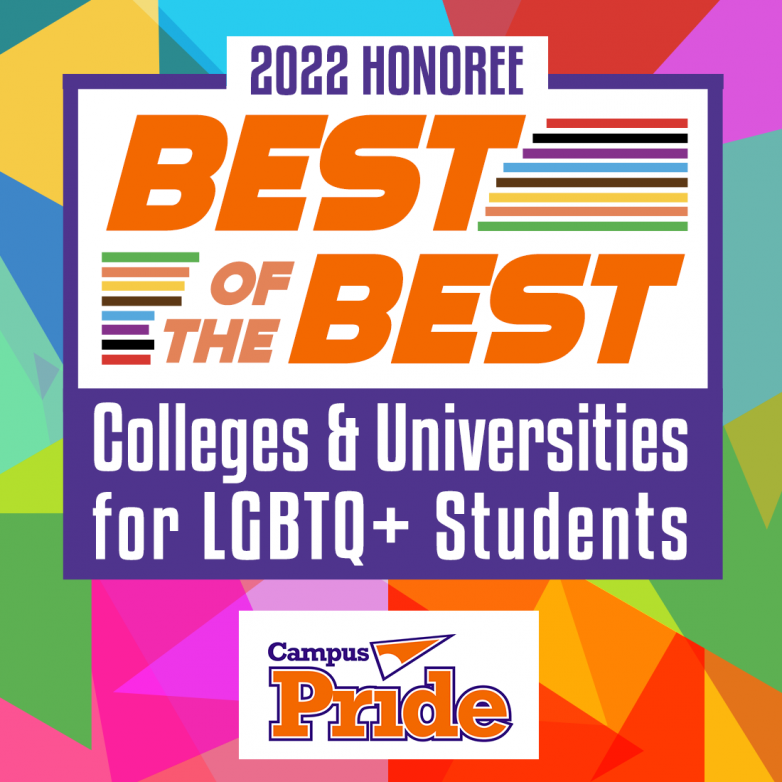 CHARLOTTE, North Carolina — Campus Pride, the preeminent resource for LGBTQ+ leadership development, diversity inclusion and advocacy within higher education, today announced the annual Best of the Best Colleges and Universities for LGBTQ+ students in the United States, recognizing the work of 40 campuses in making their communities safer and more welcoming environments for students, faculty, and staff alike.
"Campus Pride created the Best of the Best List to recognize the outstanding accomplishments of these colleges and universities, creating safer, more welcoming campuses for LGBTQ+ people," said Shane Mendez Windmeyer, Campus Pride Executive Director. "Students, prospective students, and their families, along with faculty and staff members, deserve to know whether they will be safe on campus, so they can make the best choices for their own academic success – and by creating inclusive, safe environments these colleges are taking responsibility for all students."
Today's announcement from Campus Pride features 40 four-year campuses from across the country. These campuses have achieved 5 out of 5 stars on the  Campus Pride Index (CPI), the definitive national benchmarking tool measuring LGBTQ-friendly policies, programs, and practices. To earn a ranking of 5 out of 5 stars, campuses receive a percentage score from 90 to 100 based on their LGBTQ-inclusive policies, programs, and practices. The methodology to determine this year's Best of the Best List was based on an overall score of 93 percent or higher. 
"We are seeing more and more colleges earn 5 stars because campuses are doing more to support their trans students," states Dr. Genny Beemyn, the coordinator of Campus Pride's Trans Policy Clearinghouse. "While all colleges can and should do more to be trans-inclusive, many institutions are taking important steps forward."
"The work Campus Pride does every day to foster safer, more welcoming campuses across the country is creating positive change for students, staff, and faculty, as this year's Best of the Best list reflects that with 40 colleges represented, up from 30 last year," said Tom Elliott, Campus Pride Board Chair. "At a time when LGBTQ+ rights and other civil rights are under assault in states across the country, including Texas and Florida, it is as important as ever to recognize the campuses in these states working to create spaces where the next generation of LGBTQ+ leaders can learn and flourish."
Campus Pride's 2022 BEST OF THE BEST Colleges & Universities is online at https://campuspride.org/BestoftheBest. 
The Campus Pride Index full listing of LGBTQ-friendly colleges and universities is available at https://www.campusprideindex.org/.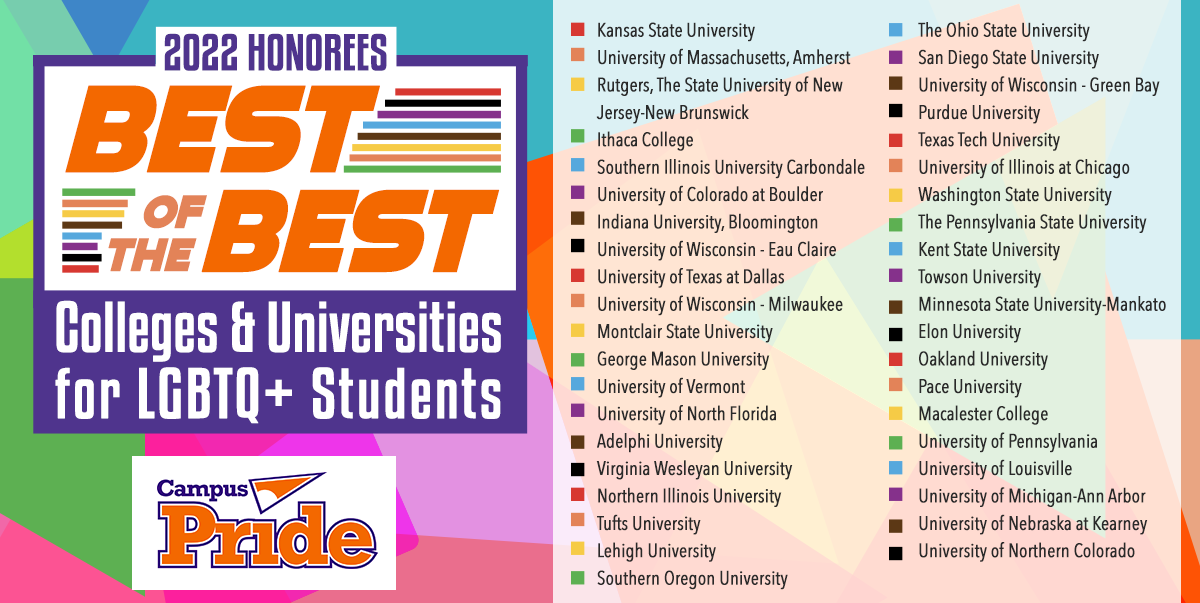 2022 Best of the Best LGBTQ-Friendly Colleges and Universities
(listed by region, in alphabetical order by state)
Mid-Atlantic Region
Towson University, MD
Montclair State University, NJ
Rutgers, The State University of New Jersey-New Brunswick, NJ
Adelphi University, NY
Ithaca College, NY
Pace University, NY
Lehigh University, PA
The Pennsylvania State University, PA
University of Pennsylvania, PA
Midwest
Northern Illinois University, IL
Southern Illinois University Carbondale, IL 
University of Illinois at Chicago, IL
Indiana University, IN
Purdue University, IN
Kansas State University, KS
Oakland University, MI
University of Michigan-Ann Arbor, MI
Macalester College, MN
Minnesota State University-Mankato, MN
University of Nebraska at Kearney, NE
Kent State University, OH
The Ohio State University, OH
University of Wisconsin Eau Claire, WI
University of Wisconsin Green Bay, WI
University of Wisconsin Milwaukee, WI
New England
Tufts University, MA
University of Massachusetts, MA
University of Vermont, VT
Southeast
University of North Florida, FL
University of Louisville, KY
Elon University, NC
George Mason University, VA
Virginia Wesleyan University, VA
Southwest
Texas Tech University, TX
University of Texas at Dallas, TX
West
San Diego State University, CA
University of Colorado at Boulder, CO
University of Northern Colorado, CO
Southern Oregon University, OR
Washington State University, WA
# # # 
ABOUT CAMPUS PRIDE
Since 2001, Campus Pride has been the leading national organization building future LGBTQ and ally leaders as well as creating safer communities at colleges and universities. The Campus Pride Index annually helps 80,000 people find LGBTQ-inclusive colleges and universities.  In addition, the organization has specifically tailored programs and resources to support LGBTQ youth and campus communities. Learn more at CampusPride.org.