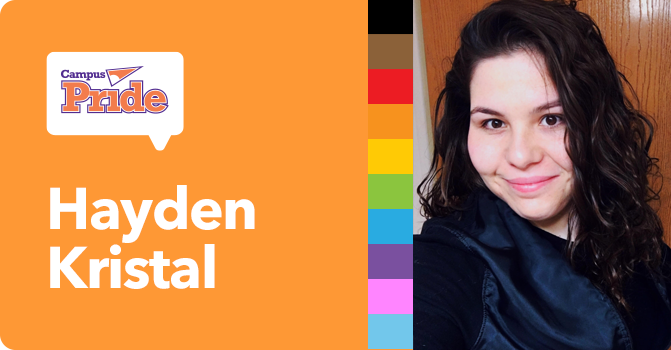 Hayden Kristal (preferred pronouns they/them/theirs, but accepts anything said with good intent) is a Deaf, bisexual, Jewish, queer activist and stand-up comedian. Living their life at the intersection of multiple marginalized identities has led Hayden to a career as a professional speaker, exploring the intersections of ability, gender, sexuality, and access –  particularly within the spheres of activism and social justice. They have brought their funny, engaging, and interactive workshops and speeches to dozens of conferences, businesses, and schools all across North America including Harvard, Yale, Columbia, Vistaprint, and the Connecticut Supreme Court. In the realm of speaking and activism, Hayden has been a TEDx Presenter, a Catalyst Award winner, and a Lavender Graduation commencement speaker; comedically, Hayden was a semifinalist for Stand Up NBC, a finalist for Full Frontal with Samantha Bee's Comedy Writing Mentorship, a featured performer at Limestone Comedy festival, and has opened and featured for Maria Bamford.
Speaker Keynotes
GaySL: A Crash Course in LGBTQ American Sign Language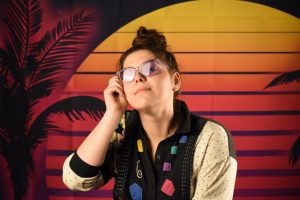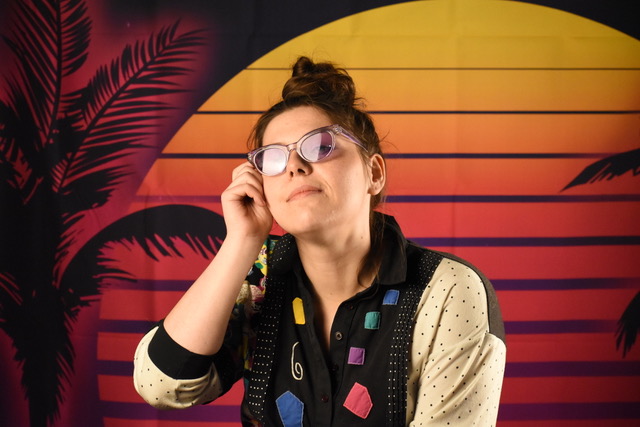 This highly interactive, variable, and hilarious workshop teaches its participants LGBTQ-related American Sign Language signs while fostering a group discussion about Deaf culture, intersectionality, accessibility and more. During the presentation participants will be encouraged to sign along as we learn the signs for GAY, LESBIAN, BISEXUAL, TRANSGENDER, QUEER, GENDER, ALLY, COMING-OUT, PARTNER, BINARY, DRAG KING/QUEEN, IDENTITY, RAINBOW, PRIDE, etc., as well as requested signs. The signs serve as jumping off points for discussion about the intersection of Deafness and Queerness. (Example: ALLY- how does Deaf culture perceive LGBTQ people? How are the Deaf received by the LGBTQ community? What can you do to be a better ally to both groups?) The goal for this workshops is not that participants will leave fluent in ASL. The point is to get people thinking about Deafness, disability, and the struggles faced by LGBTQ people who are also Deaf or disabled; to inspire people to learn more, and create accessibility to allow ALL LGBTQ people to utilize their resources and participate in their events.
GaySL has been presented at a wide variety of LGBTQ, disability, and diversity conferences across North America, including the Midwest Bisexual Lesbian Gay Transgender Ally College Conference, the Northeast LGBT Conference, LGBT in the South, the LGBT Leadership Conference, IvyQ, the Mid-Atlantic LGBTQ Conference, the 5 College Queer Conference, the Asterisk Transgender Conference, and more. This workshop has been presented to groups ranging from 15-400 participants and can be tailored to the skill level and time-frame your event requires. This workshop has been presented for RID CEUs.
Lessons on Ability from my Deafblind Dog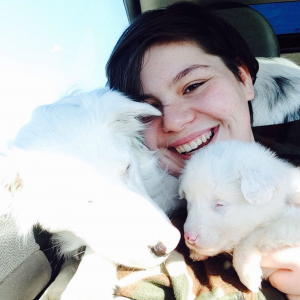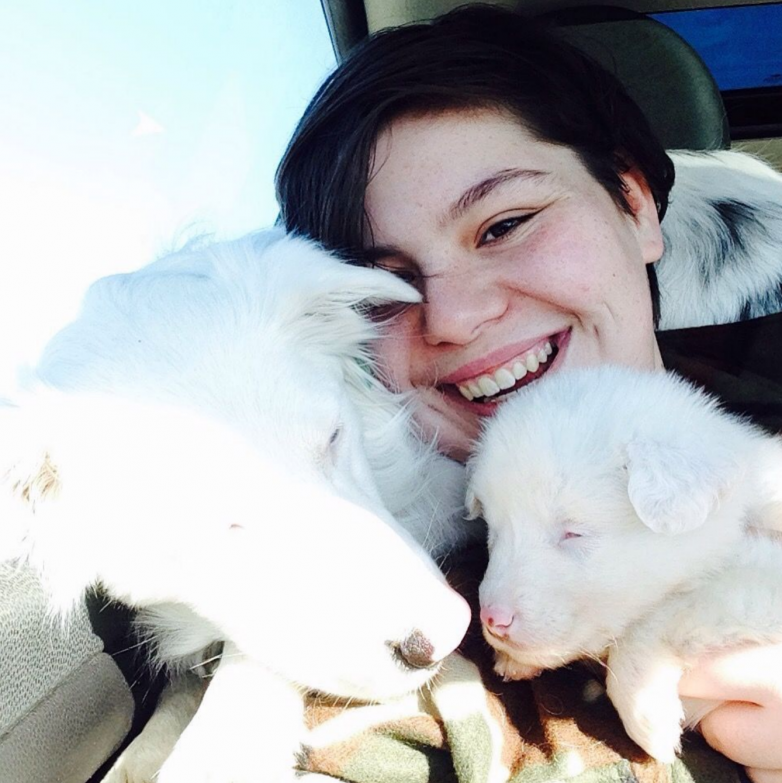 Heartwarming and unique, this multimedia keynote address talks about the lessons to be learned -about love, trust, and how we define "ability"- from Hayden's journey with their deafblind dog, Bitsy. Born completely deaf and blind, many recommended that Bitsy be euthanized as an infant, citing concerns about her ability to function and her quality of life. Could Bitsy adapt? Could she survive in a world that was not built for her? A year later Bitsy is not only surviving, but thriving; she does therapy work, participates in dog sports, swims, hikes, camps, plays fetch, and is an avid canoer. But how does what the world expected for Bitsy translate to how we perceive disability on a larger scale? How do we confront the ableism we've internalized, even as people with disabilities? What does it mean to "accommodate" someone?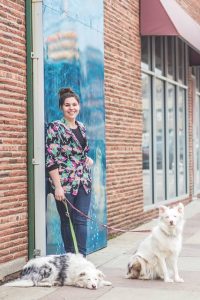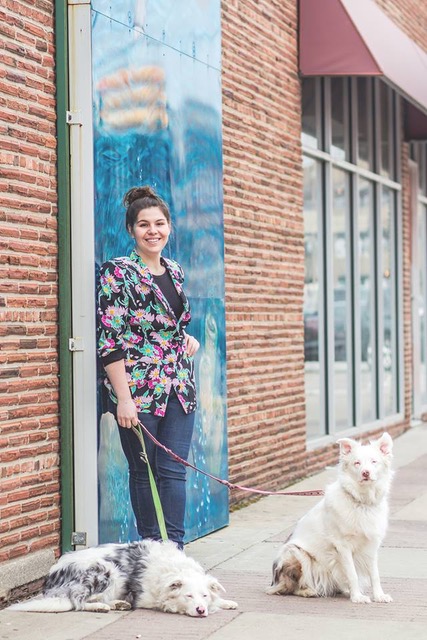 What are we ALL capable of when we refuse to let others dictate our limitations?
The Importance of Intersectional Activism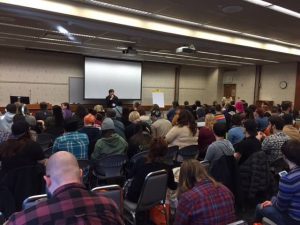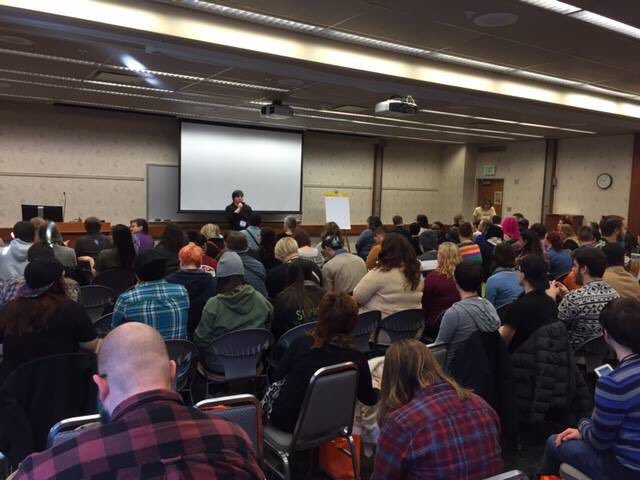 This keynote address explores what it means to live life at the intersection of multiple marginalized identities and why acknowledging the complex and multifaceted nature of human identity is critical to any kind of social justice work. An abridged version of this keynote was presented as a 2016 TEDxMU Talk.
Stand Up Comedy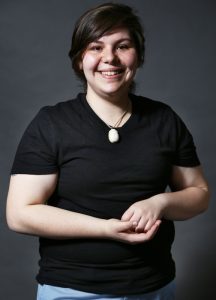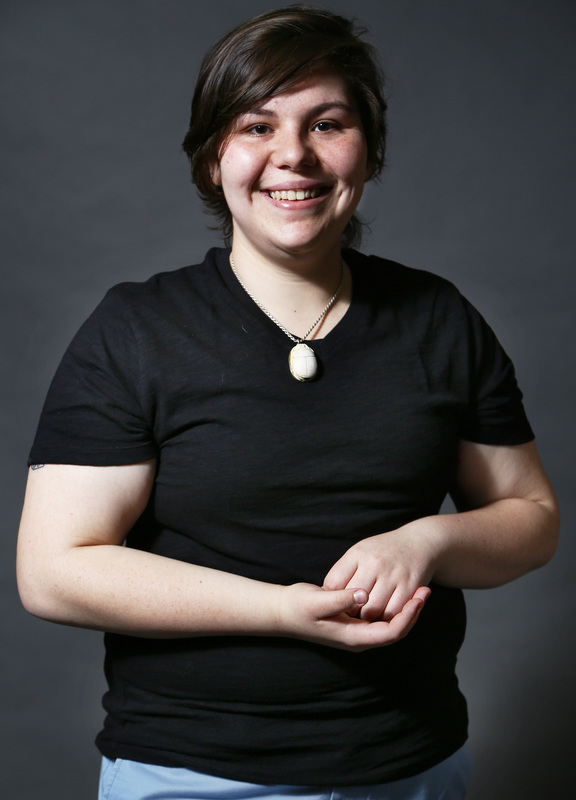 Hayden's stand up draws from their experiences living life at the intersections of multiple marginalized identities, and plays with our expectations of disability and political correctness. They were recently featured as a Semi-Finalist in the 2016 NBC Stand Up Showcase.