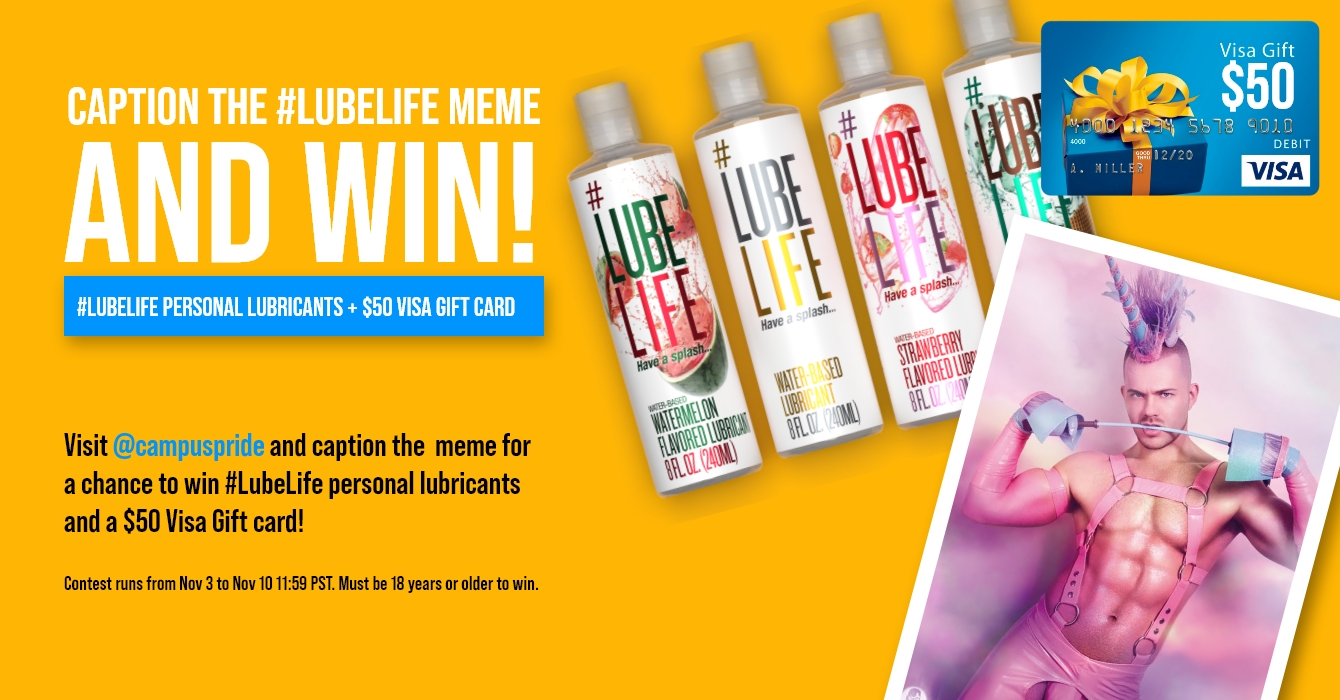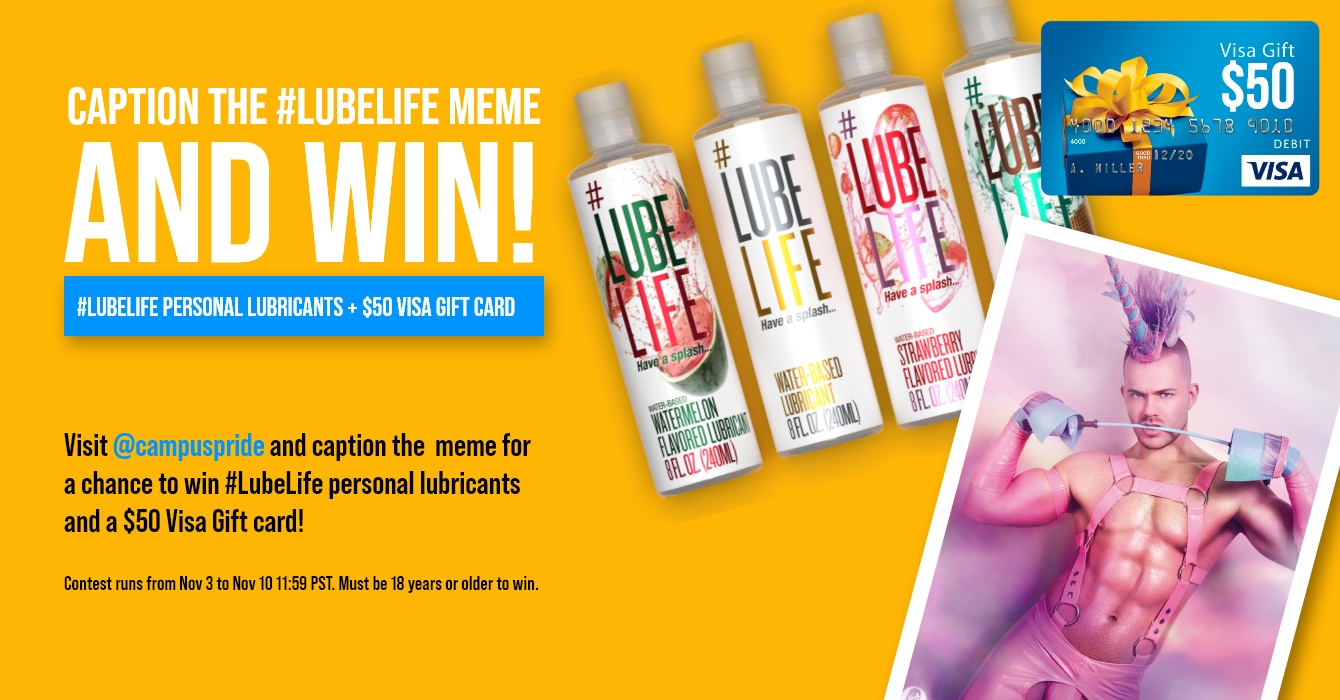 Caption our memes to win #LubeLife products and more
Join Campus Pride's meme contest for a chance to win #LubeLife personal lubricants and a $50 VISA gift card. Starting today, November 3, until Friday, November 11, Campus Pride and our sponsor #LubeLife will be hosting a meme competition. To participate, check out Campus Pride's Instagram story throughout the week. Our followers can enter by submitting their best caption to the memes in our comments. The winner will be chosen from the best meme captions.
The competition ends at 11:59 p.m. EST on Thursday, November 10, 2021. You must be 18 years or older to participate. To learn more, go to www.instagram.com/campuspride/.
Our partnership with #LubeLife
Campus Pride is partnering with #LubeLife to promote sexual health education and safety awareness in the LGBTQ community. #LubeLife believes in promoting limitless sexual adventure for all adventurers no matter their gender, ethnicity, body shape and size, or sexual orientation. 
To learn more about #LubeLife, go to www.lubelife.com. Check out our previous work with #LubeLife to promote safe anal sex during Pride Month at campuspride.org/shop-lubelife-to-support-campus-pride-and-promote-sexual-health/.
# # #
ABOUT CAMPUS PRIDE
Celebrating its 20th anniversary year in 2021, Campus Pride is the leading national nonprofit organization dedicated to building future leaders and creating safer, more inclusive communities for LGBTQ people and allies at colleges and universities. Founded in 2001 by nationally-recognized LGBTQ civil rights leader and campus pioneer Shane L. Windmeyer, Campus Pride offers a wide variety of programs and resources for students and prospective students, including the Campus Pride Index, HBCU Clearinghouse, Trans Policy Clearinghouse, Lambda 10, Stop the Hate and Safe Space trainings, and the annual Camp Pride leadership camp. Learn more at www.campuspride.org.
ABOUT #LUBELIFE
#LubeLife encourages limitless adventure through long-lasting, great-tasting, high-quality products that enhance the pleasure and experience of our consumers. #LubeLife is the #1 best-
selling and consumer-rated personal lubricant brand on Amazon. We have a portfolio that consists of water-based, silicone-based and flavored personal lubricants, as well as adult toy
cleaners. All of our lubricants use natural ingredients, have been cleared by the FDA for safety (non-irritating) and efficacy, and come with a satisfaction guarantee. If you want more information regarding our message or products, go to www.lubelife.com.