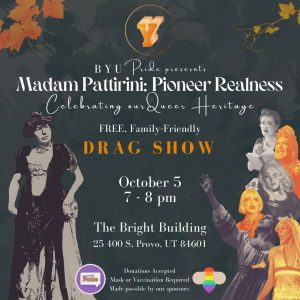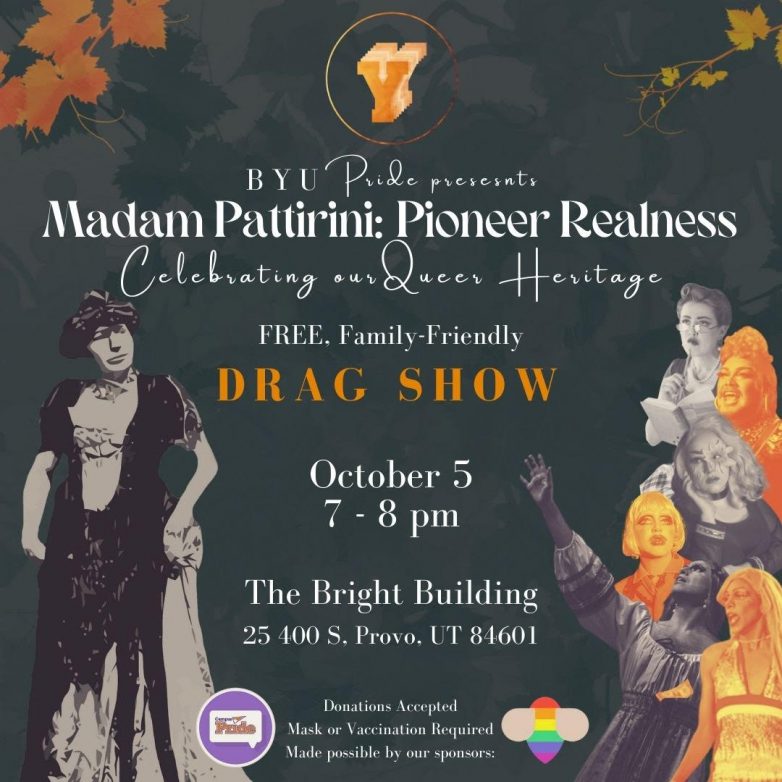 "Madam Pattirini Day": Bringing LGBTQ pride and drag queen pioneer realness to BYU
Tonight, October 5, 2021, at 7 pm EST, BYU Pride will be hosting its Madam Pattirini: Pioneer Realness drag show for LGBTQ history month. David Shill, president and founder of BYU Pride at Brigham Young University Provo, is a recipient of Campus Pride's Social Justice Mini-grants for Activism. In addition to funding other LGBTQ on-campus programming for BYU Pride, Campus Pride is co-sponsoring "Madam Pattirini Day" with BYU alumni's OUT Foundation.
Shill and BYU Pride are working to strengthen LGBTQ life on campus and shed light on BYU's little-known LGBTQ history. This past year, they hosted BYU's first-ever Pride parade and are hosting LGBTQ history events throughout the month of October. To learn more about BYU Pride's upcoming events, go to instagram.com/byupride.
"Our mission is to empower students to celebrate the progress made by the LGBTQ+ community at BYU and to advocate for change through collaborative activism. We hope to entertain and inspire LGBTQ+ students and community at BYU by celebrating queerness among early settlers of Utah through the Madam Pattirini: Pioneer Realness Drag Show!" says Shill, "We look forward to strengthening our community and promoting love and positivity through our future events."
Brigham Morris Young and the legacy of Madam Pattirini: Little-known drag queen history in the LDS Church
In the 1880s, LDS Church President Brigham Young's son, Brigham Morris Young, began performing as a "cross-dressing singer" known as Madam Pattirini. Morris Young was a prominent member of the LDS Church, a founder of the Young Men's Mutual Association and served missions for the church abroad. He claimed to have performed as Madam Pattirini strictly for entertainment. Morris Young went on to have one wife and a family and there are no accounts of him being a member of the LGBTQ community. His high status in the LDS Church while still performing as Madam Pattirini has paved the way for drag performers and LGBTQ individuals in Utah. 
# # #
ABOUT CAMPUS PRIDE
Celebrating its 20th anniversary year in 2021, Campus Pride is the leading national nonprofit organization dedicated to building future leaders and creating safer, more inclusive communities for LGBTQ people and allies at colleges and universities. Founded in 2001 by nationally-recognized LGBTQ civil rights leader and campus pioneer Shane L. Windmeyer, Campus Pride offers a wide variety of programs and resources for students and prospective students, including the Campus Pride Index, HBCU Clearinghouse, Trans Policy Clearinghouse, Lambda 10, Stop the Hate and Safe Space trainings, and the annual Camp Pride leadership camp. www.campuspride.org