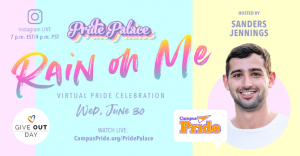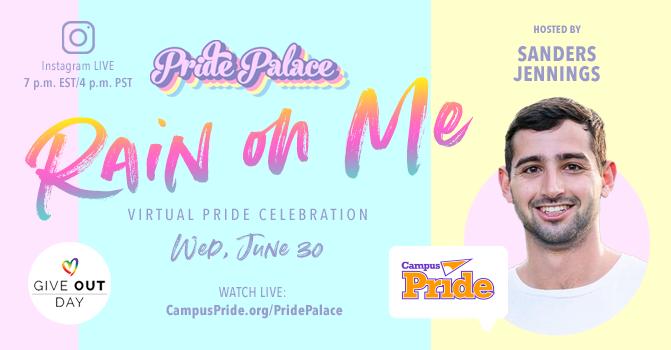 Give OUT Day Virtual Pride Celebration
Campus Pride is hosting a Give OUT Day Virtual Pride Celebration to mark the end of Pride Month and celebrate our 20-year anniversary. Tune in on Wednesday, June 30 from 7-9 p.m. EST. We will be teaming up with Pride Palace to make one final push for the grand prize. Watch the free virtual event on IG Live at instagram.com/PridePalaceLGBT/.
Throughout Pride Month, Campus Pride has been competing in the annual Give OUT Day fundraising competition hosted by Horizons Foundation. The LGBTQ nonprofit that receives the most individual donations of $10 or more will win an additional $100,000 for their organization. Donate now at  campuspride.org/donate.
Featuring special guest Eureka
We are excited to announce a special guest appearance by Eureka O'Hara! Eureka currently appears on RuPaul's Drag Race All Stars Season 6 and competed on seasons 9 and 10. Also, they star in the Emmy-nominated HBO show We're Here alongside drag superstars Bob the Drag Queen and Shangela.
Our virtual Pride event will also feature Pride Palace's Sander Jennings, Campus Pride Board Chair Tom Elliott and trans activist Hope Giselle. They will also be joined by student leaders Olivia Klegraefe, Jerry St. Louis and Luke Whitney.
Donate to LGBTQ youth with Campus Pride
"Give OUT Day is the biggest fundraising day of the year for Campus Pride," says Campus Pride Executive Director Shane Windmeyer, "Your donations fund all of the amazing Campus Pride programs and resources that support LGBTQ students every day." 
Thank you to everyone who has supported and donated to Campus Pride this month. Visit campuspride.org/donate to donate to Campus Pride and give to LGBTQ youth. Click here to view the Give Out Day leaderboard.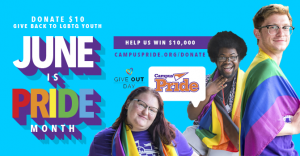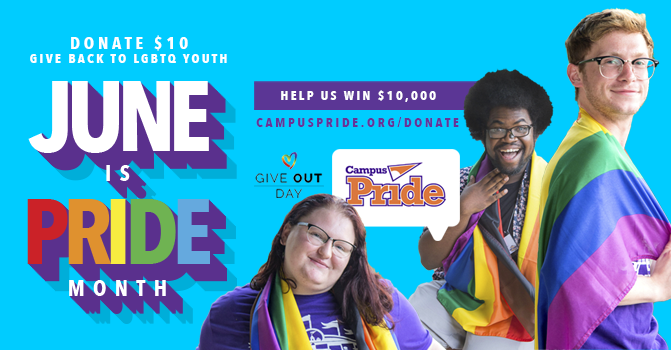 # # #
ABOUT CAMPUS PRIDE
Since 2001, Campus Pride has been the leading national organization building future LGBTQ and ally leaders as well as creating safer communities at colleges and universities. The Campus Pride Index annually helps 80,000 people find LGBTQ-inclusive colleges and universities.  In addition, the organization has specifically tailored programs and resources to support LGBTQ youth and campus communities. Learn more at CampusPride.org.
ABOUT DAVID HUGGARD (THEY/THEM) 
Also known by their stage name, Eureka – is a multi-talented actor, singer, public speaker, and world-renowned drag queen. David, as Eureka O'Hara, competed on the 9th and 10th seasons of RuPaul's Drag Race which truly rocketed their career as a drag superstar further opening doors throughout the entertainment industry. Since their television debut in 2017 they've worked on projects for HBO, Netflix, VH1, MTV, Entertainment Tonight, and on stage for the Tom Eyen play Women Behind Bars.