Tom Elliott elected Chair of the Board of Directors for Campus Pride
Elliott attended Camp Pride in 2007 and is the first alumnus to be elected Board Chair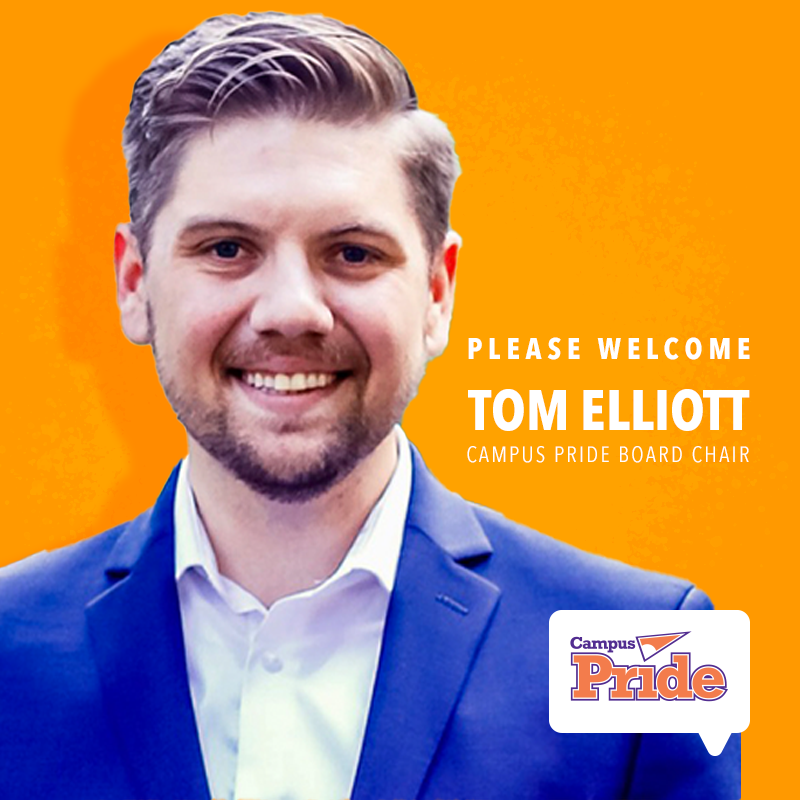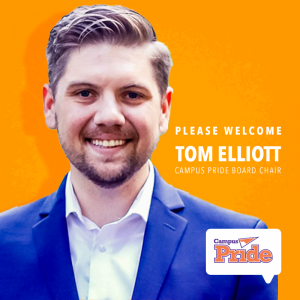 CHARLOTTE, N.C. (September 16, 2020) – Campus Pride announced today that its Board of Directors elected Tom Elliott as Chair during its meeting last night. For the first time in the organization's 19-year history, the national nonprofit, which is dedicated to building future leaders and creating safe college communities for LGBTQ people, has elected someone who was a graduate of their program to lead the Board. 
"I am overjoyed that the Board of Directors elected Tom Elliott as the Chair," said Shane Windmeyer, Executive Director of Campus Pride. "Since he joined the Board more than a year ago and became the Board Secretary shortly after, Tom has been a tremendous resource for me and the organization and I am eager to see how Campus Pride grows under his leadership."
In his remarks to the Board after being elected Chair, Tom Elliott said this:
"This is a pivotal moment for Campus Pride, and yet in the middle of a global pandemic that altered the course of history and injected uncertainty in our lives, our mission remained the same. At Campus Pride, we aim to build future leaders and create safer communities for LGBTQ young people. We didn't stray from that.

Next year is the 20th Anniversary of Campus Pride's founding, which presents a significant opportunity for us to implement a new strategic vision for the organization. It is an opportunity for us to re-align with the mission of the organization, as we see fit. It is an opportunity for us to develop new programming, or retool existing programming, that meets the needs of LGBTQ young people where they are today and in the future."
Elliott was a graduate of Campus Pride's leadership camp in 2007, while he was a student at Southern Methodist University, in Dallas, Texas. After returning to his campus after attending Camp Pride, Elliott began organizing a campaign for SMU to add an LGBTQ representative to the student government body. 
Elliott is a founding partner of Acacia Consulting Group, a strategic communications, public relations, and marketing agency based in Chicago, Illinois. Previously, Elliott served as the communications director for several statewide political campaigns in Illinois and was the Director of Public Relations for Center on Halsted, the Midwest's largest, most-comprehensive LGBTQ community center. 
In addition, the Board elected veteran Campus Pride volunteer Don Wilson as the Vice Chair to serve the organization.  Don works for Wells Fargo as the Vice President of People & Cultures.  He joined the Board a year ago and has been an active volunteer with Camp Pride for four years.
If interested in supporting Campus Pride as a volunteer or donor, please visit the website at CampusPride.org or email info@campuspride.org.
About Campus Pride
Campus Pride is the leading national educational organization for LGBTQ and ally college students, as well as campus groups building future leaders and safer, more LGBTQ-friendly colleges and universities. The organization provides resources and services to thousands of college students and nearly 1,400 campuses annually.