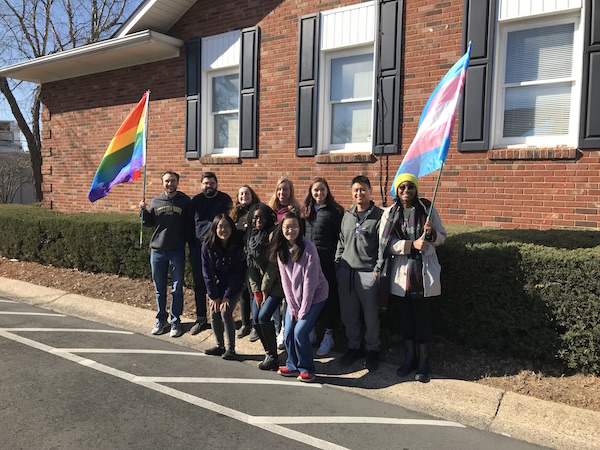 Through seven hours of downpour we arrived in Charlotte on the night of January 12th. The following morning, we met with Shane Windmeyer, Campus Pride head and co-founder, where through a series of workshops we familiarized ourselves more deeply with the program, youth LGBTQ+ issues in 2018, and one another's motivations for attending this trip whether as allies or as members of the LGBTQ+ community. Our ten-person crew was split into three groups; one focused on general office inventory and organization, one on prepping the launch of a comprehensive index of LGBTQ+ policies at HBCU's, and the last on a planned t-shirt-sale fundraiser. Through working on these projects we gained insight into the day-to-day operations of a non-profit organization and the evermore web-based areas of need and access in 2018.
That afternoon we drove a few miles over to local queer-owned co-op comic book store/coffeeshop/queer safe space/Magic: the Gathering gathering house, Comic Girl. I can say personally that the one or two hour conversation we had with Comic Girl founders and partners Lara Merico and Joanne Spataro was one I will never forget. We spoke primarily with Lara about her experiences as trans woman of color, which are shared by many like her, from her time in the military to homelessness to the hate-fueled threat of violence that she is forced to live with every day (in fact, Joanne has an op-ed in the New York Times on this very subject which you should very certainly check out). We also spoke about love, comics, coffee, music, Virginia, capitalism, and more. I believe it was an impactful experience for every one of us.
After the Comic Girl visit and dinner, we fundraised for Campus Pride at local drag restaurant Boulevard 1820. We were able to witness firsthand the empowerment of sexuality, gender, race, and the self that is at the heart of drag. We were also able to witness a giant walking vagina firing liquid on an unprepared (who could be prepared?) audience and the impromptu first drag experience of one of our group leaders for a good cause (money). The following night, after a day of working on our projects, we returned to Blvd 1820. It was, again, a fun and entertaining experience, but was made all the more meaningful through another memorable conversation with a transwoman who gave us some insight into drag's more serious side of exploring and empowering one's own identity.
"Darkness cannot drive out darkness. Only light can do that." – Martin Luther King Jr.
As we prepare to make the trip home, this weekend has felt both long and short. It's been productive, educational, fun, and packed from morning to night. It's been an experience in intersectionality that realizes the queer struggle and personalizes the individuals in it. In the background of current events, our remembrance of Martin Luther King comes with certain nuances that may have not been applied in the past. However, the service of the LGBTQ+ activists we have met with this weekend can make us believe in his sentiment of love, radical, sacrificial, serval love for ourselves and for one another, as our greatest weapon against justice.