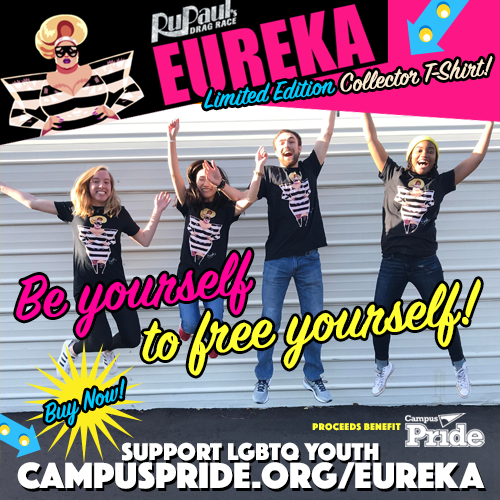 RuPaul's Drag Race Season 9 Eureka O'Hara, the Elephant Queen, supports LGBTQ and ally youth with limited edition "Go Gaga for Eureka" collector t-shirt. Profits from the t-shirt benefit leading national LGBTQ organization Campus Pride. Buy online while quantities last: CampusPride.org/Eureka
"I want to send a message of 'body positivity' and help youth overcome adversity… love themselves and be all who they are. Campus Pride helps thousands of students across the country build community and become leaders. I am proud to support their work and hope all the drag race fans will help give back with this special collector t-shirt," Eureka said.
The black and white striped Lady Gaga "Telephone" inspired artwork featured on the t-shirt was rendered by artist Chad Sells. It is the first show-stopping look from Eureka on the first episode of Season 9, which featured guest judge Lady Gaga and her iconic fashions on the runway. "Your heart shines through. It was beautiful," said Lady Gaga during critiques. Eureka made the top looks that episode.
"I agree with Lady Gaga. This signature t-shirt commemorates the first time the world saw Eureka and her heart does shine through. Nothing could be more true about Eureka. I appreciate her commitment to help support LGBTQ youth with this t-shirt design," said Shane Windmeyer, Executive Director of Campus Pride. "Go Gaga for Eureka and buy your shirt now."
The "Go Gaga for Eureka" collector t-shirt is available exclusively on the Campus Pride website at www.CampusPride.org/Eureka   Campus Pride encourages drag race fans to buy the limited edition t- shirt while quantities last.
Campus Pride is the leading national educational organization for LGBTQ and ally college students and campus groups building future leaders and safer, more LGBTQ-friendly colleges and universities. The organization provides resources and services to thousands of college students and nearly 1400 campuses annually. Learn more online at CampusPride.org.