Overwhelmed by too many requests on Giving Tuesday?
No time to give that day?
No worries!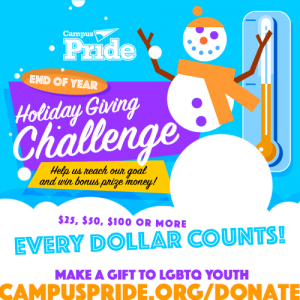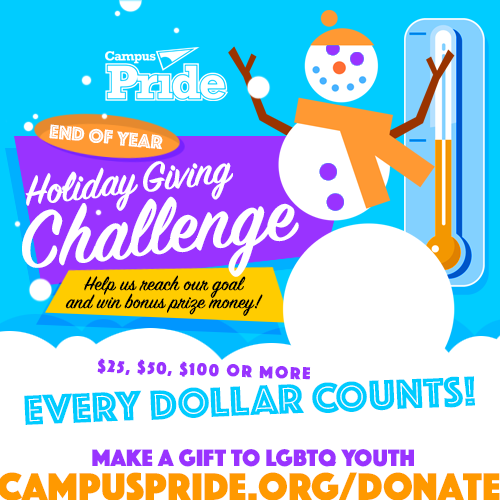 Please help LGBTQ youth in our end of the year giving challenge to raise our goal of $25,000.   There's still time…..
CHANGE LIVES. SAVE LIVES.
Every $ matters to LGBTQ youth with Campus Pride
There's still time to help Campus Pride, not just with your own generous gift of $25, $50, $100 or more before the year's end, but helping Campus Pride to win up to $150,000 through the Newman's Own Holiday Challenge.  (The organization that raises the most online during the Challenge wins $150,000. The top 10 organizations will all receive grants from Newman's Own Foundation.)
Please make your end of the year gift now to support LGBTQ youth.
GIVE NOW:  CampusPride.org/Donate
Now more than ever, Campus Pride is necessary in creating safer, more inclusive communities for young people to live, learn and thrive.
Campus Pride provides unparalleled support for LGBTQ and ally youth across the country. The organization works with over 1400+ college campuses and thousands of LGBTQ and all youth.   BUT we need your help?
Help Campus Pride meet our END OF YEAR GIVING CHALLENGE and make a difference now.  Give back to LGBTQ youth with a personal gift of $25, $50, $100 or more.  
Please help us continue our important work and know that your generous gift can truly change a young person's life forever.  Give now.