​Campus Pride received a $25,000 grant from The Starbucks Foundation's Upstanders Challenge. The Upstanders Challenge awarded grants to 25 501(c)3 non-profit organizations in the United States making a difference in their communities.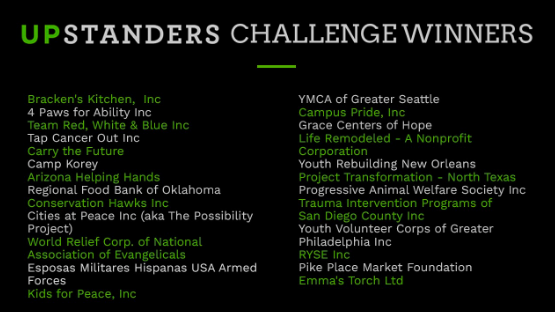 To be eligible for the grant Campus Pride created a video highlighting our organization as an Upstander. The video was shared through Indi.com to generate buzz for Campus Pride and our work to create safer, more LGBTQ-friendly colleges and universities.  Watch video.
The top 40 participating 501(c)3 organizations who submitted videos that generated the most buzz were then reviewed by a panel of judges. The judges selected 25 organizations from the top 40 buzz generating organizations to receive a $25,000 grant. Campus Pride is honored to be chosen among the 25 charities.
Campus Pride is the leading national educational organization for LGBTQ and ally college students and campus groups building future leaders and safer, more LGBTQ-friendly colleges and universities. The organization provides resources and services to thousands of college students and nearly 1400 campuses annually. Learn more online at CampusPride.org.