CAN WE COUNT ON YOU TO HELP US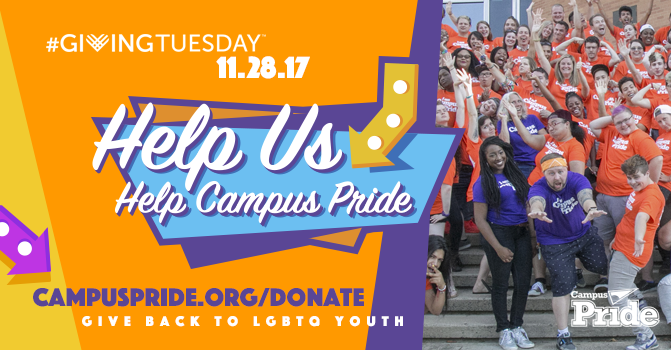 GIVE NOW & HELP US WIN $500,000 in BONUS PRIZES FROM NEWMAN'S OWN FOUNDATION – happening now until midnight! 
Will you help?
Now more than ever we need Campus Pride doing the hard work with LGBTQ youth – providing support, acceptance and creating safer communities.
Last year, for #GivingTuesday, we raised nearly $18,000 with amazing supporters like you who care deeply for LGBTQ youth and the work we do. This year, our goal is to raise $25,000 to build support and continue to invest in our LGBTQ youth programs and services.
DONATE NOW – Give $10, $25, $50 or more. Your donation will help us going into the New Year provide support to LGBTQ youth across the country.
Will you help us support LGBTQ youth with #GivingTuesday?
It only takes just 5 minutes – please.
________________________________
Every $1 makes an impact with Campus Pride. Our LGBTQ college student leader network is the largest in the country supporting youth at 1400+ college campuses.
Donate $10 and help us send the Purple Backpack Student Leader Guide to student leaders and invest in positive change.
Donate $50 and help us in providing resources to create a Safe Space on a new campus.
Donate $100 and help us give direct outreach to improve LGBTQ safety and build stronger communities with our bias & hate crime prevention trainings.
Donate $250+ and give scholarships to LGBTQ youth to attend the premier Camp Pride Summer Leadership Academy.
Campus Pride is the leading national educational organization for LGBTQ and ally college students and campus groups building future leaders and safer, more LGBTQ-friendly colleges and universities. The organization provides resources and services to thousands of college students and nearly 1400 campuses annually. Learn more online at campuspride.org.