"Never doubt that internet memes and colorful profile pics can change the world. 
Indeed , it is the only thing that ever has."
Wait. That's not the powerful, grassroots inspiring quote, I remember?!
_____________________________________________________
It was inevitable. I mean who doesn't want to take their favorite selfie and highlight to a lovely shade of purple to take a stand against bullying and show support for LGBTQ youth. Click, click, presto its done. I did my part and, its fun!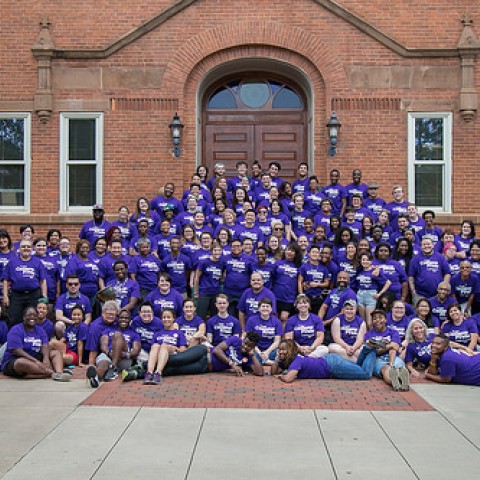 Let me be clear, I am a fan of #SpiritDay and I changed my Facebook profile pic to purple with the new snazzy app. It's the least I can do as an older adult to be visible. Plus, our organization Campus Pride went purple online. But do these branding campaigns create real systemic change? Do they help the people who need it the most?
This #SpiritDay lets challenge our community to go beyond the hashtag and purple tinted pics. If we truly want to prevent bullying and support LGBTQ youth, there is real work to be done.  If posting a purple pic is equivalent to taking a stand, then we must go farther; step forward and do the necessary actions in our day-to-day lives. Here are five steps to help deepen our commitment to anti-bullying work for LGBTQ youth and go beyond the hashtag and purple pics:
1. Invest in LGBTQ Youth Today
"I rely on you because you were there for me. You listened to me." This statement is from a young person who reflected on our relationship the last five years. It is important to commit to an active, authentic relationship with LGBTQ young people. One that is built on equitable treatment, trust and the openness to learn from one another. Many think that because you have kids or because you were once young that you understand what it is like to be LGBTQ today. That is simply not true. We must first commit to listening to the complex narrative of LGBTQ young people and hope to better understand their individual journeys.
2. Dig Deep into Intersectionality
LGBTQ young people are whole people. Lets first start by not conflating their identity into a LGBTQ box for simplicity. Explore openly one's whole self, which includes their sexual orientation and gender identity in addition to their race, class, familial status, faith, ability, and other physical traits or personal interests. Be open to non-binary, fluid identities and do not make assumptions. Many of these intersections may be at the root of the bias, prejudice, harassment that LGBTQ youth face on a daily basis. If we want to prevent bullying and support LGBTQ youth, we must deepen our work at all these intersections.
3. Role Model Civility & Kindness
The world is cruel . Violence is all too common place. The bigotry, hate and bias around us impact how young people perceive the world and their place within it. This is demonstrated most frequently by how transgender and gender non-binary young people are treated by peers and others. The devastating negative harms associated with trans lives are real. This is particularly true of our trans youth of color and LGB youth of color. We must demonstrate civility in how we use language and in our daily actions. Acts of kindness go a long way. Plus we must be willing to correct ourselves and be willing to learn from what LGBTQ youth are saying. Start by not gendering people. Pronouns do matter. Simply ask.
4. Activate Yourself & Community
Be an upstander, not a bystander. It is important to have the awareness, skills and knowledge to confront negative jokes, biased language and harassment that takes place around us, whether in the workplace, at schools, places of worship or our communities. Engage yourself in active growth and learning about LGBTQ youth issues and then taking action where appropriate. Help give access, create opportunity and be an advocate for youth-led local community efforts. Find ways you and your community can exercise solidarity alongside LGBTQ young people.
5. Give Back
Some of us are fortunate enough to have time to give back to LGBTQ youth activities and to be present in the lives of LGBTQ young people. And then some of us might have financial resources to donate or to help sponsor LGBTQ youth events or programs. All of this is important. Be sure to give back to youth-led organizations and to those groups that may not be in the spotlight. Often those doing the dirty work, the hard meaningful work, are behind the scenes – and in places less visible like rural America and/or Southern cities and townships. Shine a light on those groups and give back when you can.
While celebrity tweets, hashtags and color tinted profile pics garner lots of attention, the real impact for LGBTQ youth on days like #SpiritDay is in what we do after we post something with our smart phone. If we want these campaigns to mean something, we have to be willing to go beyond the hashtag and fund the anti-bullying work that is more than an inch deep and a mile wide.
Anything limited to one day and 140 characters is likely never going to prevent or end a culture of LGBTQ youth harassment and bullying. It doesn't just get better. We have to do better.
This blog post was written by Shane L. Windmeyer, M.S., Ed., the founder and executive director of Campus Pride.  Learn more about Windmeyer and follow him on Twitter @ShaneWindmeyer.

Campus Pride is the leading national educational organization for LGBTQ and ally college students and campus groups building future leaders and safer, more LGBTQ-friendly colleges and universities. The organization provides resources and services to thousands of college students and nearly 1400 campuses annually. Learn more online at CampusPride.org.