NACAC award acknowledges Windmeyer's pioneering work with Campus Pride for LGBTQ youth within higher education
Shane Windmeyer, Executive Director and Founder of Campus Pride, has been selected as the recipient of the National Association for College Admission Counseling's (NACAC) 2015 Excellence in Education award. He was chosen for his leadership and pioneering efforts with Campus Pride in outreach to LGBTQ students for college admissions.
Windmeyer received this national honor last week on Thursday, October 1 at the opening session of the NACAC National Conference in San Diego, CA.
"It is an honor for Campus Pride to be honored by an association like NACAC," said Windmeyer in his acceptance speech. In speaking to the NACAC professionals on the subject of asking option LGBT identity questions on college admission forms, he shares: "It doesn't just get better, we have to do better, we have to ask the important questions."
Watch full video acceptance speech online.
The award is given out on behalf of the NACAC board to those who have demonstrated a commitment to policies that strengthen access to colleges and universities for underrepresented groups. This award is the highest award the NACAC can give to a non-member, and Campus Pride is proud to have its executive director given such an honor.
The NACAC was founded in 1937, and is an organization of more than 14,000 professionals from around the world dedicated to serving students as they make choices about pursuing postsecondary education. The NACAC is committed to maintaining high standards that foster ethical and social responsibility among those involved in the process.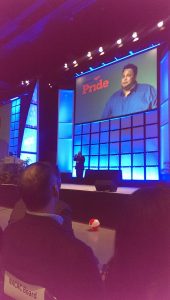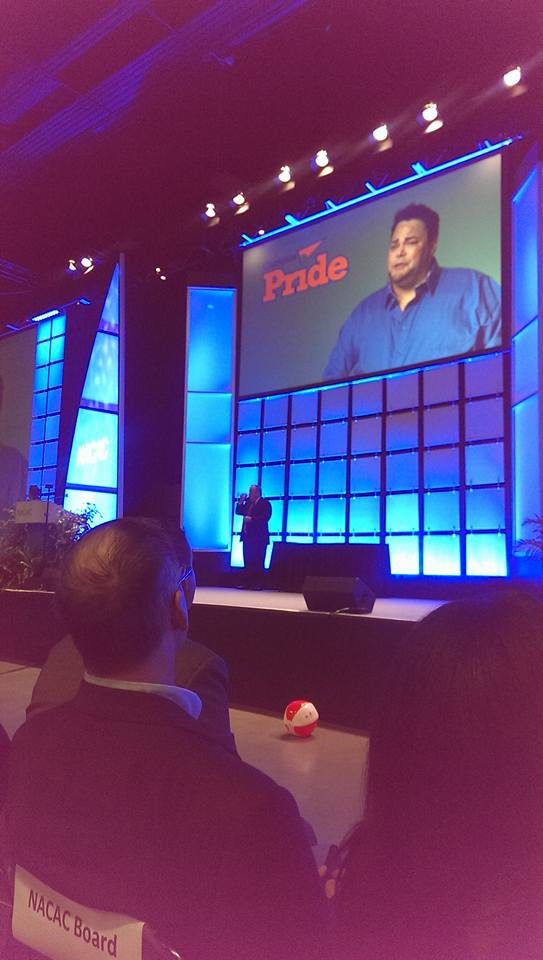 "I am humbled by this award," said Windmeyer. "I have always been committed to improving college and university campuses for LGBTQ students, and I am thrilled to see larger, non-LGBTQ higher education organizations like NACAC recognizing and acknowledging the importance of these efforts. It shows that LGBTQ students do matter, our work matters."
Campus Pride has multiple initiatives dedicated to assisting LGBTQ students with the college admissions process and finding LGBTQ-friendly campuses. The Campus Pride Index online provides the premier search tool for prospective students to find LGBTQ-friendly campuses. For 9 years, Campus Pride has held the Campus Pride National LGBTQ-Friendly College Fair Program (now in eight cities and an online fair), where more than 275 different college and university campuses across the country have participated annually reaching out to prospective LGBTQ students. This year, Campus Pride has also begun a formal campaign asking the Common Application to add optional questions pertaining to gender identity and sexual orientation to their applications.
Learn more about Campus Pride's initiatives for LGBTQ students and Shane Windmeyer online at www.CampusPride.org.
Campus Pride is the leading national educational organization for LGBTQ and ally college students and campus groups building future leaders and safer, more LGBTQ-friendly colleges and universities. The organization provides resources and services to thousands of college students and nearly 1400 campuses annually. Learn more online at CampusPride.org.