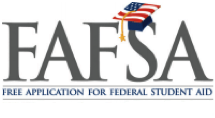 by Andrew Salman, 2014 Campus Pride Summer Fellow, Western Kentucky University
The Free Application for Federal Student Aid (FAFSA) is a mandatory document for college students who wish to receive student aid (including Pell Grants, student loans, and federal work-study).  One of the considerations taken by the FAFSA is whether a student is dependent on their guardians or not, as a student's dependency status affects how much and which types of student aid they may receive.  Because of this, a student's dependency status can be a large boon or barrier to receiving an education.   The FAFSA's questions for determining dependency status in 2014-2015 can be found here.
The Department of Education expects some level of familial support to handle the costs of attending college when students are designated as "dependent."  There are times that an individual's situation is not accurately represented by the questions asked by the FAFSA, however.  For these situations, federal aid administrators have the ability to override an individuals "dependent" status and mark them as "independent."  These dependency overrides are handled on a case-by-case basis when a student can provide documentation that demonstrates extraordinary circumstances.
An unfortunate truth is that many LGBTQ youth have lost the support of their families and will not receive the funds the Department of Education anticipates when determining the student's loan, scholarship, and grant eligibility.  This can make paying for college overwhelmingly difficult or impossible for some LGBT youth.   This is one such extraordinary circumstance that the Department of Education accounts for.
In the Dear Colleague letter pertaining to documentation for dependency overrides,  Dr. Eduardo Ochoa, Assistant Secretary for Postsecondary Education, offered this example of a good case that could be made for an LGBT student to receive a dependency override:
During her first year of college, a student came out as a lesbian. Her parents have since refused to have any contact with her and have forbidden her from returning to the family home. The student has used the school's counseling resources. To document this situation, the student gives the school permission to contact the school's counseling center to obtain a letter from a counselor. The institution may consider the resulting letter acceptable documentation. The school must retain the letter in the student's file.

(the full text of this Dear Colleague letter may be found here)
If your situation is comparable to the one described above, or if you are unsure if you qualify for a dependency override, you should contact your institution's office of financial aid for a meeting with a financial aid counselor.  Documentation is very important for dependency overrides, and while the nature of that documentation may vary from case to case, the more you are able to present at your meeting with a financial aid counselor the better your odds of receiving an override are.
If you have any textual communication from your guardians confirming that they will not support your costs of attendance due to being a member of the LGBTQ community, or if a reputable third party can provide a letter affirming what your guardians have said or done, this can make the case much easier for you and your counselor.  A guardian's refusal to support their child's cost of attendance alone is not enough for a dependency override—it must be the result of "extraordinary circumstances, including cases of abandonment by parents, abusive family environments that threaten students' health or safety, or a student being unable to locate his/her parents."