My name is Molly, and I am a summer 2023 Intern with Campus Pride. 
When I applied to college in 2021, my top priority was to attend college on an inclusive campus. I'm originally from Lexington, Kentucky, and I take great pride in being from the South, but growing up queer in a conservative area, I knew that being surrounded by other LGBTQ+ people and allies would allow me to feel more comfortable throughout college. However, I had yet to learn how to search out these campuses or know that a school would be the right fit for me.
That's when I stumbled across the Campus Pride Index. On Campus Pride's website, I found a list of colleges committed to making welcoming, safe spaces for students like me. I also saw a list of campuses to avoid or be wary of, which allowed me to narrow my college search further. Using the Campus Pride Index, I was able to generate a list of colleges where I knew my identity would be respected.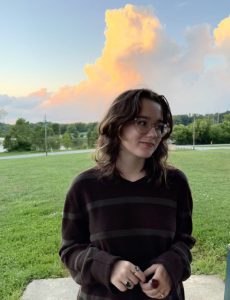 In the midst of heightened LGBTQ+ violence and discrimination, safe spaces on campuses need to be protected and made accessible to college applicants. Through the help of Campus Pride, I now attend college on a progressive campus where I am able to express myself freely. I write for my school newspaper, and most recently, I helped draft our paper's statement regarding the passage of statewide anti-trans legislation. I also conduct policy research within my college town about improving our community and making it safer for queer individuals. 
After college, I plan to pursue a career in community development and urban planning, finding ways to build communities in ways that respect all identities.
I am so excited to work at Campus Pride this summer and help make college campuses a safe space for students. I know that the Campus Pride Index can help guarantee that future for other students, as well.
Your donation today means that Campus Pride can continue offering free, crucial resources like the Campus Pride Index to LGBTQ+ students like me who need them.