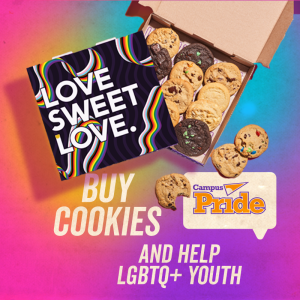 Campus Pride is thrilled to announce that we will be continuing our partnership with Insomnia Cookies for Pride Month. Throughout the month of June, you can purchase the Love Sweet Love dozen pack filled with cookies of your choice, which are wrapped in a celebratory Pride Box sleeve. For every pack purchased, Insomnia Cookies will donate $2 to support Campus Pride's initiatives.
If you would like a pride pack of your own, you can go online now to campuspride.org/cookies or order directly from your local Insomnia Cookies. Share your cookies to social media using the hashtags #insomniacookies and #pride2023, and be sure to tag Campus Pride and Insomnia Cookies.
Thank you to Insomnia Cookies for your continued support of Campus Pride!