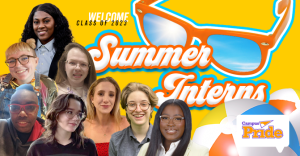 Campus Pride is excited to welcome 8 student interns to our team of volunteers this Summer 2023. Every semester Campus Pride welcomes a class of interns from colleges and universities across the United States. 
Our Summer 2023 class of interns represents a wide variety of schools from coast to coast. Our student interns are studying to receive their Bachelor's and graduate degrees in a variety of disciplines. To learn more about our Summer 2023 interns, check out their biographies below or on our website.
Are you interested in volunteering with Campus Pride? We offer many opportunities for students and recent graduates to get involved with the largest non-profit organization for LGBTQ students and young adults. Apply to be a Fall 2023 intern for Campus Pride at campuspride.org/connect/internships. To learn about our other volunteer opportunities, read more at campuspride.org/connect/volunteer.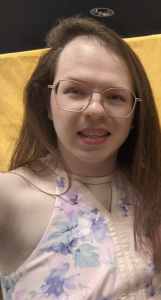 Hello! I am Cynthia Bruce (She/her), a senior at Winthrop University double majoring in Theatre and Political Science. At Winthrop I have been the President of Nat19, the DND club, and Pi Sigma Alpha, the PoliSci Honors Society. I identify as a transwoman, and that has greatly shaped who I am today. I love video games, books, movies, and honestly most media. My passions include TTRPGS (table top role-playing games, like Dungeons and Dragons), hanging out with my friends, and politics. I want to pursue a career in non profit advocacy or public administration, so I am very excited to be interning at Campus Pride!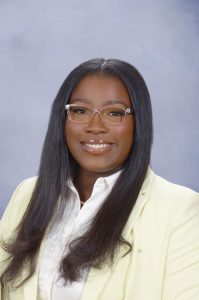 Makayla Dawkins is from the inner city of New Haven, CT. She is a graduate student at the University of Connecticut, completing an accelerated Master of Public Health degree program. When she isn't studying, she serves with her sorority Alpha Kappa Alpha Sorority, Inc. through various roles. She hopes to become a Healthcare Administrator while she researches behavioral health science. She also hopes to serve families impacted by incarceration and hopes to establish a mentoring program for students with incarcerated parents.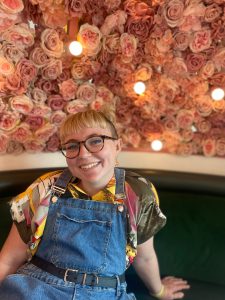 Hi! My name is Alex Donatelli (they/them), and I am a non-binary lesbian and Charlotte native. I have been an intern with Campus Pride since summer 2022, primarily working on our annual Camp Pride summer leadership academy. I am working towards a BA in Gender Studies, and am also interested in a career in film production. For the past several years I have worked in peer health education, specifically mental and sexual health, writing and presenting workshops on topics such as birth control and healthy relationships. In my free time, I enjoy travel/backpacking, fashion, and experimenting with my hair.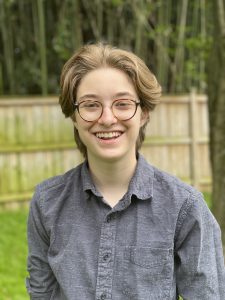 Madison Greenstein is a rising sophomore at Tufts University where they intend to major in Sociology and Civic Studies. On campus, they participate in Tufts' J Street U chapter and enjoy writing and performing for Tufts' only gender-minority sketch comedy club. They are especially passionate about transgender rights for minors. As a nonbinary individual with a transgender twin brother, LGBTQ advocacy has always been a part of Madison's life. In high school, they founded a club for elementary school transgender students, devoted to creating a welcoming and positive space for children to explore their transgender identities. Outside of advocacy work and school, they enjoy playing guitar, spending time with their dog, and doing crossword puzzles.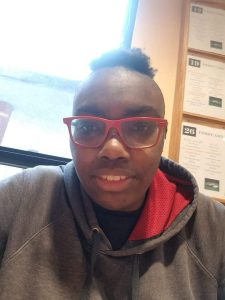 I am ash. I am nonbinary and lesbian and love helping people. I am also a YouTuber and streamer.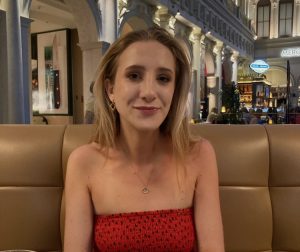 Hi! My name is Madeleine Scherler, I use she/her pronouns and identify as a bisexual woman. In 2022, I graduated with honors from Seattle University and received my BA in Communications and Media with a specialization in Strategic Communications. I aspire to work as a legal advocate for minority groups after obtaining my Paralegal Certification this year. In 2021, my senior thesis "There's No Hate Like Christian Love: Discrimination of LGBTQ+ Students at Private Catholic Universities" received a First Place Award from the National Broadcast Education Association in the Gender and Sexuality Division. Through my research and advocacy, I hope to help the LGBTQ+ community and other minority groups retain and achieve new legal rights. In my free time, I enjoy going to the beach, writing, and doing art. I am incredibly grateful and ecstatic to work with Campus Pride.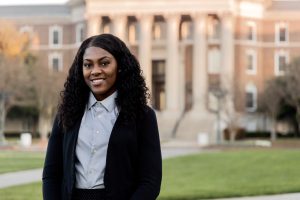 Bri Tollie is currently pursuing a master's degree in public administration at Delaware State University. Her deep passion lies in advocating for LGBTQ+ equality, particularly at the intersection of Racial Justice. Described as a passionate advocate for social justice, Bri is known for her visionary thinking and innovative ideas to create a more diverse, equitable, and inclusive world for all individuals. One of her notable accomplishments was spearheading the establishment of the Pride Project at Southern Methodist University. Leading a team of 12 undergraduate students, Bri facilitated applied research and organized various initiatives centered around LGBTQ+ experiences, utilizing an intersectional approach. 
Through securing substantial grants, presenting their findings at conferences, and fostering a strong sense of community, the Pride Project provided a platform for celebrating queer joy and reinvigorated student activism. This experience sharpened Bri's organizational and leadership skills while solidifying their commitment to grassroots organizing and community-driven transformation. Recognized for her outstanding contributions, Bri was honored with the prestigious "M" award, the highest accolade bestowed upon students at Southern Methodist University, for inspiring others and selflessly dedicating their time and abilities to improve the university.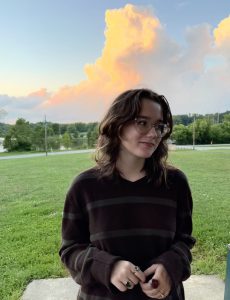 Hi! My name is Molly Wilcoxson, and I'm a rising sophomore at Grinnell College studying Anthropology and Peace and Conflict Studies. I'm originally from Lexington, Kentucky and take great pride in being from the South. After college, I hope to pursue a career in community development and urban planning, finding ways to build communities in ways that respect all identities. I currently write for my school newspaper, and most recently I helped draft our paper's statement regarding the passage of statewide anti-trans legislation. I also conduct policy research within my college town about how to improve our community and make it safer for queer individuals. Outside of school, I love coffee, geography, and music journalism. I am so excited to work at Campus Pride this summer and help make college campuses a safe space for students.