Train the Trainer Program Developed by Anti-Hate Champions at Campus Pride,
Anti-Defamation League, Southern Poverty Law Center, and others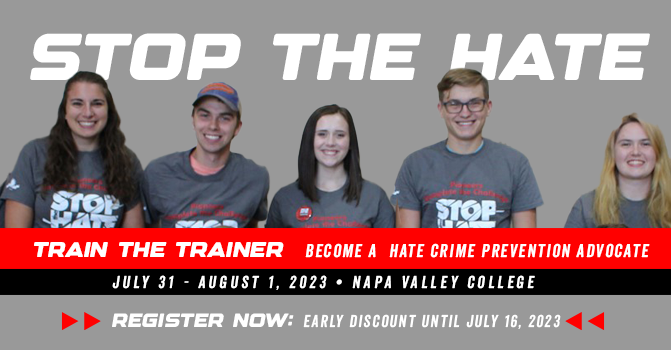 CHARLOTTE, N.C., June 5, 2023—Campus Pride's "Stop the Hate" Train the Trainer hate prevention program is coming to Napa, CA, this summer. The two-day program will be held July 31-August 1 (8:30 a.m.-5:00 p.m) at Napa Valley College. Registration is open now at CampusPride.org/Events; a 15% early registration discount is available through July 16, 2023.
"This training is especially timely, because there has been a surge in hate crimes across the country. California Attorney General Rob Bonta called it an 'epidemic of hate' and reported a 32.5% increase in hate crimes in the state," said Stop the Hate Program Coordinator Greg Miraglia. "Just this past February, a shooter targeted people leaving synagogues in Los Angeles. In this climate, there is no single identity group that is exclusively targeted—and no marginalized identity group that is safe from hate."
"The Campus Pride 'Stop the Hate' Train the Trainer program is the only resource of its kind specifically for college campuses," said Campus Pride Founder, CEO and Executive Director Shane Mendez Windmeyer. "It is designed to help colleges and universities prevent and combat bias, hate incidents and hate crimes on campus, while fostering a sense of community among participants."
The "Stop The Hate" Train the Trainer program covers 12 learning modules that provide suggested approaches for responding to hate crimes and bias-motivated incidents. Participants leave with skills and information on anti-hate initiatives, hate crime legislation, and current legal issues—as well as ongoing resources and support.
The "Stop the Hate" Train The Trainer program was developed in partnership with the Anti-Defamation League, Association of College Unions International, Campus Pride, The Southern Poverty Law Center, Wilbron Institute, Matthew Shepard Foundation, and the Center for the Prevention of Hate Violence.
# # #
ABOUT CAMPUS PRIDE AND "STOP THE HATE"
Since 2001, Campus Pride has been the leading national organization dedicated to building future LGBTQ and ally leaders and creating safer communities at colleges and universities. Learn more about the organization at CampusPride.org. Learn more about "Stop the Hate" and the Train the Trainer program at CampusPride.org/StopHate.