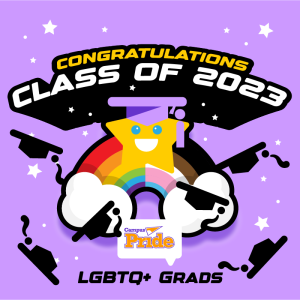 Join us in cheering: "CONGRATS CLASS OF 2023 GRADS!"
As the academic year comes to a close, LGBTQ+ students across the country celebrate their college or university graduations.
This April and May, campuses nationwide, including Kent State University, George Mason University, and Elon University, held Lavender Graduation ceremonies to commemorate the unique achievements of LGBTQ+ graduates.
On May 21, I wore the honors of Honor and graduated from the University of Virginia with a B.A. in Sociology and minors in History and Women, Gender, and Sexuality Studies. As is tradition at UVa, I carried a balloon that had personal significance to my identity and journey. I walked down the Lawn for the final time with a rainbow balloon, donning my Lavender Cord and rainbow tassel generously provided by the University of Virginia LGBTQ Center, where I have volunteered for the past two years.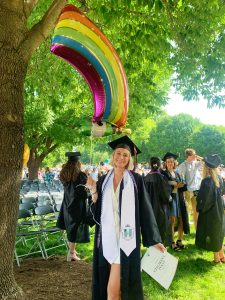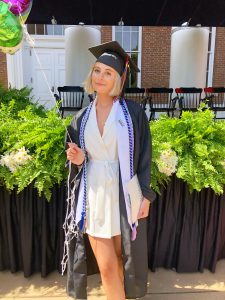 I first found Campus Pride through the Lambda 10 project last spring after recently coming out to my peers, becoming the first openly lesbian member of my sorority chapter, and being elected to the executive boards of my sorority and the University Inter-Sorority Council Judiciary Board to work towards greater acceptance and inclusion in my sorority and university as a whole. While working towards these goals and becoming more involved in the UVa LGBTQ+ community, I desired greater connections and experiences outside of my university bubble.
My experience as a 2022 Summer Intern with Campus Pride gave me a space to learn, grow, and connect with other LGBTQ+ student leaders across campuses. Through my time as an intern, my passion for LGBTQ+ activism and advocacy grew, and my confidence in my skills and identity bloomed.
In staying involved with Campus Pride over this academic year, I have been able to put this passion and confidence to use and continue to connect with LGBTQ+ and allied activists and leaders from all around the country.
To all recent graduates, congratulations! We at Campus Pride are endlessly proud of you and cannot wait to see what you achieve.
With Pride,
Chloe Zehfuss, University of Virginia, Class of 2023
Campus Pride Student Staff Comms Associate