On Saturday, June 26 at 8 p.m. EST/5 p.m. PST Campus Pride will be partnering with the Center for Native American Youth at the Aspen Institute for a unique discussion on understanding pride within Native Indigenous Two-Sprit Communities with special guest Queer Indigenous Youth Leader Talise Mendoza-Green (she/they).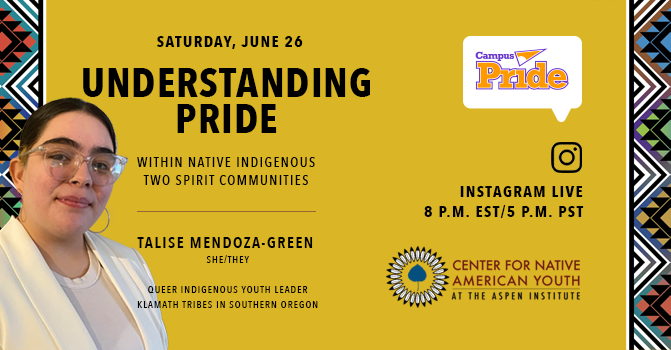 A Description of Two-Spirit Identity
In more recent years, the Two-Spirit identity has been added to the LGBTQ+ acronym. According to the National Congress of American Indians, the definition of the Two-Spirit identity is "a contemporary umbrella term that refers to the historical and current First Nations people whose individual spirits were a blend of female and male spirits." The term has been reclaimed by Native American LGBTQ+ communities. 
The Federal Health Program for American Indians and Alaska Natives says, "traditionally, Native American two-spirit people were male, female, and sometimes intersexed individuals who combined activities of both men and women with traits unique to their status as two-spirit people. In most tribes, they were considered neither men nor women; they occupied a distinct, alternative gender status. In tribes where two-spirit males and females were referred to with the same term, this status amounted to a third gender. In other cases, two-spirit females were referred to with a distinct term and, therefore, constituted a fourth gender."
The Intersections of Gender, Sexuality, and Race
It is extremely important in conversations of self-acceptance and love, especially within the LGBTQ+ community to understand the many intersecting identities of our very existence. Such intersections can at times be a challenge mentally, emotionally, and physically.
Youth leader Talise Mendoza-Green understands these complexities all too well. "Being Native and Mexican, I have the world telling me who I should be. And yes, while they both sometimes mash they sometimes are like oil and water. They do not mix well at times." said Mendoza-Green. 
"Growing up I knew I was queer but didn't want to say it out loud. Now being 21 I'm not scared to say I am queer." With both of her worlds inevitably blending together she does find it challenging at times. Their Mexican side tends to have a more strict gender binary and toxic masculinity known as "machismo." Whereas their Native side lends to a more lax outlook on gender expression, one can only imagine how difficult it can be to fully grasp who you are. Yet despite it all, Mendoza-Green has been able to do so in stride, "I love being queer I love getting to learn about the history of queerness. I'm so excited to get to show you what pride means to me."
# # #
ABOUT CAMPUS PRIDE
Since 2001, Campus Pride has been the leading national organization building future LGBTQ and ally leaders as well as creating safer communities at colleges and universities. The Campus Pride Index annually helps 80,000 people find LGBTQ-inclusive colleges and universities.  In addition, the organization has specifically tailored programs and resources to support LGBTQ youth and campus communities. Learn more at CampusPride.org.