We're sorry, but all tickets sales have ended because the event is expired.
May 26, 2021




8:00 pm - 9:00 pm
Rebby Kern
Campus Pride Alumni Spotlight Series: 20th Anniversary Special IG Live 
Wednesday, April 28
8 pm EST/5 pm PST
Rebby Kern (They/Them), Campus Pride Alumnus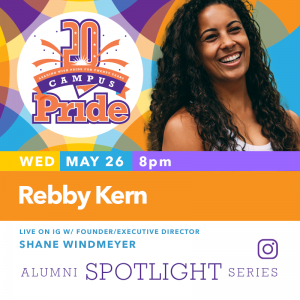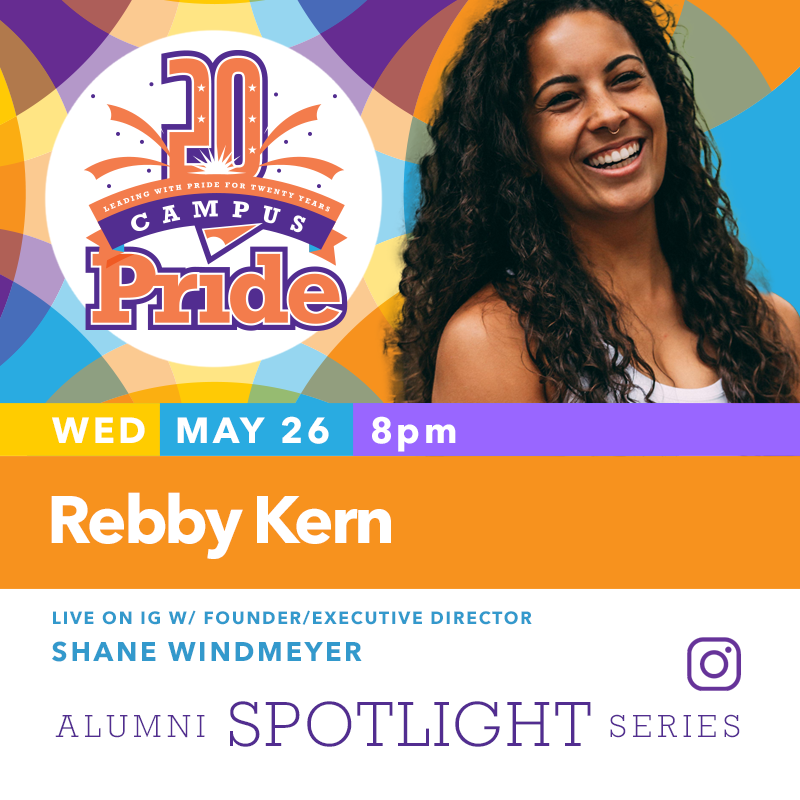 Rebby Kern (they/them) is a biracial, nonbinary queer person whose personal experience and professional career has placed them in the work of opening hearts and minds to equity, inclusion and action.
Serving North Carolina, Rebby serves as the Director of Education Policy at Equality NC, advocating for and investing in young changemakers, supporting policy reform and implementing LGBTQ-inclusive training and professional development across North Carolina. Rebby joins colleagues as a board member of Youth Outright, empowering LGBTQIA kids and teens.
Expanding their work across the nation, Rebby is a Nationally Certified Trainer for Human Rights Campaign Foundation Welcoming Schools, the nation's premier professional development approach for elementary schools. Locally, Rebby is a statewide facilitator for the North Carolina Department of Public Instruction providing day-long trainings to school staff across the state.
Rebby previously worked as the Director of School Outreach at Time Out Youth Center in Charlotte, NC, and as the Media, Communications and Programs Manager at Campus Pride. Rebby is an alumnus of the Community Builder's Initiative Leaders Under 40 Program.
In recognition of their work within youth policy, Rebby has been awarded with the 2017 Champions of Pride Young Catalyst Award from Charlotte Pride, the 2020 Impact Awards by the Charlotte LGBT Chamber of Commerce and the 2020 Self-Care Revolutionary Award by Amplify and Activate Charlotte.
Outside of youth policy and organizing, Rebby is a yoga teacher, race and gender equity educator, and consultant within yoga and wellness spaces. As of 2019, Rebby was named lululemon's first Black, nonbinary ambassador at Charlotte's Atherton Mill store.