We're sorry, but all tickets sales have ended because the event is expired.
May 20, 2021




6:30 pm - 7:30 pm
Be Aware. Take Action. Ask Us Anything!
Mental Health Month, Special IG Live with EqualityMD
Thursday, May 20
6:30 pm EST/3:30 pm PST
Conversation with Justin Ayars, JD, equalityMD, Founder & CEO as well as Dustin Nowaskie, MD -equalityMD CMO, OutCare Health, Founder & President
EqualityMD creates inclusive, personalized, healthcare ecosystems for the underrepresented LGBTQ+ community. Our human-motivated, community- minded, data-driven company bridges glaring healthcare disparity gaps by creating innovative and equitable solutions to systemic societal and institutional
problems. Our work empowers individuals to make their full, authentic selves protagonists in their own healthcare narratives, ensuring that everyone has the potential to lead happier, healthier lives.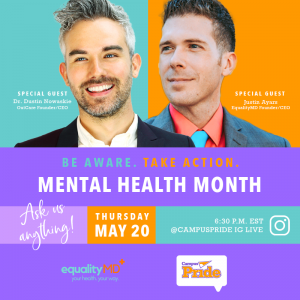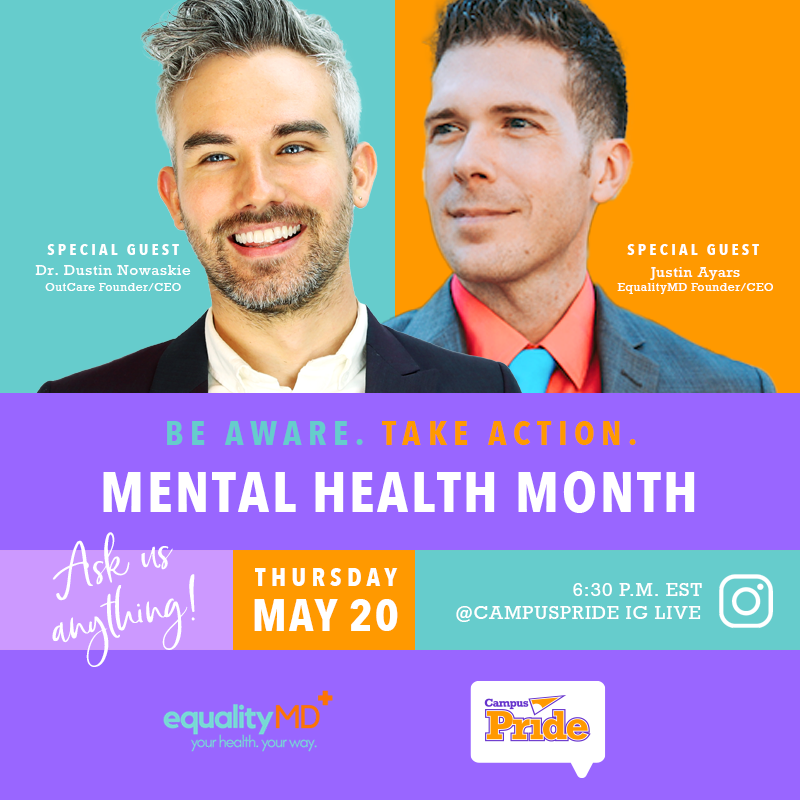 Justin Ayars, JD, equalityMD, Founder & CEO 
Justin is a self-described recovering healthcare trial lawyer turned serial entrepreneur. He has extensive experience in crafting compelling narratives that resonate with diverse demographics, helping businesses authentically engage new markets and cultivating communities through relationship-building and
technological innovation. For five years, Justin ran a successful LGBTQ+ marketing, media and events company in the mid-Atlantic region, Q Media. Justin is now the Founder & CEO of EqualityMD, a comprehensive virtual ecosystem that provides the LGBTQ+ community with inclusive, personalized healthcare. Justin was recently named a Top 40 Under 40 LGBTQ+ Leader in North America. In his own words, he has the mind of a humanities scholar, heart of a poet and spirit of a starship captain. In all that Justin does, curiosity remains his true north star.
Dustin Nowaskie, MD -equalityMD CMO, OutCare Health, Founder &
President
Dr. Nowaskie is a queer and proud provider. His personal identification and civic commitment have cultivated into a passion to help the LGBTQ+ community. He is the Founder and President of the national nonprofit LGBTQ+ health equity organization OutCare Health, which provides access to LGBTQ+ information, resources, mentorship, education, training, research, and providers for hundreds
of thousands across the country. A Summa Cum Laude and Phi Beta Kappa graduate of the University of Southern California and Gold Humanism Honor Scholar of the Indiana University School of Medicine, Dr. Nowaskie's clinical and philanthropic work has led to several national accolades, presentations, and publications as well as diversity awards from the Jack Kent Cooke Foundation, Tylenol Future Care Foundation, Gamma Mu Foundation, AGLP, WPATH, and NOGLSTP. His ultimate goal is to transform his might into a powerful unicorn of social and public health change for LGBTQ+ people.