April 28, 2021




8:00 pm - 9:00 pm
Mark Travis Rivera
Campus Pride Alumni Spotlight Series: 20th Anniversary Special IG Live 
Wednesday, April 28
8 pm EST/5 pm PST
Mark Travis Rivera (He/Him/His), Campus Pride Alumnus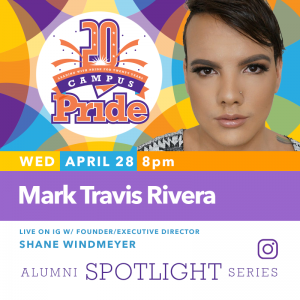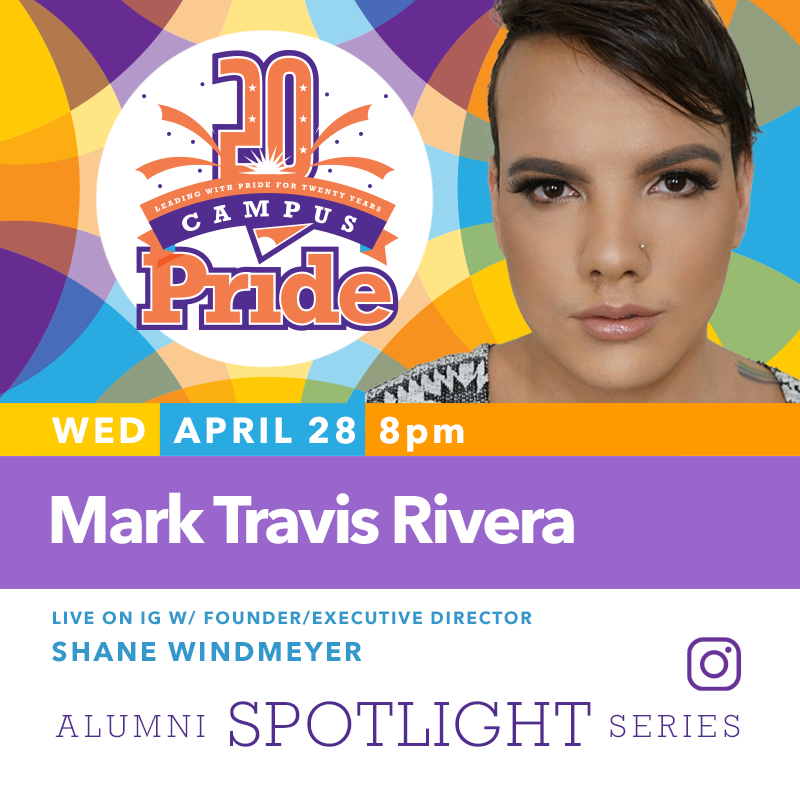 Mark
Travis
Rivera
 is an award-winning professional storyteller. Whether it is through verbal or written communication, or through dance, telling stories is at the core of 
Mark
's purpose in life.  A graduate of William Paterson University of New Jersey, 
Rivera
 earned a bachelor's in women's & gender studies with a minor in public relations. He is a member of the Gamma Zeta Chapter of Iota Iota Iota (Triota) National Honor Society for Women's & Gender Studies and Chi Alpha Epsilon, the Educational Opportunity Fund National Honor Society. In 2013, 
Rivera
 received the Student Government Association's Lifetime Achievement Award for his commitment to the William Paterson community. In the same year, he was honored with the Campus Pride Voice & Action Award  for his work with the LGBTQ community. More recently, he won the Audre Lorde Award for Social Justice from John Jay College of Criminal Justice, CUNY.   
Rivera
 is the youngest person to found an integrated dance company in the United States. 
marked
 dance project, a contemporary company for dancers with and without disabilities, established in March 2009, made its debut at Rutgers University.  The company has also performed at the Silk City Summer Arts Festival, the Painted Bride Art Center, the Mandell Theater, the Actor's Fund Arts Center in Brooklyn, NY and New York University. Through MDP, 
Rivera
 has worked with choreographers such as Maureen Glennon, Caitlin Trainor, Stacey Tookey, Todrick Hall, Tyce Diorio, and Marinda Davis. After ten years of remarkable dancing, 
Rivera
 decided to dissolve the 
marked
 dance project and continue working as an independent choreographer.   He has long used writing as a form of expression. His poem, Love Letters to Myself (Excerpts) was published in a new anthology, Between: New Gay Poetry. His essay, 
Marking
 My Own Path: An Inner City Dreamer was published in the anthology, I Am Here: The Untold Stories of Everyday People. 
Rivera
's writing has also been published in The Bergen Record, Herald News, The Star Ledger, Fox News Latino, and The Huffington Post. His debut collection, Drafts: An Imperfect Collection of Writing was published in August of 2017 through Amazon.  
Rivera
 resides in Oakland, California and currently serves as a Diversity, Equity, and Inclusion Coordinator for Nika White Consulting.