EOY celebrates 30 Years of pageantry excellence
Campus Pride congratulates Buff Faye on her reign as National Entertainer of the Year (EOY). Buff Faye, also known as Shane Windmeyer, is the executive director and founder of Campus Pride. Buff Faye will be giving up her title this weekend at the Entertainer of the Year Female Impersonator 2021 Final Night Competition in Louisville, Kentucky.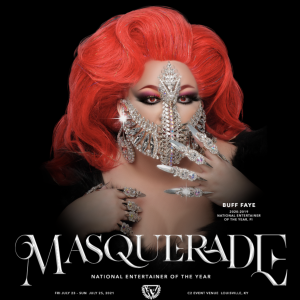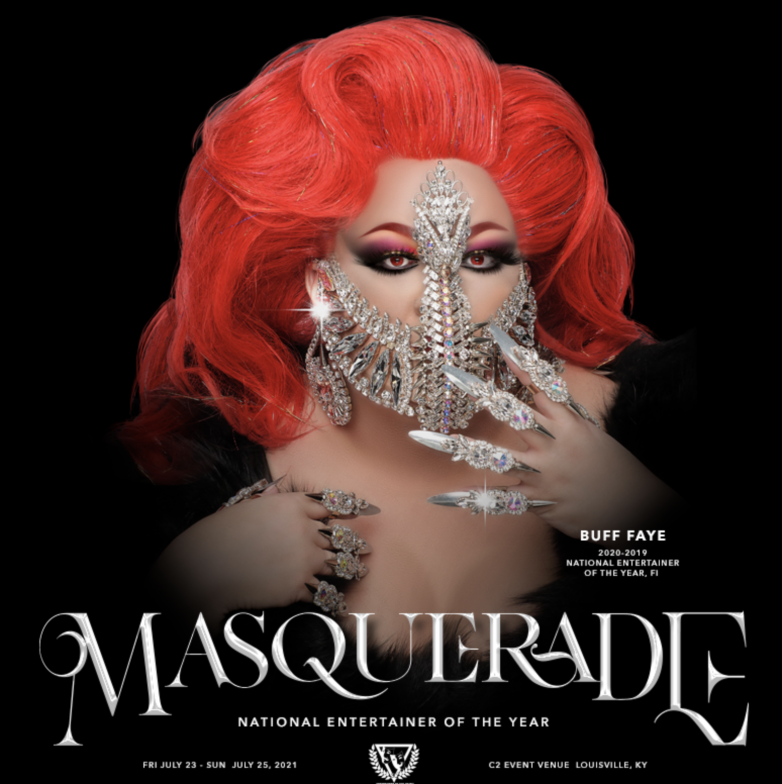 The EOY pageantry contest is one of the oldest and most prestigious in the country celebrating its 30th Anniversary this weekend. Former EOY national titleholders include RuPaul's Drag Race Trinity "The Tuck" Taylor and Nina West. Click here to learn more and purchase tickets.
Charlotte, North Carolina native Buff Faye is currently the only national LGBTQ executive director and drag queen who holds a national title. She has been crowned with multiple pageant titles, including North Carolina EOY 2017 and former Miss Charlotte Pride. The "charity queen" is an active leader in the Charlotte community and uses her platform to advocate for LGBTQ youth as well as raise money for Campus Pride and other charitable organizations.
Campus Pride founder Windmeyer is 2019-20 EOY FI titleholder
Windmeyer first performed in drag as Buff Faye in 2008 at the annual Camp Pride summer leadership camp for LGBTQ students. He uses drag as a way to give back to the community, express in a gender-expansive manner and raise money for national and local charities. As a best-selling LGBTQ author and LGBTQ civil rights pioneer, Windmeyer founded Campus Pride to help support LGBTQ youth and create safer, more inclusive communities. He has traveled as a keynote speaker to over 1200+ colleges and events across the country since 1997.
"It has been such an honor to serve as National Entertainer of the Year. Bigger is always better, and I think I have embodied that in my reign this past year," says Windmeyer. "Performing as Buff Faye is an extension of my work as an advocate in the LGBTQ community. She is a way for me to give back and advocate for LGBTQ youth and charities that I care about. I am proud to have EOY and everything it represents as part of my personal life journey."
# # #
ABOUT CAMPUS PRIDE
Since 2001, Campus Pride has been the leading national organization building future LGBTQ and ally leaders as well as creating safer communities at colleges and universities. The Campus Pride Index annually helps 80,000 people find LGBTQ-inclusive colleges and universities.  In addition, the organization has specifically tailored programs and resources to support LGBTQ youth and campus communities. Learn more at CampusPride.org.
ABOUT SHANE WINDMEYER
Buff Faye is better known as Shane Windmeyer, the founder/executive director of Campus Pride, the leading national non-profit organization benefiting LGBTQ youth nationwide on college campuses. He is also a nationally recognized speaker, educator and best-selling author of six books including ​The Advocate College Guide for LGBT Students, Out on Fraternity Row, Brotherhood and Secret Sisters.​ 
Windmeyer has been featured on IN THE LIFE TV and his work has been the focus of national attention from CNN, Good Morning America, MSNBC's The Situation with Tucker Carlson, The New York Times, Rolling Stone, OUT Magazine, The Advocate National Gay & Lesbian News Magazine and TIME Magazine. Windmeyer has a master's degree in higher education and student affairs from Indiana University and a bachelor's degree in communications from Emporia State University.