Second annual virtual Camp Pride
This past weekend, Campus Pride held its 15th annual Camp Pride summer leadership camp for LGBTQ college students. Camp Pride 2021 was the second camp hosted entirely online. Students from across the United States attended virtual programming and workshops hosted by Campus Pride volunteers and LGBTQ speakers. Check out our YouTube channel for a history of Camp Pride. Learn more about Camp Pride at campuspride.org/camppride.
Thank you to everyone who attended! This year, there were over 75 participants registered from 28 colleges and universities in attendance. Click here to view all of the schools that participated in this year's Camp Pride. Share your Camp Pride experience with us on Twitter or Instagram by using #CAMPPRIDE and tagging us @campuspride.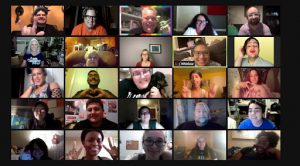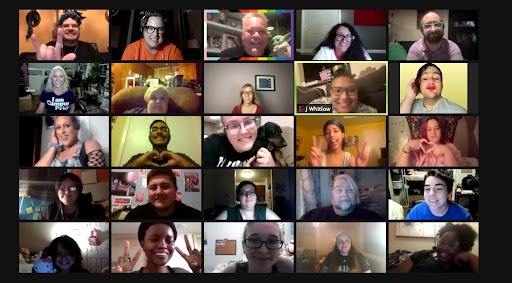 A rainbow of LGBTQ speakers and workshops
The weekend featured a rainbow of speakers and guests. Attendees were treated to an exclusive viewing of "Interstate" presented by Kit Yan. Additionally, Students attended a panel discussion on religion and sexuality entitled "The Dragon's Lair vs. Happiest Place on Earth" featuring LGBTQ panelists Madisen Wilson, Rylee Bennet and Charlese Ramos.
Participants attended roundtables and workshops on LGBTQ issues, including "Beyond Binaries: Identity & Sexuality," "Equitability, Accessibility: The Intersections of Disability and Neurodiversity within the LGBTQ+ Community," and "Rainbow Table Talk: Self Care." Additionally, students were able to attend identity caucuses and join fun activities like a talent show, movie night and drag storytime. 
Campus Pride Intern Simone Boyd said, "It was so great being able to meet and mingle with so many like-minded individuals. I was able to learn from them and take that knowledge and hopefully do more good in my community."
Social Justice Mini-Grants for Activism
At Camp Pride, students gain the skills they need to be effective leaders and social justice advocates at their colleges and universities. Attendees learned how to process sadness as an activist with licensed therapist Asher Wickell, LCMFT. Also, Campus Pride interns led a conversation on action planning and discussed Campus Pride's grants available to students.
"Camp Pride was nothing short of amazing. To be in a (virtual) room with other LGBTQ advocates made me feel seen. It was the push I needed to continue my work for equality!" said Campus Pride Summer Intern Jerry St. Louis. 
In honor of Campus Pride's 20th Anniversary, we have launched our Social Justice Mini-Grants for Activism project. The program offers grants of up to $600 to student activists involved in social justice work on their college campuses. LGBTQ college students are encouraged to apply now. Inaugural mini-grant recipients will be announced in August. To learn more, visit campuspride.org/ActNow.
A word from the Chair of the Board of Directors
"It was a distinct honor to give the keynote address at the end of this year's Camp Pride Summer Leadership Academy," said Tom Elliott, Chair of the Board of Directors and 2008 Camp Pride alumni. 
"This year's attendees heard me speak to the tremendous value of creating dedicated spaces for LGBTQ people and allies, and how we as leaders must constantly push for safer, more inclusive communities. Campus Pride's mission is to equip young LGBTQ leaders with the resources and skills to become activists on their campuses and beyond. I'm eager to see what the future holds for these fierce advocates for change."
# # #
ABOUT CAMPUS PRIDE
Since 2001, Campus Pride has been the leading national organization building future LGBTQ and ally leaders as well as creating safer communities at colleges and universities. The Campus Pride Index annually helps 80,000 people find LGBTQ-inclusive colleges and universities.  In addition, the organization has specifically tailored programs and resources to support LGBTQ youth and campus communities. Learn more at CampusPride.org.