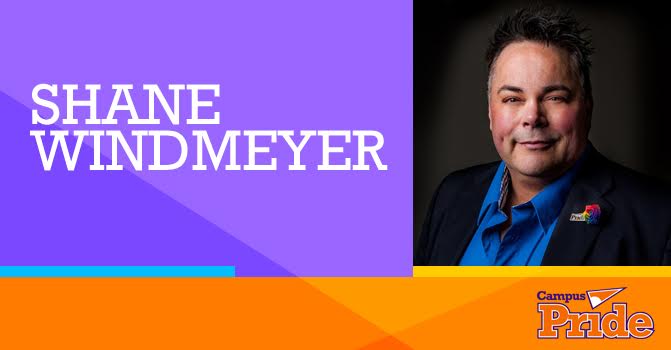 Shane L. Windmeyer, M.S., Ed. is a best-selling author, LGBTQ campus pioneer and civil rights champion. He is founder and executive director of Campus Pride, the leading national LGBTQ organization for student leaders and campus organizations working to build future leaders and create safer campus communities.
Windmeyer is the creator of the Campus Pride Index (CampusPrideIndex.org), the premier national LGBTQ benchmarking tool for colleges and universities. Released Fall 2006 by Alyson Books, Windmeyer is the author of The Advocate College Guide for LGBT Students, the first-ever college guide profiling the "100 Best LGBT-Friendly Campuses." He is also the editor of Brotherhood: Gay Life in College Fraternities and co-editor of the books Inspiration for LGBT Students & Allies, Out on Fraternity Row: Personal Accounts of Being Gay in a College Fraternity and Secret Sisters: Stories of Being Lesbian & Bisexual in a College Sorority.
Windmeyer was raised in the rural Midwest on a farm in Hiawatha, Kansas.  He was born as Shane Mendez to his single mother Diann Mendez.  Within a year of being born, his mother married Fred Windmeyer who adopted him as his son.  As an American Indian, Windmeyer is part of the Iowa Tribe. His family is mixed race Mexican, American Indian, and Irish.  Windmeyer attended Emporia State University as a first generation college student and participated in the Upward Bound program for low income, first generation families. He graduated from Emporia State University with a Bachelor's degree in Communication and then attended Indiana University where he received his Master's degree in Higher Education and Student Affairs.  He lives in Charlotte, NC with his husband Thomas Feldman. They were legally married in 2015 after twenty years of being together.