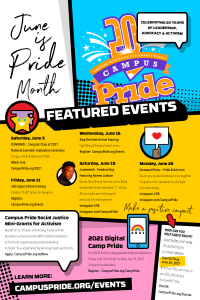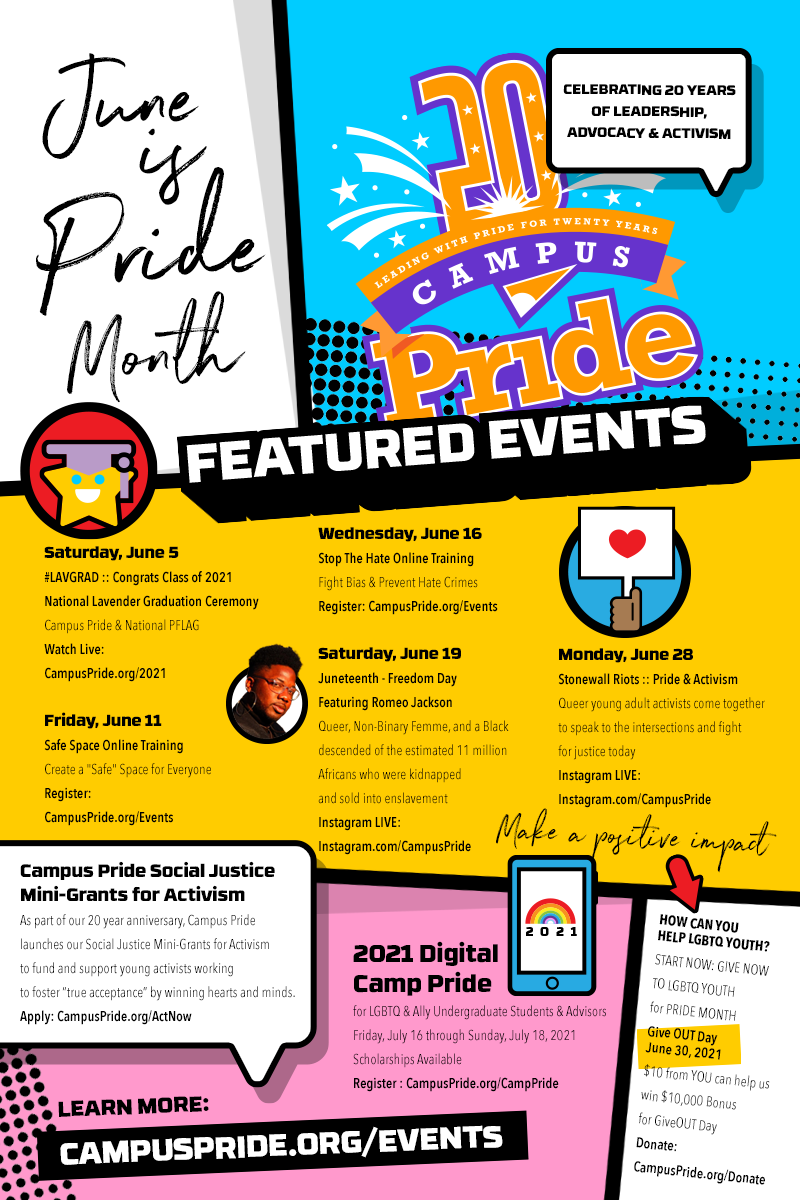 Happy Pride Month from Campus Pride! For 20 years, Campus Pride has been the leading national nonprofit organization for LGBTQ students and has been advocating for LGBTQ communities on college and university campuses across the country. In celebration of Campus Pride's 20th Anniversary, we are going the extra mile to provide programming for students to get involved in LGBTQ Pride Month education and activism. 
"Pride Month is a huge celebration for us over at Campus Pride. It's important for us to experience moments of queer joy and celebrate how far we've come as a community," says Campus Pride Executive Director Shane Windmeyer, "We also have to remember Pride's roots in activism and the Stonewall Riots. Campus Pride takes LGBTQ activism very seriously, so there's no better way to celebrate Pride than to encourage discussions around intersectional justice with our queer and trans students."
Simone Boyd is an intern with Campus Pride's Summer 2021 cohort. Working with Campus Pride, Boyd sees Pride Month as an opportunity to celebrate all LGBTQ young adults, especially those brave enough to advocate for what they believe in. "Stand in your truth and know that as you are is good enough. You are more than deserving of love and respect and should settle for nothing less," says Boyd.
Campus Pride will be hosting Pride Month events for students throughout the month of June. Learn more about our exciting Pride 2021 events and initiatives on Campus Pride's website at campuspride.org/june-is-pride-month or check out our upcoming events below.
#LAVGRAD National Lavender Graduation Ceremony 
On Saturday, June 5, Campus Pride is hosting its annual Lavender Graduation in collaboration with PFLAG National. #LAVGRAD is a national commencement that honors LGBTQ students of the Class of 2021 and will recognize 15 schools across the United States. The virtual ceremony will take place at 12 p.m. PST/3 p.m. EST. Check out the free event at www.campuspride.org/2021 and Campus Pride's livestreams on Facebook and YouTube.
Safe Space Online Training
Join Campus Pride on Friday, June 11, for an online session of our nationally recognized Safe Space Program. The program gives participants and organizations the knowledge to advocate for and support the LGBTQ community by teaching key terminology and important moments in LGBTQ history. The two-hour virtual training starts at 1 p.m. EST and requires participants to pay a registration fee. Learn more about Safe Space and register here.
Stop the Hate Online Training 
Campus Pride invites you to our Stop the Hate online training on Wednesday, June 16. Stop the Hate is Campus Pride's educational initiative that provides colleges and universities the tools to combat hate and discrimination on their campuses. The two-hour virtual training starts at 1 p.m. EST and requires participants to pay a registration fee. Learn more about Stop the Hate and register here. 
Juneteenth and Black Queer & Trans Futures: A Reflection 
On Saturday, June 19, join Romeo Jackson and other Black queer and trans activists as they share their reflections on Juneteenth and its connections to Black queer liberation on college campuses. Starting at 3 p.m. PST/6 p.m. EST, attendees can watch the IG Live on Campus Pride's Instagram. Click here to learn more about Romeo Jackson, Campus Pride alumnus, and their work in intersectional justice and higher education.
Stonewall Riots Anniversary Event: Pride & Activism 
Join us on Monday, June 28, for a live-stream event commemorating the 52nd anniversary of the Stonewall Riots and its ongoing legacy of LGBTQ activism. Tune in to Campus Pride's IG Live at 5 p.m. PST/8 p.m. EST to listen to young queer activists discuss the continuing work towards intersectional justice in the LGBTQ community. Click here to learn more. 
Give OUT Day Virtual Pride Celebration 
Throughout the month of June, Campus Pride will be participating in the annual Give OUT Day fundraising competition hosted by Horizons Foundation. The LGBTQ nonprofit that receives the most individual donations of $10 or more will win an additional $100,000 for their organization. The competition ends on June 30, Give OUT Day, the only national day of giving for the LGBTQ community. 
To celebrate the end of Pride Month, Campus Pride will be hosting a virtual Pride celebration on Wednesday, June 30 at 4 p.m. PST/ 7 p.m. EST. We will be teaming up with Pride Palace to make one final push for the grand prize. You can watch the free virtual event on IG Live at instagram.com/PridePalaceLGBT/. Visit campuspride.org/donate to donate to Campus Pride and give to LGBTQ youth. 
Social Justice Mini-Grants for Activism
In honor of Campus Pride's 20th Anniversary, we have launched our Social Justice Mini-Grants for Activism project. The program offers grants of up to $600 to student activists involved in social justice work on their college campuses. LGBTQ college students are encouraged to apply now. Inaugural mini-grant recipients will be announced throughout the month of June. To learn more, visit campuspride.org/ActNow.
###
ABOUT CAMPUS PRIDE
Celebrating its 20th anniversary year in 2021, Campus Pride is the leading national nonprofit organization dedicated to building future leaders and creating safer, more inclusive communities for LGBTQ people and allies at colleges and universities. Founded in 2001 by nationally-recognized LGBTQ civil rights leader and campus pioneer Shane L. Windmeyer, Campus Pride offers a wide variety of programs and resources for students and prospective students, including the Campus Pride Index, HBCU Clearinghouse, Trans Policy Clearinghouse, Lambda 10, Stop the Hate and Safe Space trainings, and the annual Camp Pride leadership camp. www.campuspride.org