Livestream event to feature 14 colleges and special guest from the U.S. White House
This Saturday, June 5, Campus Pride and PFLAG National will host Lavender Graduation, a commencement ceremony for LGBTQ students of the Class of 2021. The second-ever virtual ceremony is free to attend and will be live-streamed at 12 p.m. PST/ 3 p.m. EST. Graduates and loved ones can tune in to watch #LAVGRAD at www.CampusPride.org/2021 and on Campus Pride and PFLAG National's social media channels. 
The Lavender Graduation ceremony will honor 14 schools from across the United States and feature remarks from administrators and student representatives. We hope to provide a meaningful virtual ceremony for LGBTQ students that may not have been able to celebrate their college graduation in person this year. Campus Pride will be recognizing the following colleges and universities: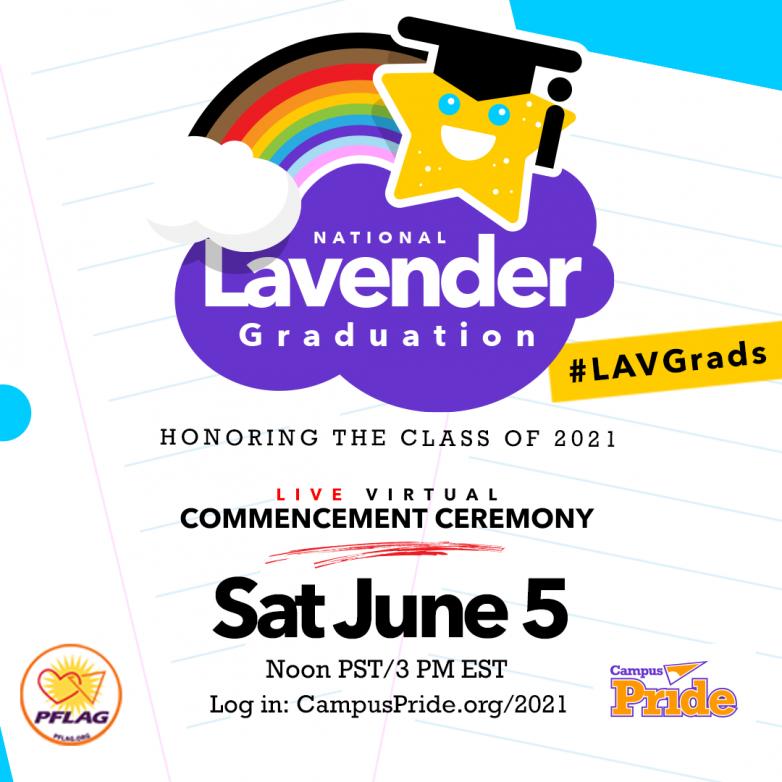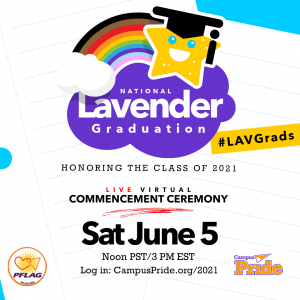 The ceremony will also feature guest speakers like Associate Director at The White House Office of Public Engagement Hannah Bristol. "I spend my time working with young and LGBTQ people in The White House Office of Public Engagement, which makes it extra wonderful to see so many proud LGBTQ young people graduating and preparing to lead us toward a more equitable and just future," said Bristol, "It may not have been an easy road for everyone to get here, but I'm so glad you made it because we need you.
We need your brilliance, your creativity and your determination as you embark on your next steps and continue the hard and rewarding work of living freely and authentically, making it easier for everyone who comes after you to do the same."
"Campus Pride offers congratulations and support to this year's graduating class of LGBTQ leaders, who embody our values of inclusion on campus and advocacy for social justice," said Shane Windmeyer, Campus Pride Executive Director. "I'm inspired by the work these young people are doing to take the activism skills they learn through programs like Camp Pride, our internships, and our leadership trainings, and put them into practice on their own campuses, for the betterment of their entire community."
Learn more about Campus Pride and its resources for finding LGBTQ-friendly colleges online and connecting to LGBTQ-inclusive employers at CampusPride.org.
###
ABOUT CAMPUS PRIDE
Celebrating its 20th anniversary year in 2021, Campus Pride is the leading national nonprofit organization dedicated to building future leaders and creating safer, more inclusive communities for LGBTQ people and allies at colleges and universities. Founded in 2001 by nationally-recognized LGBTQ civil rights leader and campus pioneer Shane L. Windmeyer, Campus Pride offers a wide variety of programs and resources for students and prospective students, including the Campus Pride Index, HBCU Clearinghouse, Trans Policy Clearinghouse, Lambda 10, Stop the Hate and Safe Space trainings, and the annual Camp Pride leadership camp. www.campuspride.org