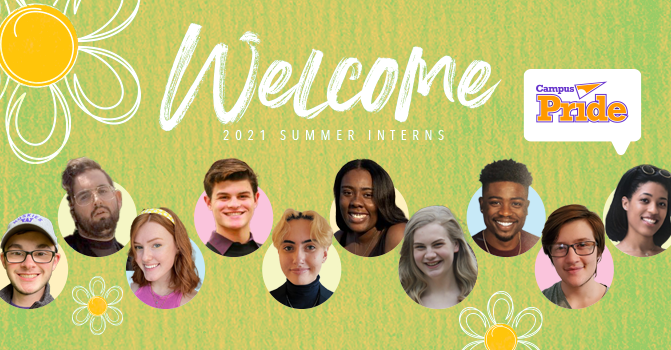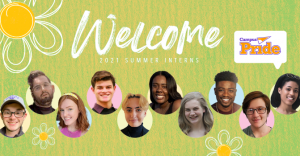 Campus Pride is excited to welcome its largest-ever cohort of student interns to our team of volunteers. Every semester Campus Pride welcomes a class of interns from colleges and universities across the United States. This summer, 10 students were chosen from a highly selective pool of over 35 applicants to work remotely with Campus Pride.
Our Summer 2021 class of interns represents a wide variety of schools from coast to coast. Our student interns are studying to receive their Bachelor's, Master's, and Doctorate degrees in majors like communications, women and gender studies, social work, and sociology. To learn more about our Summer 2021 interns, check out their biographies below or on our website.
Are you interested in volunteering with Campus Pride? We offer many opportunities for students and recent graduates to get involved with the largest non-profit organization for LGBTQ students and young adults. Apply to be a Fall 2021 intern for Campus Pride at campuspride.org/connect/internships. To learn about our other volunteer opportunities, read more at campuspride.org/connect/volunteer.
Simone Boyd (she/her) – University of Maryland
Simone Boyd identifies as a black queer woman. She received her Bachelor's degree in mass communication with a focus in journalism and new media from Towson University. Simone plans to attend graduate school in the fall to study public policy. She has been looking for a way to give back to a community that has so warmly embraced her. Interning with Campus Pride will be her first opportunity to get involved with an LGBTQ organization. 
Alexander Cheetham (he/they) – Brandeis University
Alexander Cheetham is a current undergraduate student at Brandeis University. They are studying sociology and anthropology with a minor in women's, gender, and sexuality studies. As a disabled trans and queer individual, they are highly involved in activism both on- and off-campus. Previously, Alexander has worked with QChatSpace, a digital program for queer youth which offers daily groups meant to replicate the offerings and feelings of an in-person LGBTQ resource center. 
Olivia Klegraefe (she/her) – University of Rhode Island
Olivia Klegraefe identifies as a bisexual woman. She is an undecided rising junior at the University of Rhode Island. Since coming out to her family and friends about two years ago, she has gained a sense of self and understanding for the things that make everyone different from one another. Working on diversifying school campuses and making them safe spaces for all students is something she is passionate about. Olivia hopes to learn and grow as she works with and interacts with different people.
April Lichtman (she/her) – University of Connecticut
April Lichtman plans to graduate in May 2022 with a BFA in acting from the University of Connecticut. She expects to finish her course of study with her acting cohort in the United Kingdom. After graduating from college, she hopes to become a voice actor, director and LGBTQ rights activist. She loves the artistry in the LGBTQ community and has found comfort and joy in watching LGBTQ creators showcase their work.
Brandon Marting (he/him) – University of Michigan
Brandon Marting is a senior at the University of Michigan-Ann Arbor studying women and gender studies and political science. He is a current co-chair of Stonewall Democrats, a student organization focused on state- and nation-wide LGBTQ politics. Brandon, along with other gay men on campus, founded the University of Michigan's first social gay fraternity Delta Lambda Phi. He also collaborates with the student-run paper "The Michigan Gayly" to write articles about LGBTQ events on campus and Michigan law.
Jesse Reidy (he/him) – University of Washington
Jesse Reidy was born and raised in the Pacific Northwest. He is a rising junior majoring in communications at the University of Washington in Seattle. Jesse is a GSBA scholar and is excited to work with an LGBTQ nonprofit like Campus Pride. As a bisexual trans man, staying connected with the community is important to Jesse, and he is grateful for the opportunity to work with this team.
Julia Schwenderman (they/she) – Syracuse University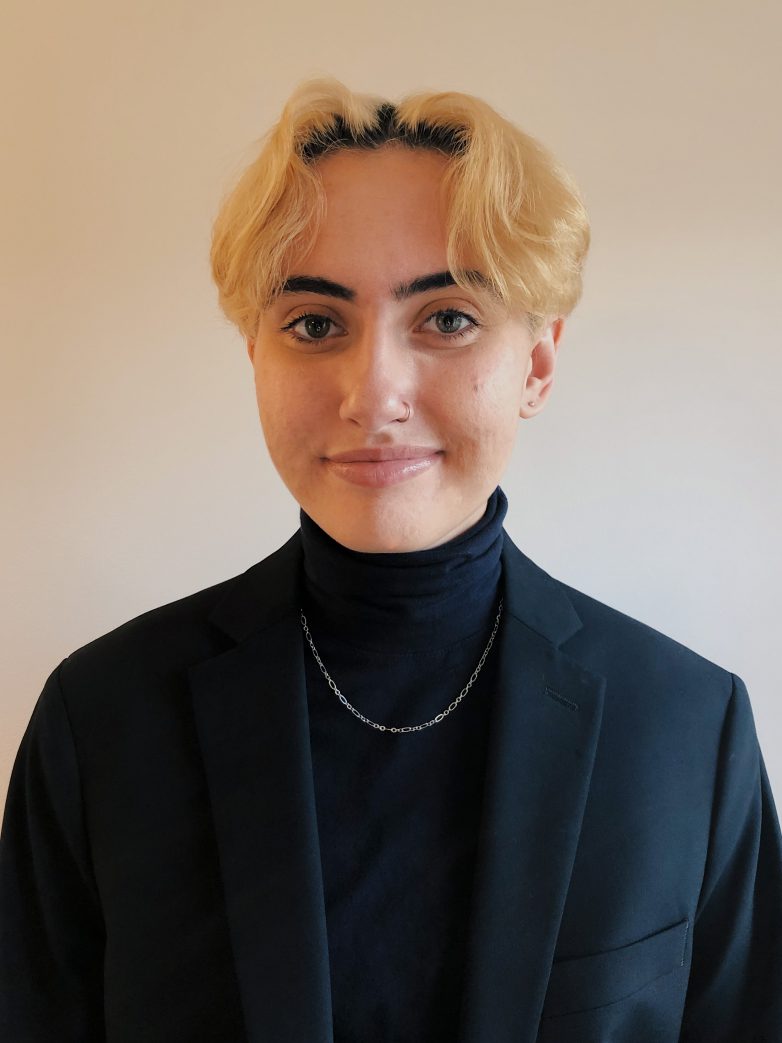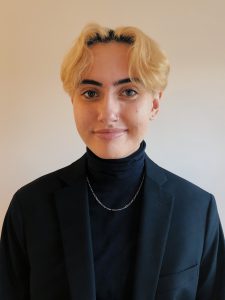 Julia Schwenderman is a nonbinary lesbian from the Philadelphia area. They are a rising senior at Syracuse University dual majoring in public relations and political science with a minor in Spanish. They are an Invest in Success Scholar and plan to graduate with honors through the Renée Crown University Honors Program. Julia also does research in special interest politics for the Maxwell School through the Policy Advocacy Lab. 
Jerry St. Louis (he/him) – George Washington University
Jerry St Louis is a second-year Ed.D. student at The George Washington University. After completing his Bachelor's in psychology at Florida A&M University, he went on to receive his Master's in social work from Clark Atlanta University. His personal and professional experiences led him to his current work in the intersection of disabilities and LGBTQ experiences. He resides in Washington, D.C. where he is a social worker and advocate for LGBTQ student rights. 
Jordyn Torbert (she/her) – Baldwin Wallace University
Jordyn Torbert is a rising senior at Baldwin Wallace University. She is studying public and non-profit management with a minor in criminal justice. Jordyn's hopes after graduation are to begin forming her own nonprofit advocacy center. During her time at BW, she has worked with our Center for Innovation and Growth and is a part of the Black Student Alliance and former President of Black Girls Rock. 
Luke Whitney (he/him) – University of Minnesota Morris
Luke Whitney identifies as a gay man. He is a rising senior at the University of Minnesota Morris majoring in communication, media, and rhetoric and human services with an emphasis in social justice. He also works as a gender and sexuality advocate on his university's campus, advocating for inclusive administrative policies among all University of Minnesota branches. After he graduates, Luke hopes to pursue a career in LGBTQ and human rights activism. 
# # #
ABOUT CAMPUS PRIDE
Since 2001, Campus Pride has been the leading national organization building future LGBTQ and ally leaders as well as creating safer communities at colleges and universities. The Campus Pride Index annually helps 80,000 people find LGBTQ-inclusive colleges and universities.  In addition, the organization has specifically tailored programs and resources to support LGBTQ youth and campus communities. Learn more at CampusPride.org.