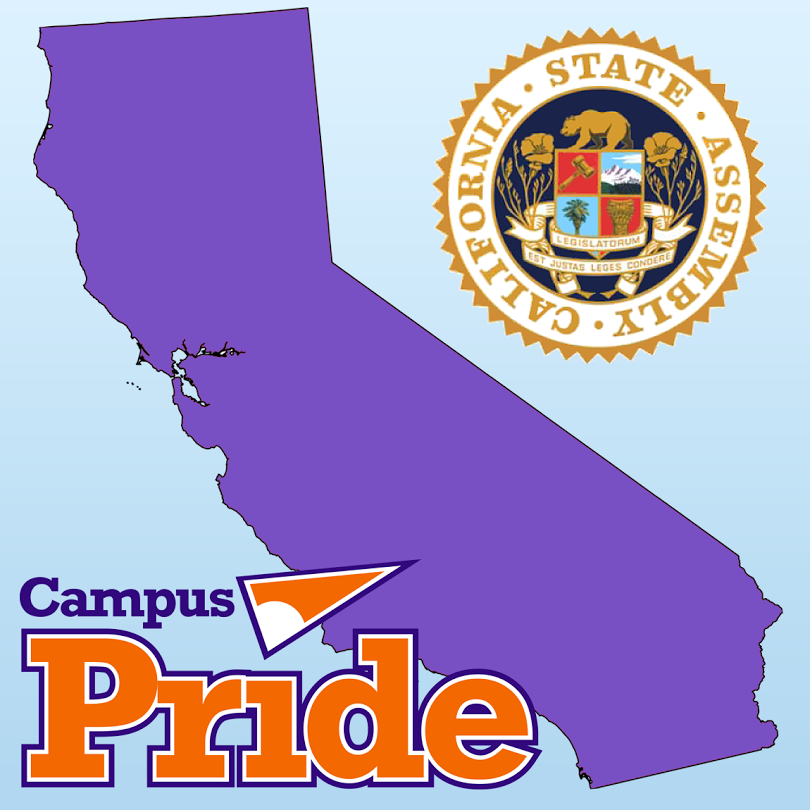 June 30, 2016…..Campus Pride applauds the California Assembly Judiciary Committee for voting to approve California Senate Bill 1146 on June 30, 2016, a bill protecting LGBTQ students at religious colleges and universities by requiring these institutions to post notices and inform incoming students of their discriminatory policies via a legal loophole that allows their being exempt from providing Title IX protections to all students. Despite misleading and dangerous attacks by Christian colleges related to the bill's passing, the Assembly Judiciary Committee has voted to protect the rights and safety all students at Christian colleges.
"Opposition to this bill was led by Biola University's administration", said Shane Windmeyer, Executive Director of Campus Pride. "The bill has faced tremendous opposition despite the fact that there is no intent to restrict the rights of religious schools — and no wording in the bill that would have that effect. Biola President Barry Corey publicly and repeatedly misrepresented the intent of the bill, including a reference in an open letter to the Biola community," continued Windmeyer. "Corey's letter included no link or reference to the actual text of the bill, and it made no mention of the LGBT protections this bill would create. Campus Pride enthusiastically supported a fair and open discussion of the bill and the rights of Biola students who worked tirelessly to expose the administration's lies," said Windmeyer.
"No religion should be used an excuse for discrimination, but that is exactly what Biola University and the 75 other colleges on Campus Pride's Shame List are attempting to do, By misrepresenting the bill, Biola's administration has betrayed not only their students, but students at the dozens of other faith-based institutions that have since voiced their opposition to the bill, including Thomas Aquinas College, West Coast Baptist College, and Life Pacific College," concluded Windmeyer.
"As students who experience discrimination on campuses firsthand, we know that SB 1146 is completely lawful and absolutely necessary for the safety of LGBTQ students on Biola's campus and on Christian campuses across the state of California," said Erin Green, Campus Pride organizer and executive director of the Christian, LGBT-affirming group Biolans' Equal Ground.
Check out the Campus Pride Shame List, national listing of colleges and universities that have used Title IX exemption to discriminate against LGBTQ students.
Campus Pride is  the only national nonprofit 501(c)(3) organization for student leaders and campus groups working to create a safer college environment for LGBT students. The primary objective of Campus Pride is to develop necessary resources, programs and services to support LGBT and ally students on college campuses across the United States. Campus Pride serves LGBT and ally student leaders and campus organizations in the areas of leadership development, support programs and services to create safer, more inclusive LGBT-friendly colleges and universities. It exists to develop, support and give "voice and action" in building future LGBT and ally student leaders.