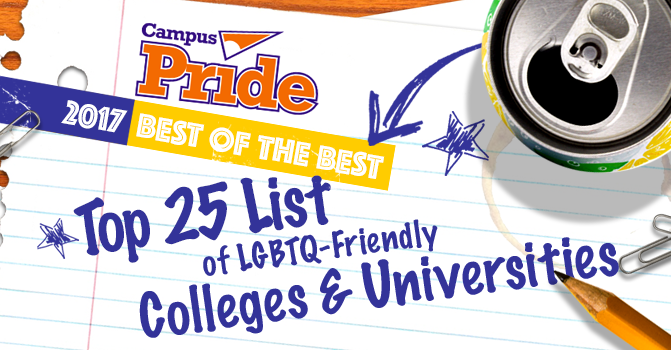 Campus Pride releases Top 25 LGBTQ-friendly Listing of Colleges & Universities
Best of the Best national listing boasts prominent campuses in unlikely places with LGBTQ inclusivity in policies, programs and practices
(Monday, August 28, 2017) Campus Pride announced today the twenty-five colleges and universities leading the way for LGBTQ inclusion in policies, programs and practices across the United States.  In alphabetical order, as follows:
Augsburg University – Minneapolis, MN
Elon University – Elon, NC
Harvey Mudd College – Claremont, CA
Indiana University Bloomington – Bloomington, IN
Ithaca College – Ithaca, NY
Kansas State University – Manhattan, KS
Macalester College – Saint Paul, MN
Montclair State University – Montclair, NJ
The Ohio State University – Columbus, OH
The Pennsylvania State University – University Park, PA
Portland State University – Portland, OR
Princeton University – Princeton, NJ
Rutgers, The State University of New Jersey-New Brunswick – New Brunswick, NJ
San Diego State University – San Diego, CA
Southern Oregon University – Ashland, OR
Tufts University – Medford, MA
University of Colorado at Boulder – Boulder, CO
University of Louisville – Louisville, KY
University of Massachusetts Amherst – Amherst, MA
University of Oregon – Eugene, Oregon
University of Pennsylvania – Philadelphia, PA
University of Washington – Seattle, WA
University of Wisconsin – Green Bay – Green Bay, WI
University of Wisconsin – Milwaukee – Milwaukee, WI
Washington State University – Pullman, WA
For the last decade, Campus Pride continues to be the most trusted, reliable educational resource for students and families to find the best campuses for LGBTQ inclusion and safety. The organization work alongside students, faculty, staff and administrators at 1400+ campuses annually to help support and improve the quality of campus life for LGBTQ people.
Campus Pride chose the twenty-five campuses this year based on their overall ratings on the Campus Pride Index and specific LGBTQ-inclusive benchmark measures.  The Campus Pride Index, currently 300+ campuses, is the premier national benchmarking tool which self-assesses LGBTQ-friendly policies, programs and practices. The tool is free of charge and can be found online at CampusPrideIndex.org.
"If you are looking for the most trusted, reliable list of LGBTQ-friendly colleges, then you have found the right one. LGBTQ youth and families today want to know what campuses are doing when it comes to inclusive policies, programs and practices.  This Best of the Best list highlights the Top 25,'" said Shane Windmeyer, executive director of Campus Pride and creator of the Campus Pride Index. "These are the campuses leading the way for LGBTQ inclusion and who have come out to support LGBTQ students from the first day of classes through graduation day."
According to Campus Pride, "the list this year shows more LGBTQ progress than ever, even in more rural conservative places."  Dr. Genny Beemyn, the coordinator of Campus Pride's Trans Policy Clearinghouse, said: "It is especially important to see colleges from Kansas, Kentucky, and North Carolina among the Top 25. If these colleges can become supportive oases in largely anti-LGBTQ states, then other institutions in very conservative states have no excuse not to do likewise."
In order to be in the Top 25 listing, an institution had to score the highest percentages in the LGBTQ-friendly benchmarks for policies, programs and practices. The listing this year includes colleges from sixteen states including more conservative places like North Carolina, Indiana, Kansas, Kentucky, Colorado, Wisconsin and Ohio. These campuses represent a range of academic studies with student populations from 807 to over 45,000, public and private schools alike.
"It is both exciting and promising to see the diversity and growth of the number of campuses participating in the Campus Pride Index. Particularly, we see institutions thoughtfully considering the inclusion of queer spectrum and trans spectrum policies and programs," said Dr. Sue Rankin, the volunteer director of Campus Pride's Q Research Institute for Higher Education. "In the current political climate, where executive orders by the President of the United States are rescinding decades of progressive work, this work on college campuses is more important than ever."
Along with the Top 25 campuses, there are 300+ other campuses listed on the Campus Pride Index. Many of these campuses participate annually ever Fall in the Campus Pride LGBTQ-friendly College Fair Program in cities like Boston, New York, Los Angeles, Charlotte and Atlanta.   Learn more online at CampusPride.org/CollegeFair
Campus Pride also launched two years ago, the Campus Pride Sports Index which measures LGBTQ progress in athletics and recreation online. Learn more CampusPrideSportsIndex.org.
Campus Pride is the leading national educational organization for LGBTQ and ally college students and campus groups building future leaders and safer, more LGBTQ-friendly colleges and universities. The organization provides resources and services to thousands of college students and nearly 1400 campuses annually. Learn more online at CampusPride.org.