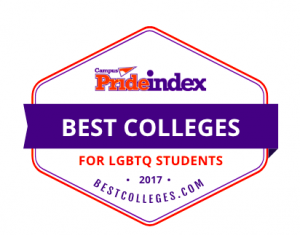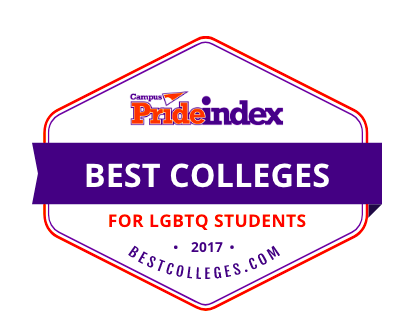 Announcing the 2017 Best Colleges for LGBTQ Students from BestColleges.com and Campus Pride
The first ranking from the new partnership weighs inclusivity, academic outcomes, and affordability, creating a list of the best colleges in the nation for LGBTQ students
Campus Pride in partnership with Best Colleges announced today the ranking for the 2017 Best Colleges for LGBTQ Students. The new ranking highlights colleges and universities that create an inclusive and educational environment, and serves as a launching point for LGBTQ students to find a school that fits their needs.
BestColleges.com, known for its independent college rankings, joined forces with Campus Pride, the country's leading educational organization for LGBTQ and ally college students to produce the 2017 ranking. "LGBTQ young people and their families want the best options to go to college. This new partnership with BestColleges.com produces a listing that combines academics and LGBTQ inclusivity to highlight campuses doing the very best for LGBTQ youth," said Shane Windmeyer, Executive Director of Campus Pride.
The BestColleges.com LGBTQ-friendly ranking methodology combines their traditional academic and affordability metrics with the Campus Pride Index, which is a comprehensive national ranking system that measures LGBTQ-friendly campus life. Campus Pride takes an exhaustive and multifaceted measurement approach, considering eight LGBTQ-inclusive factors to reach a measurement. The rankings list also includes descriptions of unique campus resources that provide support to students of various gender and sexual identities.
"We are incredibly excited to bring the expertise of Campus Pride to this ranking. By combining our data we were able to build a list that truly reflects the best overall options for LGBTQ students nationwide," said Stephanie Snider, General Manager of BestColleges.com.
Several prominent schools made this year's list with Princeton University ranked as the top college for LGBTQ students in the nation. The University of Pennsylvania, Tufts University, MIT, and the University of Washington round out the top 5.
"In the past several years we have seen many academic institutions make great strides in creating campus environments that allow students with a wide range of gender and sexual identities to feel safe and welcome, and we want to celebrate that in our ranking," added Snider.
You can view the full ranking at: http://www.bestcolleges.com/features/best-colleges-for-lgbt-students/
2017 Best Colleges for LGBTQ Students (in alphabetical order):
Babson College
Columbia University in the City of New York
Cornell University
Dartmouth College
Davidson College
Elon University
Harvey Mudd College
Indiana University, Bloomington
Lehigh University
Macalester College
Oberlin College
Princeton University
Rutgers University-New Brunswick
San Diego State University
The Ohio State University
Tufts University
University of California Los Angeles
University of California San Diego
University of California, Davis
University of Maryland, College Park
University of Minnesota Twin Cities
University of Pennsylvania
University of Washington
Washington University in St. Louis
Williams College
Campus Pride is the leading national educational organization for LGBTQ and ally college students and campus groups building future leaders and safer, more LGBTQ-friendly colleges and universities. The organization provides resources and services to thousands of college students and nearly 1,400 campuses annually. Learn more online at CampusPride.org.
BestColleges.com helps prospective students find the school that best meets their needs through proprietary research, user-friendly guides, and hundreds of unique college rankings. They also provide a wide array of college planning, financial aid, and career resources to help all students get the most from their education and prepare them for the world after college.