Clemson College students reflect on LGBTQ leadership opportunities through service with Campus Pride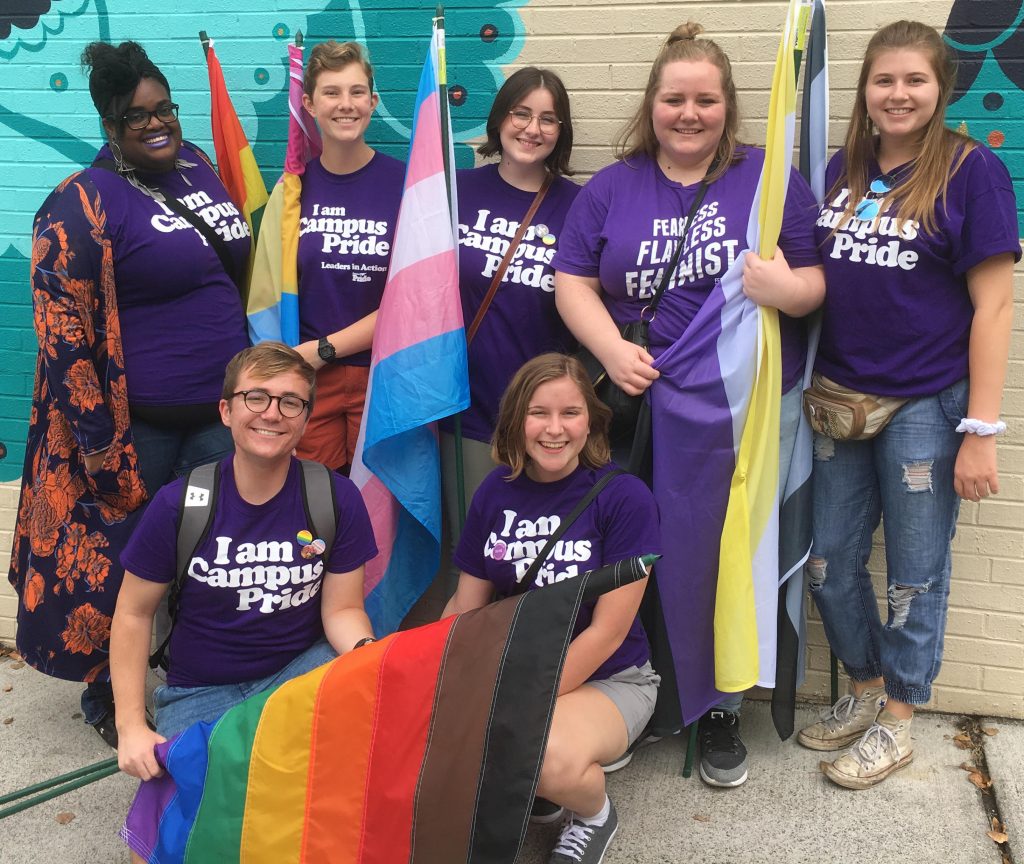 A few months ago, I received an email inviting people to apply for one of our school's Fall Alternative Break Programs. I am a sucker for any leadership event I can attend, so I opened it immediately. You can imagine my surprise, and happiness, as a queer student living in the South when one of the experiences was geared towards helping an LGBTQIA+ non-profit that is based in the South. I was ecstatic when I found out the organization we would work with was Campus Pride, because their website helped me when I was choosing schools, and later on as a Clemson student as I researched the satisfaction of Clemson seniors.
When I signed up, all I knew about Campus Pride was that they provided students with a way to see which colleges were LGBTQIA+ friendly and collegiate administration to evaluate and hopefully grow their resources for gay and trans students on their campus. Although the Campus Pride Index itself was an important resource, I was definitely wrong about this being the only resource that the organization provides.
Shane Windmeyer, Campus Pride Executive Director and Founder, taught us about the many services they provide; the Stop the Hate campaign–a hate-crime and bias incidents prevention program for college campuses, and research on the State of Higher Education for LGBTQ Students. We also learned about the Shame List which highlights colleges that choose to reject Title IX (often based on religious affiliation) and other colleges which adopt anti-LGBTQ policies and practices, etc. The list is long, and they aren't stopping there. They are also currently working on creating databases to help LGBTQ youth find welcoming Greek life organizations and welcoming Historically Black Colleges and Universities (HBCUs).
I loved the chance we got to work hands-on with these resources that they provide to college students nation-wide. Some of us helped update the Campus Pride database of scholarships so that students and parents can easily look for financial aid that applies to LGBTQ students. Other members of our group helped research Greek organizations to build up the Greek life database.
We also worked on a video project to help Campus Pride compete for a competitive grant contest, and to share with others why we love Campus Pride so much. Caroline White said that she "really enjoyed feeling like [she] was concretely helping LGBTQ individuals through [her] work with Campus Pride."
During the first half of our break, we got to raise money for the organization at Boulevard 1820, a drag queen restaurant, march in the Winston-Salem Pride Parade, and perform in Buff Faye's drag number to support all members of the LGBTQIA+ community. Working with and for the gay and trans community in Charlotte was such a wonderful experience. Truett House, a fellow volunteer, said that he learned about how much "representation matters whether you think it does or not." He noted that having a wide range of LGBTQIA+ flags for the Winston-Salem Pride Parade, and that "it was amazing to see peoples' reactions toward seeing the underrepresented flags."
One our group's favorite events was meeting Lara Americo, a local trans activist. Lara visited us at the Campus Pride office and talked about toxic masculinity. After this experience, fellow volunteer Halle Murphy said that she enjoyed learning about "how reinforced gender binary stereotypes hurt all of us."
At the end of the day, our group would get together and talk about what we learned and enjoyed. We bonded a lot and learned from each other while we talked about coming out stories, campus issues, and what we can do to create change. We learned about resources on our campus, and we learned about how we can advocate for new ones that our campus needs. Connecting as a group helped us work together and I hope we can carry this bond when we get back to Clemson. As Sydney Carroll said, she has "become inspired to utilize what [she has] learned at Campus Pride to start implementing some of this change on [our] own campus.
Campus Pride is the leading national educational organization for LGBTQ and ally college students and campus groups building future leaders and safer, more LGBTQ-friendly colleges and universities. The organization provides resources and services to thousands of college students and nearly 1400 campuses annually. Learn more online at CampusPride.org.