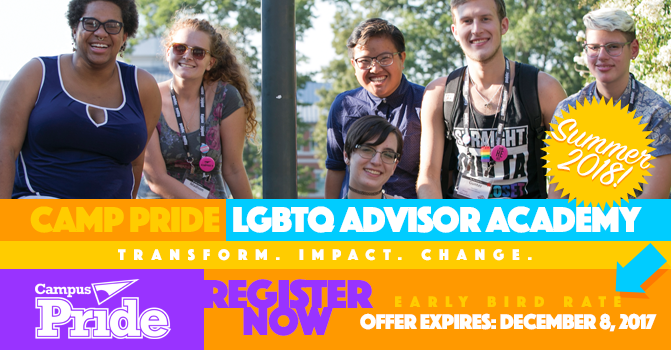 Campus Pride is happy to announce extended discounted rates for Camp Pride through December 8, 2017. Registrants can now save $250 by planning ahead for a fun and engaging leadership opportunity open to college students and faculty/staff representing any two or four year program. Registration includes room and board, meals, and educational materials.
Camp Pride 2018 will be take place from July 19-22 in Charlotte, North Carolina. Campus Pride will again be offering an Advisor Academy for folks like LGBTQ center advisors on college campuses, as well as the traditional Camp Pride track for students. Camp Pride offers students and advisors the opportunity to build skills for working with the LGBTQ community on their college campuses, as well as for working to make less supportive environments better for the community. Camp Pride also offers networking opportunities where attendees are able to connect with other leaders in the LGBTQ movement nation-wide across different campus settings to swap strategies and resources. Camp Pride offers space for attendees to work on action planning to take back to their college campuses, with the support of people who have done the work. Attendees experience personal growth in a supportive environment that welcomes people of all identities to learn and grow together. Attendees can expect to make lasting professional relationships, as well as friends. Camp Pride is inclusive of all races, gender identities and expressions and sexual orientations. Campus Pride encourage a diverse atmosphere, and looks forward to what every individual can bring to the Camp Pride experience.
Learn more online.
by December 8
Campus Pride is the leading national educational organization for LGBTQ and ally college students and campus groups building future leaders and safer, more LGBTQ-friendly colleges and universities. The organization provides resources and services to thousands of college students and nearly 1400 campuses annually. Learn more online at CampusPride.org.