Campus Pride is proud to support One+Love, a new app connecting LGBTQ locals to other users, LGBTQ-friendly organizations, groups events and more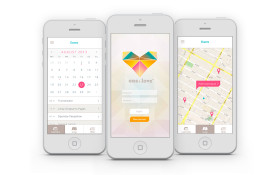 One+Love, or "One Plus Love" is a new app that is designed to network users to local LGBTQ and LGBTQ-friendly folks, organizations, groups, events, businesses, services and more. This new LGBTQ digital community is currently will launch after its fundraising and testing phase.
One+Love is different than other LGBTQ social media apps because it allows for users to personalize their profile on a scale rather than be defined within checkboxes. Identity can be complicated and One+Love gives users complete freedom to share their identity in this app.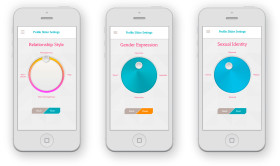 The profile slider is a circular dial allowing the user to mark their relationship style, gender expression and sexual identity on a scale. Relationship style can be expressed on a scale between monogamous and polyamorous. Gender expression can be expressed on a scale between trans*, femme, agender and masculine. Sexual identity can be expressed on a scale between bisexual, homosexual, heterosexual and asexual. Finally, a place where fluidity of identity and expression can be expressed.
Help One+Love raise the funds they need by donating to their IndieGoGo campaign now.
HowitWorks from one+love on Vimeo.
Learn more about One+Love and the diverse team of LGBTQ advocates and social justice leaders powering the new app.
About One+Love: One+Love is a social media app which is the ultimate resource for the LGBTQ community–with an emphasis on connecting users to local safe spaces and resources. It aggregates news, articles, fashion trends, webisodes–plus original content.
About Campus Pride: Campus Pride is the leading national educational organization for LGBTQ and ally college students and campus groups building future leaders and safer, more LGBTQ-friendly colleges and universities. The organization provides resources and services to thousands of college students and nearly 1400 campuses annually. Learn more online at CampusPride.org.