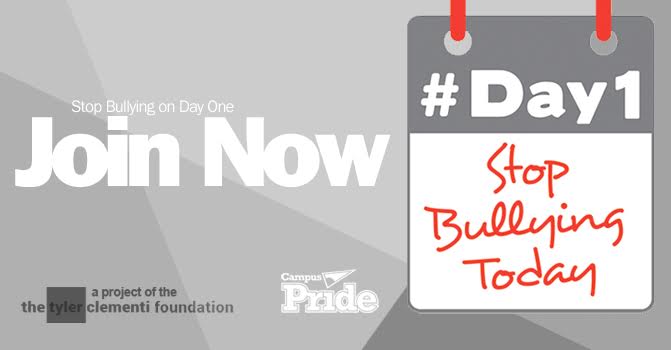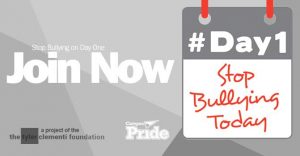 Campus Pride, the leading national nonprofit advocating for LGBTQ students on college and university campuses, has partnered with the Tyler Clementi Foundation on the #Day1 Campaign, a national campaign to reduce bullying by asking teachers, bosses and other group leaders to take a stand against bullying on the first day of a group's meeting. The Tyler Clementi Foundation's mission is to advocate for safe, inclusive and respectful social environments for vulnerable youth, LGBT youth and their allies.
Campus Pride will be organizing college and university campus engagement for the #Day1 Campaign, with outreach projects including featured programming at the Campus Pride Summer Leadership Academy and two free national webinars hosted in partnership with Kognito Interactive. The webinars will be on Wednesday, July 29 at 2 PM EST and Tuesday, August 4 at 2 PM EST. The webinars will outline ways to involve campuses and are encouraged for administrators, campus officials and student leaders who want to participate on #Day1 with their college or university.

The #Day1 Campaign was created by Tyler Clementi Foundation. The foundation was formed in 2010 after Tyler Clementi, a student at Rutgers University, died by suicide after being bullied by his peers. This campaign addresses the fact that more than 3.2 million students are bullied every year, and educational institutions need to begin addressing these realities and working to prevent bullying on their campuses on day one.
College and university campuses can stand up against bullying and harassment by engaging with the #Day1 Campaign using the following four strategies:
ENDORSEMENT & PUBLIC STATEMENT: By having the President, Chancellor or another high-level administrator of a college or university provide a quote or statement supporting the #Day1 Campaign to the campus community, media, etc.
READ THE PLEDGE: By having professors, coaches or other campus group leaders read the #Day1 Pledge on the first day of class, practice or meeting of the school year.
ORIENTATION & TRAININGS: By incorporating the #Day1 Campaign during campus orientations for undergraduate students, professional school students, graduate/doctoral students, or faculty and staff new employee trainings
SOCIAL MEDIA: By sharing the #Day1 Campaign on social media via a video, tweet, Facebook post or other @CampusPride with the hashtag #Day1
To learn more about the #Day1 Campaign and how college and university campuses can take a stand against bullying, fill out the following form. You may also call Campus Pride at (704) 277-6710 or email Campus Pride at info@campuspride.org.
Campus Pride is the leading national educational organization for LGBTQ and ally college students and campus groups building future leaders and safer, more LGBTQ-friendly colleges and universities. The organization provides resources and services to thousands of college students and nearly 1400 campuses annually. Learn more online at CampusPride.org.
Allison Marie Turner is an alumnus of the University of North Carolina at Chapel Hill, where she studied journalism and mass communication and women's and gender studies. She is a 2015 Summer Fellow for Campus Pride. Follow her on Twitter @amturner1993.