Award recognizes PINK's ongoing support for LGBTQ+ young people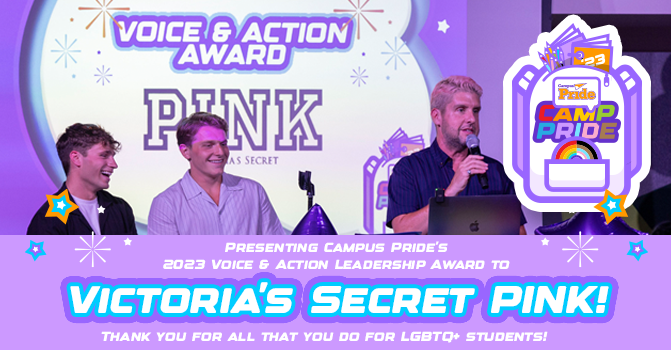 CHARLOTTE, N.C., July 28, 2023 — On July 15, Campus Pride awarded Victoria's Secret PINK the 2023 Voice & Action Leadership Award, an annual award given to an individual or organization that has been an outstanding advocate for LGBTQ+ young people. It was presented at a ceremony during Camp Pride, the nation's premiere summer leadership academy for undergraduate LGBTQ+ and ally students, which took place in Charlotte from July 12 to 16.
This year's award recognizes PINK's ongoing commitment to supporting the LGBTQ+ community and continued investment in programs that benefit LGBTQ+ students. PINK has continued to stand with our LGBTQ+ community and to use its platform to share the stories of Campus Pride and the organization's work creating safer, more inclusive communities for LGBTQ+ people. PINK's commitments include generous support for Campus Pride programs and services, which foster greater inclusion and safety for the LGBTQ+ college students we serve.
Since 2021, PINK has contributed $700,000 to fund Campus Pride programs, including:
At this time when LGBTQ+ people are facing tremendous challenges and a climate of anti-LGBTQ+ attacks and violence, Campus Pride is grateful for the continued partnership and meaningful support of Victoria's Secret PINK.
"Campus Pride is delighted to recognize PINK's commitment with the Voice & Action Leadership Award. PINK is a true corporate advocate for our community, standing alongside all we do, and helping us to continue positively impacting youth lives," said Shane Mendez Windmeyer, founder and executive director of Campus Pride. "PINK is a part of our LGBTQ+ family, now and always."
[View images of Camp Pride 2023 on our Instagram]
---
ABOUT CAMPUS PRIDE
Since 2001, Campus Pride has been the leading national organization dedicated to building future LGBTQ and ally leaders and creating safer communities at colleges and universities. Learn more at CampusPride.org.
Media Contact:
Campus Pride
(704) 277-6710 ext 1
info@campuspride.org
# # #