Campus Pride's Annual LGBTQ+ Student Leadership Camp offers crucial support, advocacy training to student leaders, faculty and staff across the country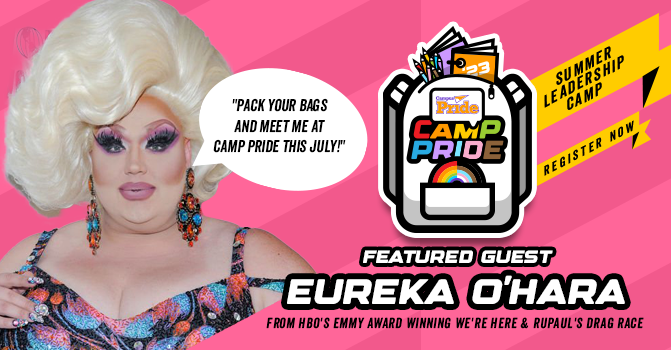 CHARLOTTE, N.C., July 10, 2023 — On July 12, LGBTQ+ college students, faculty and staff will gather at the University of North Carolina at Charlotte to attend Camp Pride, the nation's premiere summer leadership academy for undergraduate LGBTQ+ and ally students.
"Camp Pride offers college students, faculty and staff an opportunity to build community and create action plans to improve LGBTQ+ quality of life on their campuses and communities," said Campus Pride Founder, CEO and Executive Director Shane Mendez Windmeyer. "These students have had a difficult year in which their identities were often under attack, so they need a safe space where they can gather with peers to support one another and strategize around issues they face on campus. This year, they will also benefit from the insights of former Camp Pride alumni who are returning to provide leadership, expertise and mentorship."
This year, Camp Pride will welcome a star-studded array of speakers and guests:
Campers will also be joined by Courtney Knowles, Founder of Love is Louder, and gay social media influencers Linc and Canyon at the Saturday evening awards ceremony, where they will accept the Voice & Action Award on behalf of Victoria's Secret PINK.
Since 2007, LGBTQ+ college students have gathered at Camp Pride to develop campus organizing, social justice and leadership skills. Each year, students come from a wide range of educational settings—including two-year, four-year, rural, southern, minority-serving (HBCU, TCU and HSI) and religiously-affiliated colleges and universities—and from all over the country. In addition to the student leadership camp, Camp Pride will hold a concurrent Advisor Academy for professionals who work with LGBTQ+ students on campus.
Camp Pride is sponsored by the generous support of Victoria's Secret PINK.
---
ABOUT CAMPUS PRIDE
Since 2001, Campus Pride has been the leading national organization dedicated to building future LGBTQ and ally leaders and creating safer communities at colleges and universities. Learn more at CampusPride.org.
# # #