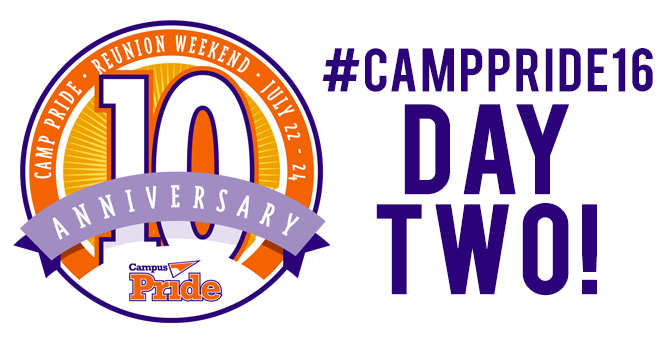 Camp Pride is chugging along at full speed! Campers are getting more acquainted in their Dens, small discussion groups. Camp Pride Featured Entertainers and Speakers are helping hold space for important conversations around intersectionality, identity, intentions and learning why we are all here.
The wonderful @mxjuniper presenting on @TrevorProject at #CampPride16 pic.twitter.com/GIPky1e6LS

— Campus Pride (@campuspride) July 20, 2016

Camp Pride is proud to have Juniper Xiomara join us as a retuning camper, representing the University of California, Berkley and The Trevor Project. She helped break down to the campers how we discover why we are here doing this work and why understanding identity  is key to doing this work.
Day Two also included the first session of Action Planning. This is a framework for students to identify and work towards change on campus through a step-by-step process to assist in accomplishing goals. Each student is generating an action plan for their campus ranging in outcomes from policy change, to developing an LGBTQ resource center, and implementing LGBTQ specific training for campus safety.
Poet, musician, actor, activist, and frequent Camp Pride performer, Tori Grace lit up the stage for a performance of their piece, Just To Be Clear, I'm Not Who You Think I Am, which includes the topics of "identity development, adoption, depression, confrontation with codependency, experiences with a variety of isms and phobias (racism and ableism, for example), art modeling, social justice and direct action, and of course, love" (taken from torigracenichols.com)
And lastly, the night was ended with everyone splitting up into different caucuses. New caucuses were added from last year like, Fat and Queer, Neurodivergent, and Pagan and Queer. So many different topics were explored so everyone felt there was a space to explore their identity and have time with others who hold the same identity.
Homecoming is approaching fast! Get your tickets now before it's too late!
HOWIE is a senior at the University of North Carolina at Charlotte, with a major in Sociology and minors in film studies, American studies, and women's and gender studies, uses they/them pronouns, and is a 2016 Summer Fellow for Campus Pride.
Campus Pride is the leading national educational organization for LGBTQ and ally college students and campus groups building future leaders and safer, more LGBTQ-friendly colleges and universities. The organization provides resources and services to thousands of college students and nearly 1400 campuses annually. Learn more online at CampusPride.org.