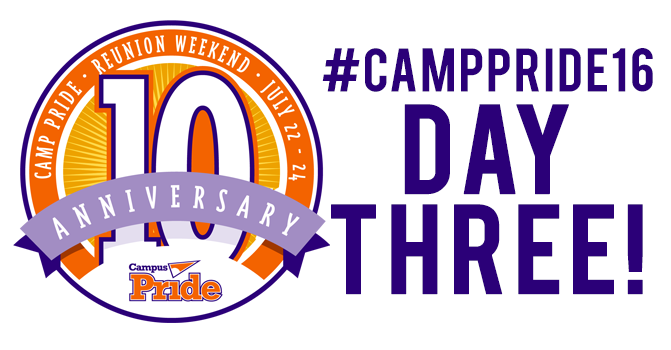 Let's talk intersectionality! Campers engaged with each other in a discussion surrounding intersectionality and how this affects their lives. J Mase III and Keyonna Fowler led a workshop that allowed participants the opportunity to discuss intersections that are created from their multiple identities.  Campers became more aware of their identities and how they are viewed and show up in spaces.
Robyn Ochs, editor of the Bi Women Quarterly and co-editor of two anthologies, brought energy to camp with her interactive workshop around labels and fluidity of sexuality. She discussed findings of Kinsey, Klein, and Storms and how these findings have been expanded on today.
Mara Keisling, founding Executive Director of the National Center for Transgender Equality (NCTE), gave a powerful speech on the unequal treatment and rights of trans individuals across the nation. Her wit and passion engaged campers and allowed further discussion of the issues that trans individuals face on a daily basis.
J Mase III & Vita E are on the administrative team for awQward, the first trans & queer people of color talent agency. They used poetry, movement, and drums to express their personal experiences and the world around them. Campers gained insight into how marginalized groups are affected through a nighttime performance.
We have engaged in conversations and developed new ideas of our identities as we push through Camp Pride 2016. As the week continues, we look forward to learning more and furthering our understanding.
Saturday, July 23 is Campus Pride Homecoming and Awards Banquet at Johnson and Wales University in Uptown Charlotte. Tickets are available online and at the door. Celebrate 10 years of Camp Pride with us and honor visionary leaders in our communities.
Lisa Warner is a recent graduate from the University at Albany and holds a Bachelor's degree in Sociology.  She is a 2016 Summer Fellow for Campus Pride.
Campus Pride is the leading national educational organization for LGBTQ and ally college students and campus groups building future leaders and safer, more LGBTQ-friendly colleges and universities. The organization provides resources and services to thousands of college students and nearly 1400 campuses annually. Learn more online at CampusPride.org.