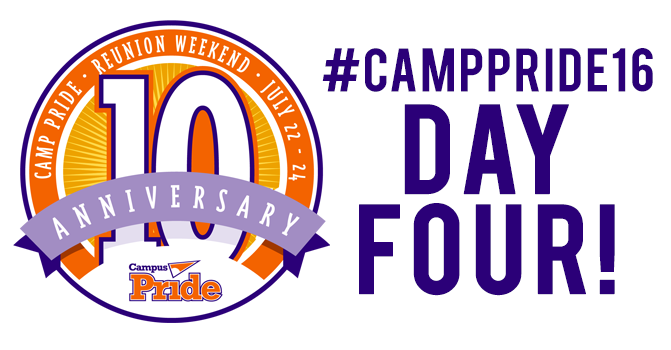 Day Four means that it's picture day! After breakfast everyone gathered outside to snap group pictures together! Dens huddled, staff got one, everyone matched in a beautiful sea of orange and purple.
Keyonna and J Mase III engaged the campers in an in-depth discussion on intersectional justice. They discussed what privilege is and how it impacts those in power and how leaders can understand systematic oppressions and what they can do to dismantle those structures on their campuses and in their day to day lives.
After the sections on intersectional justice, a panel on grassroots organizing featuring Mandy Carter, Tori Grace, delfin bautista, and local activists Ashley Williams and Jamie Marsicano. Perspectives ranged widely from person to person and this range of perspectives made it so the most helpful and strategic information was being gained from the panel.
Breakout sessions were then available and during that time campers were able to get tested for HIV. After getting tested they were ready to go to a myriad of sessions from "Can the L in LGBTQ Also Mean Latinx" by Stephanie Hernandez Rivera, "Talking the Talk around Health & Sexuality" by Bernard Davis, "Self-care for Queer and Trans Activists of Color" by Tim'm T. West, and many more. The breakout sessions allow campers to go to sessions that apply to them as leaders and activists so that the knowledge they take back to campus is specific to their needs.
A day of panels! There was another panel today, this one featured several Pride Leaders who shared their experiences as student leaders on their respective campuses as well as how the action plans each camper was creating could actually put into place once they returned home.
Finally to close out the night our No Talent Required Talent Show! Everyone loves this time to decompress from hours of intersectional justice and just giggle and revel in each others talents.
Hosts Juniper and Key spiced up the show with interludes between each act.
HOWIE is a senior at the University of North Carolina at Charlotte, with a major in Sociology and minors in film studies, American studies, and women's and gender studies, uses they/them pronouns, and is a 2016 Summer Fellow for Campus Pride.
Campus Pride is the leading national educational organization for LGBTQ and ally college students and campus groups building future leaders and safer, more LGBTQ-friendly colleges and universities. The organization provides resources and services to thousands of college students and nearly 1400 campuses annually. Learn more online at CampusPride.org.