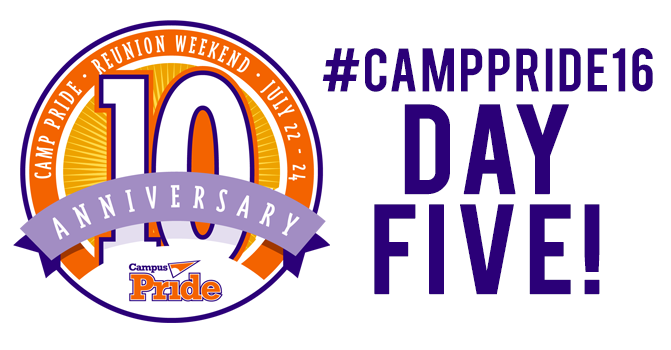 Camp is coming to a close today and we are thrilled at the progress we've made but so sad to see all of our campers, advisors, and camp faculty leave us today, but we know the change they'll enact on their respective campuses will leave us beaming in pride… Campus Pride.
Solidarity among our intersectional identities is key to our activism, so our educational block on solidarity was dearly needed. After this block, campers continued drafting their action plans, and after lunch, they finalized those action plans.
During lunch, community partners Food Lion and This Free Life joined campers to discuss their LGBTQ outreach and shared swag and information.
And finally, it's time for what everyone was looking forward to! Homecoming! Our Homecoming & Awards Banquet kicked off as campers shuttled from UNCC to local Johnson & Wales University.
We were joined by Miss Lawrence who accepted a 2016 Campus Pride Voice & Action award. Miss Lawrence is a successful hairstylist and actor who has been featured on TV shows like The Real Housewives of Atlanta and Empire.
We were also joined by the talented Jasika Nicole, who also received a Voice & Action award. Her accolades include Welcome to Night Vale, Fringe, and Scandal.
Campus Pride was proud to share space with members of our Board, our mayor Jennifer Roberts, our campers and advisors, and people in the community. Homecoming was a huge success.
We ended the night with a huge dance party and the Duke Energy Building was lit up because of our friends at Wells Fargo.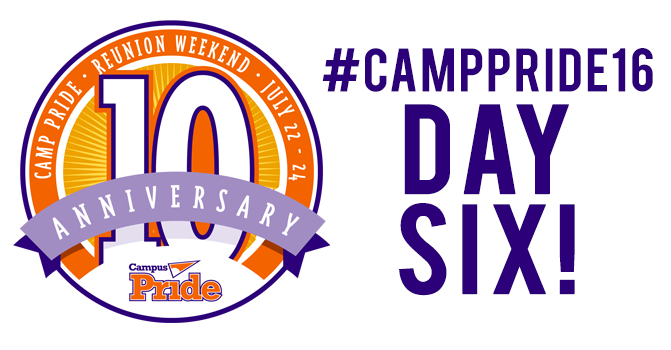 Day six a short day where all of our campers and advisors say goodbye to each other, graduate from camp and return to their campuses to put the knowledge they learned at camp to good use.
We hope to see everyone next year, thanks for making #CampPride16 one to remember!
HOWIE is a senior at the University of North Carolina at Charlotte, with a major in Sociology and minors in film studies, American studies, and women's and gender studies uses they/them pronouns and is a 2016 Summer Fellow for Campus Pride.
Campus Pride is the leading national educational organization for LGBTQ and ally college students and campus groups building future leaders and safer, more LGBTQ-friendly colleges and universities. The organization provides resources and services to thousands of college students and nearly 1400 campuses annually. Learn more online at CampusPride.org.