After many years of student activism and a year of collaboration with students by administration, Barnard College, a private women's liberal arts college in New York City, has changed its policies and will begin allowing all applicants who identify themselves as women, despite how their birth gender is marked.The decision was approved by the Barnard College Board of Trustees on Wednesday.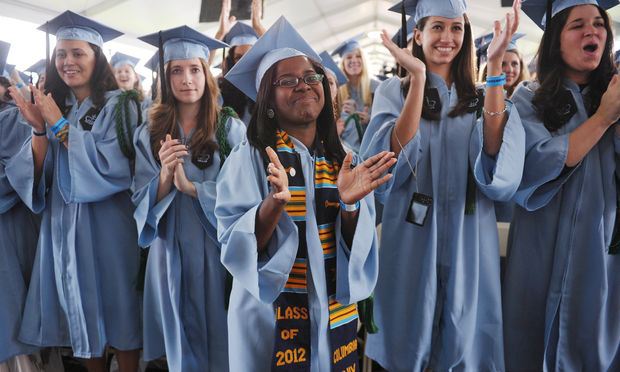 Barnard approved this policy after more than a year of formal discussions that included Barnard faculty and staff, students, alumni, parents and board members.
The college joins other prominent women's colleges with specific policies to all students who identify as women, such as Wellesley College and Smith College. Many other women's colleges do not have specific policies addressing whether trans women can be accepted. Other women's colleges, like Mount Holyoke, have specific policies allowing trans woman, trans men and nonbinary students to apply and enroll, referencing the societal stigmas associated both with being a woman, including trans women, and the unique experiences felt by all people assigned female at birth, including cisgender women, trans men, and nonbinary people who are assigned female at birth.
The policy allows any person identifying as a woman to apply to the university. The policy also allows any person who enters the college as a woman, but begins identifying as other genders after acceptance to remain at the college as they please. This means that trans men or nonbinary people will not be allowed to apply to the college, but will allow trans men and nonbinary people to graduate from Barnard if they originally enrolled in the college as a woman. This is an important recognition of trans rights, as it recognizes the pressure many trans people feel to hide and conform to their assigned gender. This can give comfort to trans men and nonbinary folks who choose to live openly during their time at Barnard, as it will remove the added pressure of having to change schools.
Specifics of the policy, including how it will apply to athletics and housing, have yet to be released.
Barnard, an affiliate of Columbia University, is a major women's college in the United States, and this new policy could set a precedent for other women's college throughout the country creating formal policies regarding transgender students. Taking a stand for trans women is an exciting positive step, and Campus Pride encourages all single-gender institutions to look to this process, as well as the processes of other traditionally single-gender schools, as research when they creating their own policies regarding trans students.
For more information on policies for trans students at college and universities, visit Campus Pride's Trans Policy Clearinghouse.
Allison Marie Turner is an alumnus of the University of North Carolina at Chapel Hill, where she studied journalism and mass communication and women's and gender studies. She is a 2015 Summer Fellow for Campus Pride. Follow her on Twitter @amturner1993.